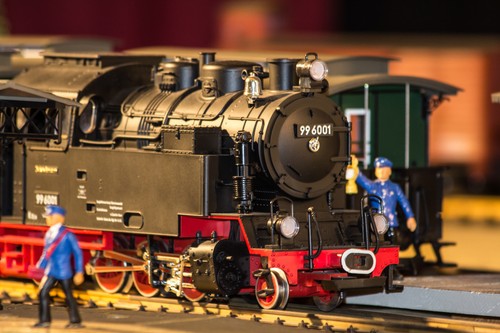 Model steam trains are popular in the hobbies and collectables market. They have the ability to capture the excitement of the railways and can enthrall hobbyists.
Model steam trains require consistent care and attention in order to run smoothly. Addressing such care with focus can be tough, however doing so correctly adds years to the life of a model steam train. Fortunately, this guide is here to help users and let them know what parts are susceptible to damage.
eBay provides customers with the right parts in order to keep steam trains spending more time on the track and less time on the workbench. Being the world's largest auction site they have a varied selection of spare parts available. No matter the issue, eBay and their trusted sellers will help enthusiasts keep their model trains in excellent condition.
Interior Parts
Like any other type of model train, steam trains require replacement parts.. Ignoring the need to change parts when required is ill advised as in model stream trains damaged parts could cause a domino effect. Due to the detailed nature of a unit, all parts are interlocked and require each other to operate. The following parts are susceptible to failure in model steam trains:
Joints – The most common part failure. Caused by repeated firing of the engine block and general wear. Under no circumstance should anyone use electrical solder to repair the part, this could cause over heating and a possible fire hazard. Simply replace the part correctly in order to maintain the quality of a model steam train.
Burner – When in operation a steam train will vibrate and shudder. If the burner is not secured as per manufacturer instructions it runs the risk of being dislodged. This repair is simple but be sure to check the base of the burner prior to installing a new one.
Boiler – Possibly the most expensive part in a model steam train. If not taken care of properly it can also be the most hazardous. Common faults occur when it is disconnected for the pressure gauge and the boiler becomes subject to overheating.
Whistle Holes – A common yet dangerous occurrence, in such instances the slight glass breaks. Many choose to fill the gaps created with solder. This is not advised, as the part requires full replacement.
Over time model steam trains wear down and it important to know when to replace parts. When it comes to purchasing new parts always keep quality in mind. Stick to well-respected brands and parts that have been positively reviewed. Avoid unbranded parts due to the fact that they do not carry the same warranty that name manufacturers versions do. eBay offers replacement parts from all the industry's top brands so finding the right piece to fix your model steam train is only a few clicks away.
Tools Required
It is important to know what tools to use when it comes to installing new pieces. Installing certain parts can be tricky but the following tools will help make restoring a model train to its former glory easier:
Pliers
Propane Torch
Screwdriver
Work Bench or Surface
Oil
Model Knife
Scissors
Sandpaper
Wire Wool
Having the correct hardware at hand is essential to model steam train maintenance. There is nothing more frustrating than having a new part ready to install yet not having the correct tools to do so. Before attempting any repair, get to know the tools required and practice with them. Due the delicate nature of some parts you may only get one chance to do a repair correctly so make sure you feel comfortable with the tools in hand.
Cleaning of the Model Steam Train
The best process to keep parts both new and old running correctly in a model steam train is to maintain cleanliness.
Common sources of problems in steam locomotive models arise due to poor contact with the track. Either dirty or jammed wheels on the train itself often cause this.
Cleaning the wheels will help extend the life of older parts whilst ensuring new ones can run at optimum performance. Installing wheel cleaners around the track can help with this process.
When cleaning the wheels it is important to hit all areas that collect dirt and dust.
The electrical pick-ups are the most susceptible part of the train and will require electrical cleaner on its axis.
Running gears, gearboxes and drive shafts play pivotal roles in how a steam train performs so they should also be a priority in the cleaning process.
In terms of individual gears, dirt can easily become lodged and stuck so it is crucial to stay on top of their condition.
Cleaning can be done in the most part without any disassembly. However if you do need to remove parts from the engine block do so with care. Use a non-stick surface when putting parts down and be wary of the steps taken when it comes to reassembly.
Lubrication
Model steam trains are no different from any other mechanical device; they run at their best when properly lubricated.. This prevents older parts wearing and improves the performance of new parts once installed. However it should be noted that excessive oiling could cause just as much damage as using too little oil, be sure to find the correct balance. There is a wide array of lubricants available on eBay but before committing to a purchase, check what the model steam train manufacturer recommends.
Heavy Grease – Comes in a tube at a thick consistency. Place a small amount on the gears but make sure that it is plastic compatible before use.
Light Oil – Perfect for use on running gears and axles. For intricate parts use a needlepoint applicator, it works well in applying to hard to reach places. Also apply to the side rods or wherever moving parts meet or grind together.
Powdered Graphite – Even though it is not essential to maintenance, powdered graphite has a use in improving a steam trains swing motion.
eBay offers all the above in handy train specific maintenance kits but if required you can also buy them individually from one of eBay's trusted sellers. It is important to remember that when tending to parts with lubricant, less is often more. Using too much lubricant can cause excessive dirt build up and create a mess.
How to Buy Model Steam Train Parts on eBay
Finding the right part to either fix or upgrade a model steam train could not be any easier on eBay. Before heading to the world's leading auction website make sure you know what it is you are after.
Once a part has been decided on, click on the toys and games category and head into the steam sub-section. There all current live auctions can be found and buyers can browse openly.
If you have a specific brand or part requirement use the search function found at the top of the page, use advanced search to narrow results down further if required.
Delivery
Be observant when reading item listings and take delivery charges into consideration. To alleviate any concerns regarding an item do not hesitate to speak to the seller in question. They will be sure to provide support and answer any questions regarding the item. The quality of a seller can be figured out by their individual feedback rating. Many sellers also offer a returns policy so be sure to ask about it before completing the checkout process.
Making a Purchase
Buying new parts for a model steam train is a simple process that ensures you spend more time on the track and less time with tools in hand. When on an item listing make a bid, a best offer or commit to an immediate purchase with buy it now.. Once a listing has ended checking out is the next step, do this with PayPal in order to ensure that the buyer protection program covers the transaction. It is worth learning about how eBay and PayPal protect users so buyers know their rights as a customer.
Conclusion
Model steam trains are a fun hobby but be sure to pay due care and attention to problems when they arise. The installation of new parts may not happen on a regular basis but at times it can be unavoidable. Leaving a train idle for an extended period of time is not recommended so regular operation and cleaning is highly advised. New parts are released regularly by the top brands in train models as they do their best to stay at the forefront of the industry.
When purchasing parts be sure to know what it is you are after and whether it will be suitable for the train model in question. Maintain a key eye during unit inspections in order to spot when a new part is required. The time will come when changing a part becomes essential and unavoidable. If shoppers use this guide and eBay's army of trusted sellers, finding the right part is a simple and efficient process.