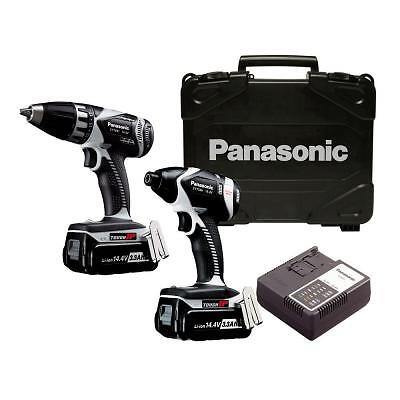 Buying a power tool combo kit instead of a bunch of individually priced power tools is a great way for a person to save money and build a home or business workshop. Whether the kit is offered by manufacturers such as Bosch or DeWalt, or individual sellers such as those found on eBay, there is a lot of cost savings to be had through this purchase scenario.
However, before beginning the search process, it is important for the buyer to consider several aspects of buying a power tool combo kit. This includes assessing the benefits of buying a kit vs. single power tools as well as reviewing the options available in terms of power tools kits. Finally, where one chooses to buy a power tool combo kit is as important as the contents of the kit itself. Therefore, taking time to consider the variety of options available on eBay and the proper ways to use the site is a good way to save time and money in the long run.
Buying a Power Tool Combo Kit vs. Single Power Tools
Before moving too far into the process of shopping for a power tool combo kit, it is first necessary to be certain that buying a power tool combo kit, as opposed to a single power tool, is the best option. In reality, there is no specific formula or right and wrong answer to this question; it is highly personalised. However, there are a few key considerations to make.
Power Tool Quality
Quality is a big factor in most people's choice of tool brands and packages. Oftentimes, power tools which are offered as part of a combo kit are misinterpreted as lower quality due to their relative price. However, this is not always true. Many times, a buyer can acquire the same model of power tool in a kit as can be purchased individually, just at a lower relative price.
The one exception to the question of quality and power tool combo kits, however, comes when one is dealing with professional-grade tools. Generally, tools that are of a higher grade in terms of strength or horsepower, which allows them to be used more frequently and are tougher in professional environments, are only available as a singular purchase. For that reason, most power tool combo kits are for home-grade tools or those only being used lightly in a business environment.
Power Tool Price
The other major factor a buyer needs to consider when looking at a power tool combo kit is its price. Although the relative price of each tool within a combo kit is lower than if that same tool is purchased by itself, the overall price is obviously going to be higher since a buyer is getting more tools through the purchase. In a case when budget is not a sticking point, this cost savings alone makes it worth it to purchase the combo kit. However, a buyer who is operating with very limited funds and who only has specific needs may find it more prudent to save the money and only purchase the single tool that is needed.
Choosing the Right Power Tool Combo Kit
Once the buyer is confident in his or her need for a power tool combo kit, the next step is to consider the options within that category. Like many products on the market today, there are dozens of options when it comes to power tool combo kit specifics. This means that the buyer needs to carefully consider his or her needs alongside what is most commonly available. It is also important to consider whether it is best to buy a power tool combo kit new or used.
Types of Power Tool Combo Kits
Though the range of available items within a power tool combo kit can really run the list of power tools, there are two main types of kits that a buyer will encounter both in stores and when shopping online. These kits are drilling-based kits and cordless combo kits. They each offer a general set of tools that meet different needs. These details are outlined in the table below.
Kit Name

What Is Included

Best for ...

Popular Brands

Driver drill

Impact driver

Case/bag

Battery charger

1-2 spare batteries

Occasional addition: reciprocating saw

A person looking primarily for drilling tools and other power tools associated with drilling

3-9 different pieces may include:

Driver drill

Impact driver

Reciprocating saw

Circular saw

Torch

Grinder

Impact wrench

Angle drill

Jigsaw

Case/bag

Battery charger

1-2 spare batteries

A person looking to quickly build a tool collection and concentrating on one brand

The specific offerings vary, but all tools in a kit run off of the same batteries, making charging and changing tools easy

DeWalt

Makita
Just like the decision to buy a power tool combo kit, choosing which type of kit to buy and the exact tools to make sure are included with it is a highly personalised decision. A buyer needs to consider his or her needs, the deals available, and his or her goals, both long and short term, in power tool acquisition.
Considering a Used or Refurbished Power Tool Combo Kit
In addition to the basic types of power tool combo kits offered by retailers, it is also important for the buyer to consider whether to buy a kit new or used. Though it is always nice to purchase products brand new, there is a lot of cost savings in buying them either used or refurbished.
Additional Items May Be Offered
Unlike new items, used power tool kits are not confined to manufacturer-designated items. Individuals selling used kits may choose to combine a basic power tool combo kit with other, individually purchased, power tools, saving the buyer additional money. This concept, also known as bundled selling, is a great way to quickly grow one's tool collection for less money.
Considering Relative Use of a Tool
Also, the choice of whether or not to buy power tools used should relate to the relative use that the tools will receive once purchased. For example, home-based projects may only require the occasional use of certain tools such as a jigsaw or impact drill. Therefore, saving money by buying used makes sense. However, a professional who uses tools every day or tools that get a lot of personal use, such as a circular saw, may be better purchased new.
How to Buy a Power Tool Combo Kit on eBay
When the time finally comes to begin shopping for a power tool combo kit, a buyer has a lot of options. There are traditional tool retailers and department stores with tool sections as well as online websites of the same as well as opportunities to buy a used tool kit through a classified ad. One great way to combine the best of all these worlds is shopping through the eBay marketplace. A user just needs a few simple tools to get started.
How to Search eBay
Searching eBay is really simple and it is a process that can begin at the top of any page on the website. Through the use of the main search bar, a user can enter general or specific terms designed to find the power tool combo kit that is right for him or her. However, since eBay offers millions of items from millions of sellers around the world, more specific keywords yield more favourable results. Therefore, rather than searching for "power tool kits" alone, consider adding a brand name, item, or other detail that will refine search results, such as "4-piece power tool kits".
Evaluating eBay Results
Once the buyer finds a decent number of prospective items, the process of further refining the choices can begin. A user can choose to use the limiters provided by eBay to narrow results, but should also take care to evaluate each listing independently. Minimally, this means reading up on a seller's feedback and asking questions before making a purchase commitment.
Conclusion
Choosing to buy a power tool combo kit is a great way for an individual and business to save money when acquiring necessary tools. However, before making a purchase, careful consideration of quite a few factors is necessary. First, a buyer is advised to carefully consider the benefits of buying a power tool combo kit over individual power tools. There is no right and wrong answer to which option is the best as the choice is highly personalised.
Power tool kits are not one-size-fits-all items, however, and a buyer must spend additional time considering whether to buy a drill-based power tool kit or a more diverse cordless power tool combo kit. Both options offer cost savings to the consumer and fulfill specific needs. Additionally, it may also be prudent to consider whether or not to buy said kit new or used.
Finally, when ready to buy a power tool combo kit there are many retailers to consider. Getting the best of all available options, new and used, big and small business, however, can be found through eBay. With simple search tips and knowing how to evaluate listings once they are generated, a buyer can save both time and money.