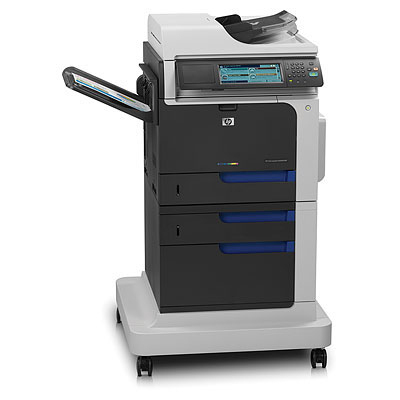 Printers are useful office machines for many different types of companies around the globe. From printing receipts to business plans, printers help companies stay organised and on track to succeed. There are different types of printers for different jobs. Some printers have multiple features such as a copier or fax machines, while others focus on precise colour for printing photographs or posters. Before purchasing a printer, it is important to consider the printing needs of the company to determine which type of printer would be the most efficient and cost effective.
Printers are purchased in brick and mortar office supply stores, directly from the manufacturer, or online using eBay. Purchasing printers and other office equipment can get costly, but with the large selection of printers on eBay, choosing the best printer for your business is simple and affordable. Before choosing a printer for your business, it is important to understand the types of printers and available features, and to make sure the printer is compatible with your company's computer system.
Choose the Type of Printer
Choosing the type of printer that is best for your business is the first step for purchasing a printer. Understanding the different types of printers helps buyers come to an informed decision for which type of printer is best for their business. Things to consider when choosing a printer include daily printing volume and the types of documents being printed.
Inkjet Printers
Inkjet printers are one of the most affordable types of printers on the market since they are fairly small and usually mass produced. They are used primarily for standard documents or photographs. Despite the low cost, inkjet printers require ink cartridges which must be replaced fairly often with frequent use, causing a higher price per page. Inkjet printers are ideal for homes and small offices with low to medium daily printing volume.
Different types of printer models require different types of ink cartridges. Each printer uses a specific type of cartridge which is compatible with the printer's make and model. Some printers require all-in-one cartridges, which combine all colour cartridges in one. Others require separate colour cartridges that include: black, yellow, cyan, and magenta. Initially, all-in-one cartridges may be less pricey than purchasing separate colour cartridges, but require more frequent replacing since the whole cartridge needs to be replaced if one colour is low.
Laser Printers
The second type of printer commonly found in office buildings are laser printers, which are best for high volume printing and high resolution colour. Laser printers are much larger and better at mass printing, so they are ideal for medium to large companies that constantly use the printer, or have multiple employees printing to the same printer. Unlike inkjet printers, laser printers are able to print high volume in a short amount of time without having to constantly replace ink cartridges, making the cost per page lower than inkjet printers. Colour laser printers use high resolution colours to create vivid, clear images, so they are ideal when printing photographs, or other client-facing artwork such as promotional signs.
Laser printers use toner cartridges instead of ink cartridges, which do not run out as quickly. Laser printers and toner cartridges initially cost more, but are more efficient and affordable for companies that use the printer frequently. Some laser printers are able to connect to the company's wireless network, so multiple employees can print from their desk. The printer organises the tasks into a queue displayed on the screen allowing multiple jobs at once. Laser printers are much more cost efficient for medium to large offices with high volume printing.
Determine the Printer Features
Printers are purchased as simple printing devices, or all-in-one devices that feature other office equipment, such as a copier or scanner. When choosing a printer for your business, consider the different features and if they would be a benefit to your office. All-in-one printers are more expensive than basic printers, but save money on buying additional office equipment such as a fax machine or copier.
Copier
One of the most basic features paired with a printer is a copier. A printer with a copier allows a document to be copied and printed multiple times. Many businesses use copy machines on a daily basis, to create multiple copies of a document for a team of clients. Copiers are found on both inkjet and laser printers, and should be chosen based on the volume of use. Some laser printers used for high volume jobs have a staple setting, which can be set to staple together each individual copy of the document.
Scanner
Another common feature on printers is a scanner. A scanner allows a device to be scanned and sent to a computer, memory card, or special folder. Scanners are important for transferring documents, such as signed receipts, onto the computer for filing or storage. They also make it easy to upload and share documents via email, or over a company network. Like copies, scanners are found on both inkjet and laser printers. Scanners need to be connected to the computer with specific software, so it is important to make sure that the software is compatible with your company's computer systems before making a purchase.
Fax Machine
Although many people today use scanners over fax machines to send documents via email, many businesses still have fax machines for customers who wish to send them documents via fax. Like scanners, fax machines make it easy to share documents that are not on the computer, such as signed agreements. Printers that include a fax machine include a numeric keypad to dial the fax number, and a place for the document to be sent and received. Fax machines are more commonly found on inkjet printers, since they have a low volume tolerance, but are also found on laser printers. Fax machines must be connected to the company phone line, so the company must have a specific phone number for the fax machine to be able to send and receive faxes.
Landline Telephones
Another feature on printers that connects to the company phone line is a landline telephone. Landline phones are found on laser and inkjet all-in-one printers, but are a less common feature for printers. Many companies have phone lines with multiple extensions to reach different departments or employees, so they do not need a printer with a landline feature.
Ensure the Printer is Compatible with the Computer System
After determining the features and type of printer, it is important to make sure that the printer is compatible with the company's computer system. Some older models of printers or computers do not work with new software, so the computer is not able to send jobs to the printer. Each printer comes with specific software which shows the compatible computer models or operating systems, making it easy to determine if your business computer system is compatible. The software and compatibility information are also available on the manufacturer's website.
How to Purchase a Printer on eBay
After considering the type of printer and different features available, it is simple to find the right printer for your business needs. Although purchasing printers for the office may get costly, eBay's large selection of office printers for affordable prices. eBay is also a great place to find printer supplies, such as ink cartridges or printer paper. One of the simplest ways to search for office printers on eBay is through the use of keywords in the keyword search bar. If you already know the specific type of printer you are looking for, you can search for a specific term, such as 'inkjet printer'. To browse through different printers, and the prices of each, use a more broad search term, such as 'office printer'.
eBay also makes it easy to stick within your budget when purchasing office equipment such as printers. eBay allows users to set a price maximum to ensure they do not waste time searching through options outside of their company budget. When purchasing large printers such as laser printers, purchasing the printer from a local seller saves money on expensive shipping costs, since you can oftentimes arrange a time with the seller to pick up the printer.
Conclusion
Print volume, type of documents printed, and size of the office should all be considerations to make note of when choosing the best type of printer for your office. Many inkjet printers are used for small offices or home use, where there is a low volume of printing, since they are initially affordable but more costly per page. Laser printers that use toner cartridges are initially more expensive, but cost less per page and are ideal for quickly printing high volume jobs on a daily basis.
It is also important to determine the number of printers needed for the office. All-in-one laser printers are usually the most expensive, so many offices have one or two all-in-one laser printers with multiple features, as well as other smaller inkjet printers for smaller jobs. Colour printers also tend to be more expensive, so you should consider if all of the printers are needed to print colour. Regardless of the type of printer you are looking for, eBay has printers that fit within your company's needs and budget.