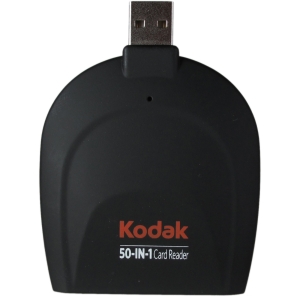 Memory cards are being used in an increasing number of electronic products. They are a great way for manufacturers to offer almost unlimited storage, without having to charge the consumer extra to have additional storage built in. Besides making the product cheaper to buy, it is also useful for the consumer to be able to upgrade their storage when it becomes full, without having to either remove something from it that they find useful, or replace the whole item with something that has bigger storage. Memory cards have come down in price significantly in recent years, however, many people choose to keep costs down by re-using memory cards. Downloading items off of the memory card and onto a computer or cloud service is a great way of creating more space on the memory card, while still having the option to put things back on it should this be required in the future.
About Memory Card Readers
While most devices that take memory cards come with a cable that allows it to be connected to a computer so that files can be downloaded from the card or uploaded onto it, with the number of products offering memory card storage on the increase, this can result in a number of cables and a cluttered workspace. Memory card readers are an easy way of accessing files on any number of memory cards without the need for cables – simply take the memory card out of the electronic device and plug it into the card reader and the computer will immediately pick it up.
Choosing a Memory Card Reader
There are many different card readers available to buy, with suitability largely depending on the devices and memory cards it is intended to be used with. Important things to consider are the types of memory card it will be used with, how accessible it needs to be and the transfer rate.
Types of Memory Card Reader
There are a number of different memory cards available to buy, with SD cards and Micro-SD cards two of the most popular options. Some card readers will be capable of reading a number of different card types, which is particularly useful for anybody with a number of devices which take more than one type of memory card. There are a number of different types of memory card available; some of the most popular are listed below.
| | |
| --- | --- |
| SD | SD cards are probably the most well used, and they are commonly found in cameras and tablet computers, amongst other devices. Larger capacity SD cards, known as SDHC and SDXC cards are also available, so it is important to check that the memory card reader is capable of whatever type of SD card it is intended to be used with. |
| Micro SD | Micro SD cards are commonly used in smaller gadgets, such as mobile phones. In appearance, they are just a smaller version of an SD card, and quite often come with a special converter when purchased, which will allow them to fit into a device which takes SD cards or an SD card reader. For users that already have a convertor such as this, any SD card reader should be able to read a Micro SD card when the convertor is used. If a convertor is not available, then the options are to buy a card reader with a slot specifically for Micro SD cards, a card reader that comes with a convertor for Micro SD cards, or buy the SD card reader and Micro SD convertor separately. |
| xD | xD cards are not so common in recent years, however, due to their past popularity with digital cameras there are still many people using them. |
| CompactFlash (CF) | CompactFlash cards were extremely popular with earlier model digital cameras, and while SD cards are generally now more popular, CompactFlash is still popular amongst certain camera and video camera manufacturers. |
| Memory Stick (MS) | There are a number of different types of Memory Stick, including Memory Stick PRO, Memroy Stick Duo and Memory Stick XC. These are all commonly used in Sony products, such as cameras, video cameras and games consoles. As there are a number of different types available, it is important to ensure that the card reader will work with the specific type of Memory Stick that it is required to be used with. |
Accessibility of Memory Card Readers
If the memory card reader is going to be used frequently, making sure it is easy to access is an important consideration. Many computers have a spare slot underneath the DVD drive that can be used for a number of purposes, including installing a memory card reader. For many people this is the easiest to access and visually appealing solution. While installing one of these is not too difficult, it can be a daunting prospect for anybody who has not opened up the case of their computer before, and paying a professional to do install the card reader is likely to cost more than the card reader itself. How suitable a USB card reader is will largely depend on where the USB slots are on the computer and how many are available. If it means having to unplug an important device such as the mouse or keyboard, it may be entirely unsuitable. If the only available slots for are around the back of the computer, how easy this is to access and how frequently it will be accessed may be considerations. Purchasing a USB extension cable is one way of getting around the issue of the card reader being difficult to reach.
Memory Card Reader Transfer Rate
The transfer rate for getting files off and on of a memory card will vary depending on a number of factors. Many users will find that although there is a difference, using a slower transfer method will not have a large negative impact, however those who will be frequently transferring large files such as videos, a quicker transfer rate will make a significant difference and make the product overall more useable.
| | |
| --- | --- |
| Connection Method | The transfer speed for memory card readers that are directly connected to a computer are usually quicker than their USB counterparts. |
| USB Speed | There are currently three types of USB connections – USB, USB 2, and USB 3. Ports on most modern computers are likely to be at least USB 2, with USB 3 becoming increasingly more common. Similarly, card readers will be either capable of USB, USB 2 or USB 3. While the connections are backwards compatible with one another, the speed will be limited to the slowest component, be that the connection on the computer or the memory card reader. There is no point spending extra on a USB 3 memory card reader if the only ports available for it to be plugged into are USB or USB 2, as the speed will be restricted to that of the port on the computer. |
| Memory Card Speed | The memory card will also have a maximum transfer speed. On SD cards, this is expressed as the class, and will appear somewhere on the card as a "C" with a number in it, for example C10. An old model of memory card reader can be cheaper, however there can sometimes be issues when the maximum speed of the SD card is higher than that of the card reader, so it is advisable to buy a card reader with a class equal to or higher than that on the cards that will be used with it. |
Finding Memory Card Readers on eBay
As memory card readers can be associated with a number of different products, they can be found in a number of different categories, so searching for a term such as "memory card reader", "USB memory card reader" or "SD card reader", depending on requirements is the best way of getting a wide selection to choose from. Laptop & Desktop Accessories has the largest range of memory card readers. To get to this section, choose Electronics & Technology from the eBay home page, followed by Computers/Tablets/Networks from the sub menu that appears. From here, select Laptop & Desktop Accs. On the left hand side of the page will be a list of categories – select Memory Card Readers & Adapters to see a list of available card readers. The search can be narrowed down further by selecting further categories relating to the types of memory card supported, for example SD cards.
Conclusion
There is a large number of memory card readers available to purchase. The most important thing to take into consideration is which card or cards it will be used with. Once this has been determined, other factors such as how it plugs into the computer and how quickly it operates can be taken into consideration.