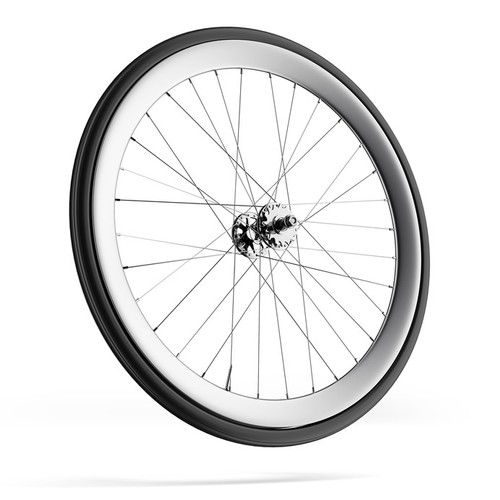 The rim is the outer metal band of a wheel on which the tyre is attached. It is supported by the spokes connected to the hub. This guide will help you to gain useful knowledge about rims which will help you:
To choose the right sized rim for your own bike or that of a family member
To replace a rim on an existing wheel which has been damaged
To choose a rim as an element of building the optimum wheel for your ride.
Wheel Rim Specification
Rim Size
Knowing the rim size is fundamental to choosing the right sized bike
Some sellers will list a bike's wheel rim size, which works as a useful measurement when you shop for a child-size bike.
| Wheel size | Min child height | Max child height |
| --- | --- | --- |
| 12 inch | 28 inches | 38 inches |
| 16 inch | 38 inches | 48 inches |
| 20 inch | 48 inches | 60 inches |
Modern mountain bike wheels come in three diameters:
26 inch
27.5 inch
29 inch
Most modern trail rims have an internal diameter of between 19 and 24 millimetres. The wider the rim, the better support and fatter profile it will provide for a bigger tyre. But bigger rims can be heavier.

Most standard road bikes come with 700c wheels. There are some women's specific road bikes that have 650c sized wheels.
Older touring and sport road bikes may have 27 inch wheels. The reason that 27 inch became the standard is that it optimised many aspects of performance, weight and economy. Larger diameters require larger hubs for stability. This increases the price of the complete wheel.
Spoke Count
Another factor in the specification of wheels is the spoke count. This is the number of spokes used in a given wheel.
Modern wheel sets typically use the minimum number required to suit the wheel design, more for heavier uses, fewer when the wheels are not pushed so hard.
To decide, start by thinking about your weight, the condition of the road or trail surfaces and style of riding, such as:
long hard miles
weekend fun riding
racing
trail riding.
In general, bigger riders who ride a lot should use more spokes. Lighter cyclists on smoother surfaces can get by with fewer spokes.
Rim Material
Although bicycles with steel wheels can still be found, steel is no longer favoured due to its weight. Even more important however is how slick steel rims become when it rains; this compromises braking power.
Instead, most wheels today feature rims made of light and durable extruded aluminium. This is the semi-molten aluminium that is squeezed out of specially-shaped openings which determine the cross section of the rim. The extrusions are formed into hoops and then joined either by welding or by the insertion of a filler piece into the hollows of each end of the rim.
At the high end are carbon rims. Carbon can be moulded into many shapes, can save weight, and is a nice match for full-carbon bicycles. Note that carbon rims with carbon braking surfaces require carbon-compatible brake pads.
Rims and tyres
Clincher rims
Most bicycle rims are 'clincher' rims for use with clincher tyres.
These have a wire or tough fibre bead that interlocks with flanges in the rim.
An inflated inner tube enclosed by the rim supports the carcass of the tyre and maintains the bead lock. An advantage of this system is that the inner tube can be easily accessed:
in case a puncture needs to patched or
the inner tube needs to be replaced.
If the inner part of the rim where the inner tube fits has spoke holes, they must be covered by a rim tape or strip.
Rim Tape is a basic essential; it lines the inside of the rim helping to prevent pinch punctures and punctures caused by sharp edges of the spoke holes.
There are various options available from the traditional cloth tape to flexible, lightweight plastic options. If performance is critical to you, go lightweight as anything adding to the rotational weight of the wheel will slow down your rate of acceleration.
Tubular or sew-up rims Some rims are designed for tubular tyres which are attached to the rim with adhesive. The rim provides a shallow, circular, outer cross-section in which the tyre lies, instead of flanges on which tyre beads seat themselves.
Tubeless A tubeless tyre system requires an airtight rim. This must be sealed at the valve stem, spoke holes if they go all the way through the rim and the tyre bead seat and a compatible tyre.
Universal System Tubeless developed for mountain bikes is the most common system of tubeless tyres/rims.
The main benefit of tubeless tyres is their ability to use low air pressure for better traction without getting pinch punctures. There is no tube to pinch between the rim and tyre when the wheel hits an obstacle such as rock.
Rims and Brakes
There are broadly two types of brakes for bikes, rim brakes and disc brakes.
Disc brakes are applied to a rotor attached to the hub.
Rim brakes work by lateral pressure applied by braking action which pulls the pads against each of the vertical sidewalls of the rim. This has a bearing on rim wear.
Rim brakes wear down the sidewalls of aluminium rims, especially in wet-sandy conditions.
Brake pads of the harder variety can cause grooves to form over time.
Any hard particles trapped between the rim and the pad will leave a score around the circumference. As the number of miles adds up and with frequent braking in the rain, smaller grit particles will begin to wear the rim away.
The sidewall will be become concave, a difference that can be felt running the finger along the sidewall. Eventually, the air pressure in the tire can bulge a sidewall out, causing a blow-out.
It is usually possible to transfer the old, intact spokes to a new rim, chosen with the help of this guide, avoiding the need to replace the whole wheel.
Rim Shape
The cross-section of a rim can have a wide range of geometry. Each cross section has been optimised for particular performance goals.
Aerodynamics, mass and inertia, stiffness, durability, tubeless tyre compatibility, brake compatibility and, of course, cost are all considerations.
A single-wall rim has a simple U shape with a single layer of metal across the bottom where the spokes attach.
A double-wall (or box-section) rim has two layers, with a cavity in between. The spokes then attach at the lower layer, closer to the hub, and the upper layer has holes large enough to allow insertion of the nipple heads or a screwdriver.
The best double-wall rims have ferrules which spread the load to both layers, making these rims lighter and / or stronger.
The shape of the rim affects how the wheel rides.
The stiffer the rim, the more the rider feels the road and trail.
The more triangulated and deep (tall) a rim is, the more rigid the ride.
Most of the time, on smooth surfaces, stiffness will be less noticeable than on rougher ones. Stiffness is an advantage for racing because more of the rider's power is transferred to the road.
Depth
There has been a trend toward deeper-section rims in the interest of aerodynamics. Extremely deep-section rims can work with somewhat fewer spokes than conventional rims. As few as 20 in a front wheel may be practical. This also has an aerodynamic advantage.
However, such a rim does not provide a "crush zone" to the same extent as a conventional rim. An impact with a rock is more likely to damage the bicycle's fork and frame. The rim will probably crumple beyond repair.
These rims tend to be heavier, too. For speed, look at wheels with deep-section rims. These can be as tall as 90mm or more. For lighter weight and better handling in crosswinds, check out wheels with smaller profiles like 28mm.
Width
| Feature | Width | Benefits |
| --- | --- | --- |
| Wide | 23mm | Comfort / durability |
| Narrow | 19mm | Light / aerodynamic |
Wider rims (about 23mm) tend to offer a more comfortable ride and more durability since they spread the tyre sides allowing more air and flotation.
Meanwhile, narrower (usually 19mm) gives you more aerodynamic advantages and lighter weight.
How to Buy Bike Rims on eBay
Now that you've worked out which bike Rim you want, you can find them quickly on eBay. While you shop, don't forget Tyres & Wheels, Handlebars & Stems, Headsets, Drive, Brake Components and Saddles & Seatposts. To start shopping, go to the Sports and Leisure category. Click the Sporting Goods portal and click Cycling.
Categories:
The Categories list on the left side of each page will help you narrow down your listings by item type. You'll find links for Bikes, Bike Parts, Clothing, Footwear & Helmets, Cycling Accessories, Trophies and Other Cycling. As you refine your search you'll be able to narrow down your choice by subcategory.
Product Finder
Use the Town Bike Parts Finder to quickly narrow down item listings by brand, model and condition (new or used).
Keyword search
Search eBay listing titles for specific words. For example, if you want to find new town rims, type the keywords "bike rims new" (without quotation marks) into the Search box. Click "Search title and description" to expand your results. Visit eBay's Search Tips page for more tips on searching with keywords.
If you can't find exactly what you want, try browsing eBay Stores or tell the eBay Community what you're looking for by creating a post on Want It Now, or save a search on My eBay and eBay will email you when a matching item becomes available.
Buy Bike Rims with Confidence
Make sure that you know exactly what you're buying and understand how eBay and PayPal protect you.
Know your item
Read the details in the item listing carefully.
Remember to add delivery costs to your final price. If you're buying a high value item, check that the seller will insure it until it is delivered to you.
If you want more information, click the "Ask seller a question" button on the seller's profile or the "Ask a question" link at the bottom of the item listing page.
Always complete your transaction on eBay (with a bid, Buy it Now or Best Offer) otherwise you will not be covered by eBay Buyer Protection.
Never pay for your eBay item using an instant cash wire transfer service like Western Union or MoneyGram. These are not safe ways of paying someone you do not know.
Know your seller
Research your seller so that you feel safe and positive about every transaction.
What is the seller's Feedback rating?
How many transactions have they completed?
How many positive responses do they have?
What do buyers say in their Feedback?
Are they positive about the seller?
Most top eBay sellers operate like retail shops and have a returns policy.
Do they offer a money-back guarantee?
What are their terms and conditions?
Buyer protection
In the very unlikely event that you do not receive your item or it is not as described, eBay Buyer Protection your purchase price plus original delivery cost.
Tips
Try to look at a close-up photograph of the rim.
Check that it is not worn down or hollowing in as this will affect the braking ability.
Look for lines around the rim; these indicate that they have been damaged by dirt or gravel which has then scratched the rim by getting under the brake pads. This could lead to the rims splitting.
Clean rims which are unscratched show that they are in good condition.
Conclusion
The chief advantage of buying rims as a separate item is their role in creating hand-built wheels. These provides the benefit of selecting specific individual components - high quality rims, hubs and spokes – for the buyer or a cycle repairer to build to exacting requirements.
Hand-built wheels are often easier to maintain and repair so are highly suitable for training wheels. They are also the preferred choice for touring, especially as the number of spokes can be increased for additional strength and comfort.