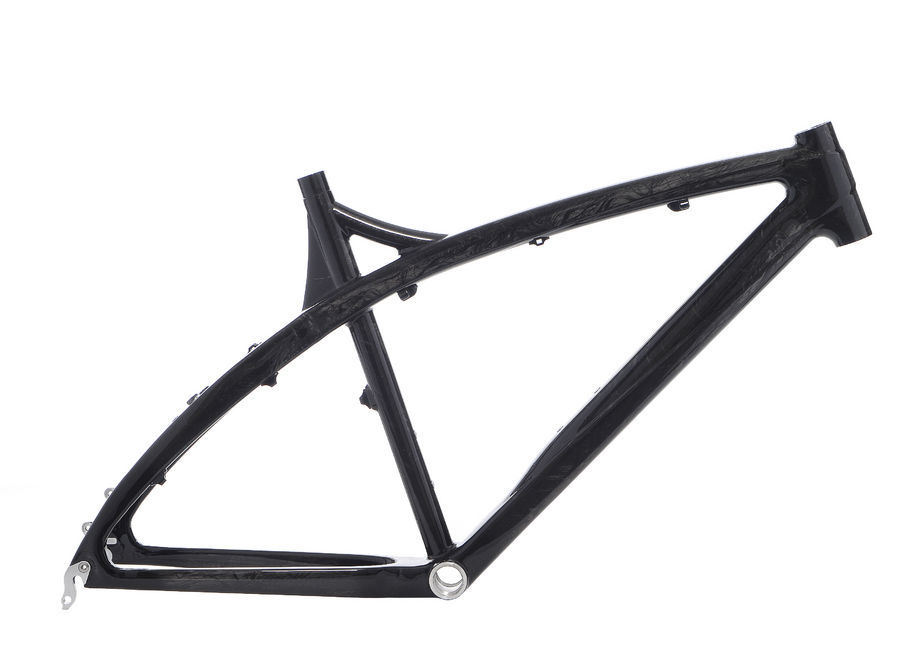 The main factors to take into consideration when choosing a bike frame are:
* What size will you need?
* Who are you buying the bike frame for?
* Is it the correct weight?
Size
In order to work out the right size bike frame you will need, you must start with an inside leg measurement. This will give you an accurate measurement for your 'stand over height'.
Stand over height is the distance between a rider's crotch and the horizontal top tube of the frame. It is important that the measurement is exact as feet slipping from the pedals or a slip forward in a fall could be painful for a rider if they come in contact with the tube.
A measurement of your height is also needed in order for you to choose the right frame. The chart below allows you to combine your height and inner leg measurements to help you choose the right size frame for you.
Frame sizes increase depending on the type of bike:
* 2cm increments for road bikes
* 2 inches for mountain bikes
Who Are You Buying the Frame for?
As you can see from the frame sizing guides, the size of the frame varies according to gender and age. It is important that a child is measured to the exact centimetre as they are more prone to accidents than adults.
Beginners' bikes are important for first time riders and children. Saddles can be adjusted to add extra height as a child grows.
How to Choose the Correct Reach
As the frame size increases, the top tube length and head tube length also enlarge to keep the bike stable and in proportion.
If your measurements of height and inside leg place you between sizes, your upper body is the tie-breaker; the reach to the handle bars may be affected. This could result in a loss of steering control.
To determine whether you have long or short reach you must find your Ape Index. This is calculated by:
* Measuring your arm span - from left middle finger tip to right middle finger tip.
* Subtract your height from your arm span.
If your arm span is greater than your height then choose the bigger frame.
If your arm span is smaller than your height then the smaller frame is what you need.
Weight
Weight needs to be taken into account when choosing the frame as you must be strong enough to ride the bike uphill as well as on flat surfaces. The lighter the frame, the easier it will be to propel the bike. A few grams make a big difference, especially if you travel over longer distances.
About the Frame
The angle of the vertical tubing frame on a town bike provides the stability to ride with one hand, which the Dutch often do whilst holding a mobile phone with the other. Because the frame is the backbone of any bike, the material it is made from fundamentally affects the performance.
General town bikes offer the choice of steel or aluminium frames within its overall range. Good bikes should have decals, or markings, which verify the type of metal, such as Reynolds 853 steel, somewhere on the tubing.
Steel offers excellent ride quality and durability. It is easily repaired and affordable but tends to be heavy when low-quality tubing is used and most types can rust. A popular quality steel for bicycle frames is chrome molybdenum, referred to as ''chromoly'' or ''chrome-moly.'' There are plenty of other impressive alloys offered by tubing suppliers such as Columbus, Reynolds, Tange and True Temper - known for their combination of responsiveness and comfort.
Aluminium is now the most popular of frame materials. New aluminium alloys, tubing enhancements and improved construction techniques allow the frames to absorb shock better than ever while still offering a lively ride, thanks to being the lightest frame material. Nor does it rust. Look for 6061 and 7005 tubing, referring to alloys such as magnesium, silicon and zinc which impart strength.
How to Buy the Right Size Bike Frame on eBay
Now that you've worked out which frame you want, find them quickly on eBay. While you shop, don't forget Handlebars & Stems, Tyres & Wheels, Headsets, Saddles & Seatposts, Drive and Brake Components . To start shopping, go to the Sports and Leisure category. Click the Sporting Goods portal aand click Cycling .
Categories: The Categories list on the left side of each page will help you narrow down your listings by item type. You'll find links for Bikes, Bike Parts, Clothing, Footwear & Helmets, Cycling Accessories, Trophies and Other Cycling. As you refine your search you'll be able to narrow down your choice by subcategory.
Product Finder: Use the Bike Frame Finder to quickly narrow down item listings by type of tyre, brand, model and condition (new or used).
Keyword search: Search eBay listing titles for specific words. For example, if you want to find bike frames type the keywords ''bike frames'' (without quotation marks) into the Search box. Click ''Search title and description'' to expand your results. Visit eBay's Search Tips ppage for more tips on searching with keywords.
If you can't find exactly what you want, try browsing eBay Stores or tell the eBay Community what you're looking for by creating a post on Want It Now, or save a search on My eBay and eBay will email you when a matching item becomes available.
Buy Bike Frames with Confidence
Make sure that you know exactly what you're buying and understand how eBay and PayPal protect you.
Know your Item
Read the details in the item listing carefully.
Remember to add delivery costs to your final price. If you're buying a high value item, check that the seller will insure it until it is delivered to you.
If you want more information, click the ''Ask seller a question'' button on the seller's profile or the ''Ask a question'' link at the bottom of the item listing page.
Always complete your transaction on eBay (with a bid, Buy it Now or Best Offer) otherwise you will not be covered by eBay Buyer Protection.
Never pay for your eBay item using an instant cash wire transfer service like Western Union or MoneyGram. These are not safe ways of paying someone you do not know.
Know your Seller
Research your seller so that you feel safe and positive about every transaction.
* What is the seller's Feedback rating?
* How many transactions have they completed?
* How many positive responses do they have?
* What do buyers say in their Feedback?
* Are they positive about the seller?
Most top eBay sellers operate like retail shops and have a returns policy.
* Do they offer a money-back guarantee?
* What are their terms and conditions?
Buyer Protection
In the very unlikely event that you do not receive your item or it is not as described, eBay Buyer Protection your purchase price plus original delivery cost.
Conclusion
Always keep in mind who you are buying the bike frame for when selecting your items. To get the size exactly you need accurate measurements of the rider. Your body will thank you for spending a little bit more to buy a lighter weight frame if you are cycling a fair distance.