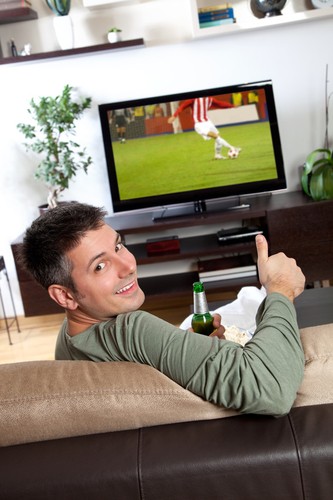 Since the cessation of analogue broadcasting in early 2012, one can only watch television transmitted digitally in the United Kingdom. Sky TV is a major digital TV content provider in the UK, and selecting the right Sky package can prove to be a complicated process.
A shopper looking for a Sky package has a multitude of options to chose from. An understanding of how the choices can make the process less daunting so that it is easier to choose a package that results in cash savings for the buyer.
Assuming a household can locate a Sky mini dish on the outside of a property, there are a number of choices around the amount and type of TV content that can be provided. Sky packages prove to be very cost effective, if one watches a lot of television; however, pay-per-view services may be a more cost effective alternative for occasional viewing of certain types of content. Understanding the options on offer can help a shopper to make an informed decision.
Digital Satellite TV
Analogue broadcasting ceased transmission in early 2012 and, since then, all TV signals have been digital. Satellite TV has also taken advantage of the benefits that digital transmission provides, notably with the advent of high definition content and 3D TV.
Free to Air Services
The United Kingdom holds a long tradition of public service broadcasting and free to air services from terrestrial TV channels that include ITV, Channel 4, and Channel 5. With the advent of digital satellite broadcasting, free to air services have secured a future and extended their reach with the launch of Sky TVs Freesat service.
Freesat from Sky is a satellite broadcasting service that is available for free, without any subscription fees, to all users. To receive the service, all that is needed is a Freesat dish and a Freesat set-top box. The equipment is widely available from Freesat or from online retailers such as eBay and, once installed, access is provided to more than 150 channels. Freesat also includes HD channels from the BBC, Channel 4, and ITV, but an HD-ready television is required to avail of this part of the package.
Subscription-Based Services
Sky TV is both a broadcaster and a creator of programmes, and this is reflected clearly in the variety of channels and the programming on offer to Sky subscribers. Sky also offers a range of subscription-only channels that provide content that is not available through any other digital TV provider.
Subscription Content
Finding the right Sky Package is all about deciding what sort of TV content is needed and then identifying an appropriate package. Sky products are grouped into three main categories, entertainment, sports and movies, and there are several levels of packages in each category.
Tiered Subscription Content
Sky places its channels into tiers to enable subscribers to make easy decisions about which channels are the right ones for them. In this way, someone who is a serious sports fan and also interested in general television entertainment might choose to sign up for Sky Entertainment, the basic start-up package. This consumer can then include one or more of the six available Sky Sports channels as an additional service. Similarly, someone who is not interested in sports could choose Sky Entertainment and then purchase Sky Entertainment Extra for an even wider range of programme content to view. Also on offer is the Sky Movies channel. Subscribing to this package delivers a regular schedule of movie premieres as well as the option to rent movies from the large library of film classics.
Pay-Per-View Content
Subscribing to a range of Sky packages can make the service expensive, so many subscribers choose a basic Sky Entertainment package. They then purchase specific sporting events or film content on a one-off basis. A simple call to the customer care line is all that is necessary to enable a set-top box to receive and display content related to a specific sports programme or movie. Charges are added automatically to the next month's subscription fee, making pay-per-view easy to use.
Bundled Services
As with other digital TV providers, Sky offers additional value to customers by bundling broadband and telephone services with digital satellite subscriptions. The company offers a range of package deals by bundling services.
Broadband
Broadband is the key to online access, and a Sky TV package that provides access to movies needs a good broadband connection. As with many Sky products, the broadband options are tiered. The range starts with Sky Broadband Lite, for homes where casual Internet use is expected, with a 2 GB usage cap. Sky Broadband is available for serious Internet users with no usage limits, allowing movies to be downloaded as needed. Sky Fibre Unlimited is offered for super fast broadband access across fibre optic cables. This is suitable for homes in which multiple individuals use the Internet at the same time, watch high definition content, or play online games with multiple players.
Landline Calls
Sky Talk Weekend offers subscribers the chance to make free landline calls across the UK during the weekend. The service can be upgraded to Sky Talk Anytime to allow free UK landline calls seven days a week. One must take the time to calculate the true cost of landline calls when considering an upgrade.
Ways to Watch Content
Buying the right Sky package also means considering how to watch content from the provider. There are a variety of ways of receiving Sky programming content into the home.
Sky+
Sky+ is the entry level set-top box that Sky provides, and it has a raft of features designed to make viewing the content provided by Sky easier and more flexible. The Sky+ box features pause, rewind, and record facilities that allows viewers to watch one programme whilst recording two others for viewing later. It also allows live TV to be halted and rewound, which is ideal in case of an unexpected phone call in the middle of watching a favourite programme. Organising recordings as well as controlling a Sky+ box can also be done from an iPad. Catch Up TV is also available with Sky+ using on demand technology from BBC, ITV, Channel 4 and Channel 5.
Sky+ HD
Sky+ HD delivers high definition television content for up to 64 channels. The channels are spread across Sky Entertainment,, Sky Sports, and Sky Movies. The channels of MGM HD, Disney HD, ESPN HD, and ESPN America HD are only available through the HD format. In order to view content in high definition, the service has to be viewed on a high definition-ready TV. HD content is also available with catch up or on demand TV as long as one has a broadband connection with sufficient bandwidth. This can easily be included as part of a Sky package.
Sky Go
Sky Go is the service offered to subscribers to allow them to access Sky content on multiple platforms. The service is offered at no additional cost to the subscriber, and it delivers Sky content on computers, smartphones, and tablet computers such as the iPad. The service includes multiple live sports channels, and it can be used to watch films from the Sky Movies library on tablets such as the iPad and selected Android smartphones.
Sky Multiroom
Many family households have more than one television in the home. Sky Multiroom is a service that delivers the full Sky Plus experience to multiple TV sets in multiple rooms in a home. Working across standard and HDTV formats, it means that each TV set can show programmes that are independently controlled for maximum viewing flexibility. Sky Multiroom boxes are located in each room and controlled with their own remote control device. The service is charged on a per-room basis as an extra cost to the Sky package chosen.
Sky 3D
A company that has been in the vanguard of developing new technologies for television, Sky has launched the first 3D TV service. This dedicated channel is available free of charge to subscribers who take the Sky World HD channel and includes sports and entertainment content. Films are also available in 3D on a rental basis from the Sky Movies library, either as part of a subscription package or on a pay-per-view basis.
Conclusion
Buying a Sky package helps organise much of an individual's or family's entertainment. The right decision about the package to buy can accomplish that without putting too much strain on finances. By looking more closely at the content that is available as part of the packages, Sky offers shoppers many ways to create the right package for their needs.
Digital TV can present the shopper with an array of choices that can appear to be bewildering at first glance. Careful consideration of what is actually included in each package and how much each feature may be used can enable decisions that do not involve spending on options that are not needed.
Whilst Sky packages can only be sourced from Sky, a raft of accessories enrich the Sky experience. Sky remote controls and Sky+ boxes are amongst the list of accessories that are readily available on the eBay platform. One can easily purchase these accessories with confidence by taking the time to review the product details as well as the seller's history.