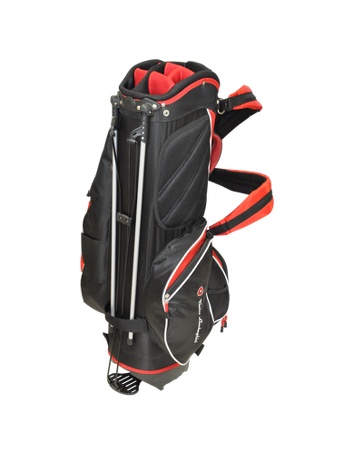 Golf is a sport that is enjoyed by growing numbers of men and women in the United Kingdom, with participants looking for the very best in their set of clubs, and the comfort that comes with them.
Golf bags are an important part of any golfer's array of equipment, and buying a strap that is both comfortable and the right length can prevent any long-term damage to the back.
The following buying guide explains the types of golf bags available, the straps that can be used to carry them and how to buy a bag and strap safely and securely using eBay.
Types of Golf Bag
Golf bag types vary massively in what they cater for, with everyone from the humble club player to established professionals having to be provided for.
Whether the user walks around the course or uses a buggy at all times, there's a bag for every need and the table below explains the types of bags with a description alongside:

Bag Type

Details

Bag is carried on the shoulder either by the player or a caddy.

Either one or two straps will be present, with most modern bags featuring the two-strap design.

Bags are designed to be lightweight and therefore simple to carry during a round of golf.

An affordable option for golfers of all abilities and ideal for beginners.

Fewer pockets than other bags and space only left for the necessaries such as tees, balls and a scorecard.

Some will be able to fit on trolleys.

Very similar type of bag to the carry bag.

One difference is that it features an integrated stand.

Stand is triggered by the base of the bag and pops out automatically when base hits the floor.

Stand is automatically stowed away when the bag is picked back up again.

Like the carry bag, there is only space for the essentials required when on a round of golf.

Affordable bag that is recommended for newcomers to the game of golf.

Takes its name from the fact that golfers on the PGA Tour and European Tour use this style of bag when on the course.

Conforms to a tour regulation that states a maximum of 14 clubs may be carried at any one time.

Tends to be the largest bags available.

Storage space is devoted to other items that a golfer needs during their round of golf.

Carts are rarely used on the tour, meaning everything needs to be in the bag.

Bags are manufactured from leather or other high quality materials - something that is reflected in the cost.

Cart/Trolley Bag

Designed to be carried on a golf cart or trolley.

Will have a single strap, so it can be carried when not on a trolley or cart.

Bags made from cheaper materials than tour models and more competitively priced as a result.

Contain a reasonable amount of storage that provides a good middle ground between the cheaper bags and tour bags.

Suitable for any trolley whether it is motorised, push or pull.
Strap Type
Once the buyer knows the style of bag that is required, the next thing to consider is the shoulder strap that should be attached to the bag.
There are two main types of shoulder strap available and the following bullet points explain some more about each one:
Many older bags were designed with a single strap.
Easy to pick up and put down quickly.
Should be swapped between shoulders often to prevent long-term damage.
Bags with a single strap can be more affordable.
One strap on each shoulder allows weight to be distributed evenly.
Much like carrying a backpack, and will help stop any back damage that could result from carrying a bag full of clubs.
Almost all modern bags now come with a double strap.
Importance of Buying the Right Strap Length
When purchasing a bag, the length of strap is also something that needs to be considered carefully. Strap length will vary slightly from one bag to another and the product description will contain vital information on the size of person that it's most suitable for.
The right strap length is important for a number of reasons, including:
Comfort
Ease of Use
To Prevent back injury
Buying Considerations for Golf Bag Straps
Before buying a bag or strap from eBay there are a variety of different things that need to be considered.
Budget
Golf bags and their straps vary hugely and it means a variance in the price of both.
Anyone choosing to buy a golf bag or strap should have a budget of how much they are willing to spend and stick to it strictly.
Size
Buying any bag and strap means that size will be of the utmost of importance among all other considerations.
Size considerations include how much storage space is required by the player, as well as the size that will fit comfortably on the shoulder of the user.
Length
Most golf bags will have a strap that is adjustable according to the requirements of the person using it.
Straps are usually unique to the bag that they are attached to and will be a dimension that is appropriate to the size of the bag in question.
Brand
Different brands will have varying styles of strap available and researching the characteristics will help buyers choose the correct one.
Frequency of Use
How regularly a bag is used has to be considered when choosing the correct strap.
A regular user will benefit from a more substantial strap with an occasional user not needing one that's as considerable.
Condition
It's important that before any binding bid has been made for a product that the condition is thoroughly checked over.
If the strap is brand new then it won't present any significant problems.
Used straps must be questioned a lot more, as they can be in a number of different conditions depending on its past usage.
This can affect how suitable they will now be and how much protection they give for the back.
How to Buy the Right Golf Strap Length on eBay
Having the right type of golf bag to carry equipment around a golf course is as important as having a supportive backpack when going on a long hike.
eBay offers huge numbers of golf bags and the straps that come with them for sale and every type of golf enthusiast is catered for. The site's high number of knowledgeable sellers is able to advise buyers on the best bag and strap length for them and will answer any questions posed via the 'ask the seller' feature.
To find golf bags and straps on eBay first go to Sporting Goods.
When on the following page scroll down until you find Golf and, by clicking the category, it will bring up an extensive list of all the golf products listed on eBay.
To narrow down the search further, select Golf Bags from the list on the left hand side of the page.
In order to just look at the straps that can be bought, type in straps to the search bar at the top of the page and make sure that Golf Bags has been selected from the drop down menu to the right of the search bar.
There are other parameters that can be used to thin out the search, including Item 'Type', 'Brand', 'Condition', 'Price', 'Auction Format' and 'Item Location'.
Buyers that have a better idea of the product they want can use eBay's extensive search feature to find items. To do this simply type search terms into the box present at the top of every eBay page.
When buying any item from eBay it's important to check the seller's credentials before committing to a purchase. eBay caters for this excellently through their transaction history that logs every sale that a seller has ever made using eBay's auction site.
Once happy with an item the buyer can make a 'Bid', place their 'Best Offer' or choose to 'Buy It Now', depending on the nature of the auction.
Conclusion
Golf is an extremely popular pastime with people from all walks of life, and the right equipment is pivotal to the way a person plays the game.
Having the correct bag and a supportive strap is one of the integral parts to making the most of a round of golf.
eBay offers huge numbers of bags and straps for sale with the site's sellers, and this guide, will help a buyer find the right strap for them.
Some questions to consider before choosing a strap or bag are:
Which type of bag is most suitable for the player in question?
Are one or two straps required?
What budget is available for both the bag and strap?
The answers to these questions will help the buyer make a decision but should in no way limit the outcome, which is always down to you, the buyer.