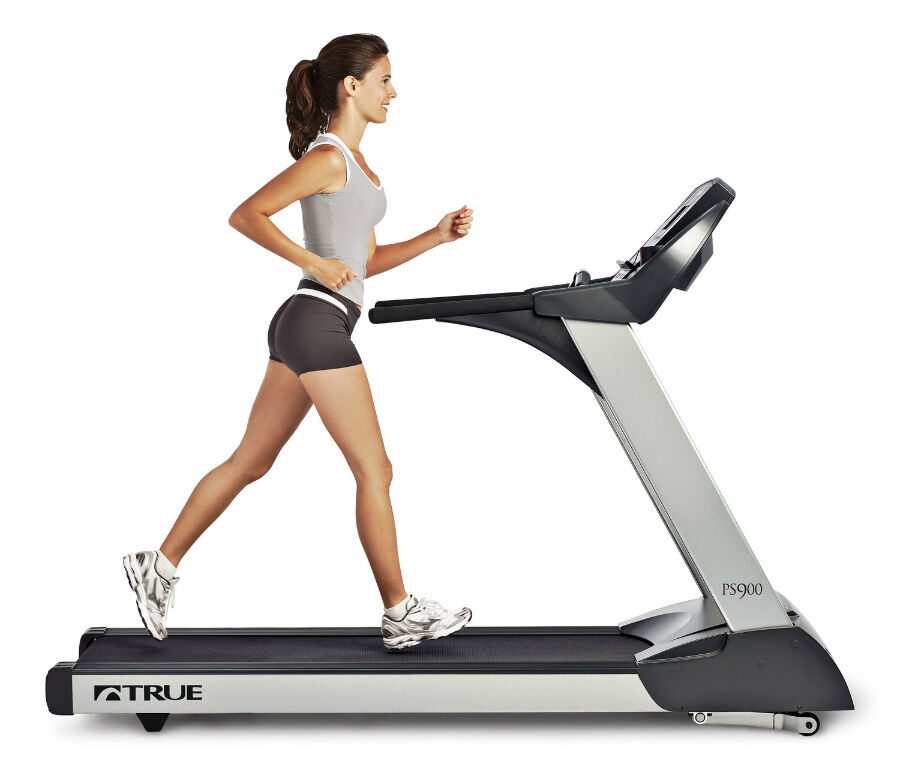 A treadmill is a machine which allows a person to walk or run without moving forwards, treading on a belt connected to rollers which keep pace in the opposite direction.
As a form of cardiovascular exercise, a treadmill can be used to increase general fitness, to help in rehabilitation, to lose weight, to increase stamina and for sports training. Using a treadmill is a low impact activity that helps to burn calories and improves endurance.
Treadmills have maintained their position as the largest selling category of fitness machines for over twenty years. Studies show that people tend to stick with treadmills where other devices might fall by the wayside. They also tend to stay on them for longer per session. This is probably because only treadmills mimic the running and walking movements which the human body naturally performs from an early age.
People contemplating the convenience of having a treadmill at home, having perhaps tried one in a gym, often find that the wide range of brands and models on the market can be confusing. This guide will help make it simple, especially if shopping on eBay.
Treadmill Basics
To make the right choice you need to know the differences between the two types of treadmill; manual and motorised. You also need to be able to compare the main features of each.
Manual treadmills
These are the least expensive kind with no motor. They need little maintenance but they can be tough to get going and keep going. They require the walker's or runner's foot movement for power, which means they need a lot of effort to overcome mechanical inertia to get the belt rolling; as the user's steps slow down, the belt slows down, too. The level of incline can be changed to simulate going up a hill, and therefore put in more effort.
Motorised treadmills
These are electrically powered and have two motors. One drives the belt and the other controls incline or gradient. They bring the user up to the desired workout speed quickly and do not slow down when the feet do, providing motivation to keep up a steady pace. Although electric treadmills cost more and may require occasional maintenance, they include a lot of extras, such as a digital readout for speed controlled via a console.
Features
Power.
The user pre-sets the speed at which they want to work out, making the exercise more efficient and the motion more natural. When considering the size of the motor, it is the continuous duty rating which is important. This means that the motor will run at the indicated horsepower rating for extended periods under weight-bearing loads. If using the machine for proper running it is best to go for a motor with at least 1.5hp continuous duty.
Speed
Most treadmills operate between 0 and 10 mph, and some go up to 12mph for serious runners (people usually walk 3-6mph and run 6-10 mph). Some treadmills offer one-touch controls to quickly change speed settings.
Belt
Treadmill belts come in varying sizes, with widths between 16 and 22 inches and lengths between 45 and 66 inches. Choose the belt that accommodates your longest walking or running stride. Runners and people with a long stride will want a longer belt and should consider a wider belt to compensate for the natural side-to-side running movement.
Incline
The vast majority of treadmills come with some sort of incline adjustment. Adding incline intensifies the workout. Make sure that a treadmill with quite a low maximum speed has suitable incline levels to add that extra challenge.
Cheaper motorised and manual models only have two or three set incline levels and have to be adjusted by hand. Other machines allow the level to be set at any degree up to about 10-15% by pressing a button. No need to interrupt the workout to change your incline level.
Programmes.
Pre-set or customisable workout programmes provide extra variety and motivation. Some treadmills include a heart rate monitor. With heart rate controlled training, the treadmill will automatically adjust the speed or incline (or both) to keep the user within a target heart rate zone. Such programmes assist in weight loss, improve performance progressively and can also mean a safer workout.
Extras
Boredom can kill treadmill workouts, making them seem like the proverbial 'routine treadmill of the workplace'. As well as being programmable for pace and incline, some machines have digital readouts of speed, distance and calories, a fan, a water bottle holder, book rack, video or audio player, loudspeakers. The most modern will connect to the internet to download new workouts.
Which treadmill?
Having acquired a basic command of the nature of different kinds of treadmill, it's time to go through the decision-making process that makes it simple to review the alternatives available on eBay.
Step 1. How much?
If your budget is fixed, it's a question of getting the maximum quality that can be obtained within the price bracket. There are roughly three levels of quality, ascending in levels of refinement performance and robustness.
How much to spend on a treadmill
| Cost | What you get |
| --- | --- |
| Under £250 | Basic, folding motorised treadmill or a folding manual treadmill (for less than £1000. |
| £250 - £500 | User-programmable machine with built-in MP3 player. |
| £500- £750 | High top speed, large running surface with cardiovascular settings. |
| Over £750 | Takes a dedicated user into the punishing realms of competitive athletes |
These prices are a rough guide for new machines; buying used equipment on eBay enables the buyer to go a step up in quality for a lower level price and purchase a premium brand treadmill such as Reebok, Kettler or Nordic Track.
If the budget is flexible, the buyer has the freedom to relate price to criteria such as Who? How often? How? and Where?
Step 2. Who will use it?
A single individual weighting 8 stone will need a very different treadmill than a family of four including two people weighting16 stone.
A rule of thumb is that for every regular user above two people, it is advisable to go up one level of quality in the treadmill specifications.
A user who weighs a lot will have to check the maximum user weight to ensure that it will keep running smoothly under the extra strain, whereas a taller person might require a longer running surface to be able to run comfortably.
For those with joint problems it is worth investing in a machine with top quality deck cushioning, both for comfort and protection. If using a treadmill for cardio-rehabilitation, heart rate controlled training helps to ensure a safe and effective workout.
Step 3. How often?
As a basis for comparison, normal use can be defined as 30 minutes a day for two people. For each extra 30 minutes per day go up one level in quality. For example, if the heaviest user weighs less than 15 stone but the total use per day will be 2 hours, the level of quality rises into the £500-£750 bracket.
Step 4. How?
If using the treadmill primarily for walking, a manual or motorised model with a top speed of about 5mph might be all that is required. If the aim is to do some more serious running, however, it is a good idea to opt for a machine that can handle speeds of about 10mph. In an ideal world, it should have a spacious running deck as strides lengthen at higher speeds.
Step 5. Where?
A machine with a good-sized running deck means that the entire treadmill will be larger and will take up more space.
Always measure the available space first to make sure that the chosen treadmill will fit. If a bit short on space, opt for a model where the deck can be folded up for storage. Most manufacturers offer a choice of folding models and these can be of just as good quality as their full platform counterparts.
How to Buy a Treadmill on eBay
Now that you've worked out which Treadmill you want, find them quickly on eBay. While you shop, don't forget Ab Exercisers, Cross Trainers & Ellipticals, Exercise Bikes, Gliders, Rowers, Stair Machines & Steppers, Trampolines, Treadmills, Walkers & Ski Machines and Other Cardiovascular Equipment. To start shopping, go to the Sports and Leisure category. Click the Sporting Goods portal and click Exercise and Fitness
Categories
The Categories list on the left side of each page will help you narrow down your listings by item type. You'll find links for Cardiovascular Equipment, Exercise Clothing & Shoes, Fitness Accessories, Instructional Items, Monitors/Pedometers/Computers, Strength Training, Trophies, Vitamins & Supplements, Yoga Equipment and Other Exercise & Fitness. As you refine your search you'll be able to narrow down your choice by subcategory.
Product Finder
Use the Treadmill Finder to quickly narrow down item listings by brand, model and condition. (new or used)
Keyword search
Search eBay listing titles for specific words. For example, if you want to find new treadmills, type the keywords "treadmill new" (without quotation marks) into the Search box. Click "Search title and description" to expand your results. Visit eBay's Search Tips page for more tips on searching with keywords.
If you can't find exactly what you want, try browsing eBay Stores or tell the eBay Community what you're looking for by creating a post on Want It Now, or save a search on My eBay and eBay will email you when a matching item becomes available.
Buy a treadmill with Confidence
Make sure that you know exactly what you're buying and understand how eBay and PayPal protect you.
Know your item
Read the details in the item listing carefully.
Remember to add delivery costs to your final price. If you're buying a high value item, check that the seller will insure it until it is delivered to you.
If you want more information, click the "Ask seller a question" button on the seller's profile or the "Ask a question" link at the bottom of the item listing page.
Always complete your transaction on eBay (with a bid, Buy it Now or Best Offer) otherwise you will not be covered by eBay Buyer Protection.
Never pay for your eBay item using an instant cash wire transfer service like Western Union or MoneyGram. These are not safe ways of paying someone you do not know.
Know your seller
Research your seller so that you feel safe and positive about every transaction.
What is the seller's Feedback rating?
How many transactions have they completed?
How many positive responses do they have?
What do buyers say in their Feedback?
Are they positive about the seller?
Most top eBay sellers operate like retail shops and have a returns policy.
Do they offer a money-back guarantee?
What are their terms and conditions?
Buyer protection
In the very unlikely event that you do not receive your item or it is not as described, eBay Buyer Protection your purchase price plus original delivery cost.
Conclusion
As the most popular of fitness machines, a treadmill may well be the only kind most prospective buyers has ever thought about having. Being unfamiliar with this market sector, they probably only have a hazy idea of what they are looking for. Trade professionals say that 90% of shoppers have no idea how much one costs. This guide will save time in drawing up a shortlist of the selection available on eBay and going on to make a confident choice.