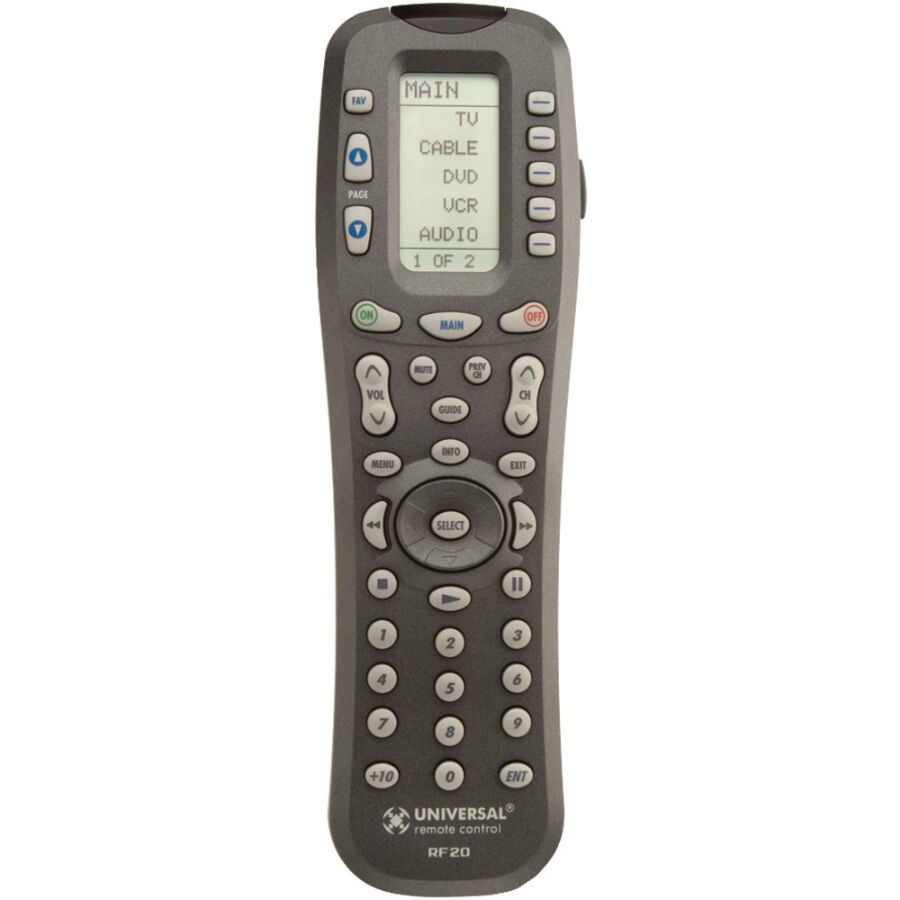 Remote controls are convenient tools for operating an array of electronic devices: usually each device has its own remote control. However, the total number of remote controls in the home can be reduced by purchasing a universal remote control that is able to operate multiple devices, such as games consoles, televisions, video recorders, DVD players, and stereo systems: essentially any devices that can be used with a single remote control. Universal remote controls should be programmed so that they can switch between devices. Specific codes are used in order to program the remote. Programming a universal remote control is an easy task when the instructions are followed carefully. The number of devices that can be programmed to one universal remote control varies according to the model.
When buying the right universal remote control, it is useful to understand how it works and its features. eBay is a large auction site that lists an array of universal remote controls with plenty of features to control any device.
How Do Universal Remote Controls Work?
Universal remote controls usually work by transmitting infrared rays. Infrared light is sent to the receiving device as pulses, or single electric currents. The pulses form a unique pattern for each button on the remote control. These patterns are known as codes and they are provided by the manufacturer. The universal remote is equipped with a tiny computer chip that reproduces all possible infrared pulse patterns. So, universal remote controls can mimic the signals that would otherwise be created by device-specific remote controls.
Types of Universal Remote Control
Universal remote controls on eBay can be divided into two categories. The basic universal remote control is used as a replacement for a broken or lost remote and it has a few buttons that can perform basic actions. These remote controls are low in price. Advanced remote controls tend to be significantly more expensive, especially if they have many features. Advanced remote controls replace several remote controls and combine their features.
Features of Universal Remote Controls
High end universal remote controls have an easy to navigate touch screen, which is often available in colour. Motion sensors can make universal remote controls light up when they are picked up. Backlit keys also simplify operating the remote control in the dark. Expensive radio transmitter systems that can be found in more expensive universal remote controls allow the buyer to operate devices that are out of sight. So, the remote could be used for devices that are in another room. Rechargeable batteries in universal remote controls make them more environmentally friendly.
Accessories for Universal Remote Controls
Although most universal remote controls use infrared signals, some devices are not compatible with this signal type. For example, PlayStation 3 uses Bluetooth to transmit signals and therefore requires an infrared adaptor that converts the signals. If universal remote controls do not have a radio transmitter included, then a range extender may help. The extender expands the remote's working range up to 30 m.
Programming a Universal Remote Control
In order to use a universal remote control, it needs to be programmed. The codes required for programming should be available from the manufacturer.
Learning Mode for a Universal Remote Control
Older universal remote controls can be programmed by using the learning mode, in which the existing remote control is pointed at the universal remote control. The buttons of the existing control are pressed one by one and the corresponding buttons on the universal remote control are also pressed. Although this method is time consuming, it is still used for some modern remotes because it provides compatibility with the widest range of electronic devices. If the devices are old, they might not always have an appropriate code, but a learning remote can still work with them.
Audible Signals for a Universal Remote Control
Lower end universal remote control models can receive new codes via audible signals. In this case, the buyer calls a customer service operator and then puts the universal remote control against the phone in order to receive the signal.
Computer Connectivity for a Universal Remote Control
More advanced universal remote controls can connect to a computer and are programmed through an online set-up. They can either connect wirelessly or via USB. If the universal remote control connects to the internet, it can also download the latest updates so that it is always up to date. Online interfaces are useful when looking for codes for an array of devices. Some remotes have an automatic scan, which facilitates the updating process even further.
Settings for a Universal Remote Control
Advanced universal remote controls can be programmed to switch multiple devices on or off with just one click. This is useful for controlling a home theatre system and all of its components simultaneously. If this option is not available, then it is possible to buy special plug sockets that connect all of the electronic devices, then they can be switched off together by controlling the plug to save energy rather than leaving the devices consuming power on standby. Universal remote controls that use online interfaces usually have more features to choose from. For example, each button on the remote control can be assigned to a specific task from a list of commands, or some buttons can be assigned permanently to one device. For instance, it could be possible to switch television channels with certain buttons and at the same time control the volume level of a computer without having to perform any complex switching actions. The number of tasks that can be assigned to one button vary according to the model of the universal remote control.
Compatible Devices for Universal Remote Controls
Universal remote controls are compatible with classic remote controlled devices that can also be found on eBay, including televisions, DVD and Blu-ray players, stereo systems, computers, digital picture frames, and games consoles. If the universal remote control supports automated products around the home, it may even be able to control the lights and windows.
Factors to Consider When Buying the Right Universal Remote Control
The right universal remote control is the one that best satisfies the buyer's requirements. These requirements are influenced by many factors, such as the types and number of devices that need to be operated by the remote control, as well as the features that are desired. The following table summarises the main factors to consider.
Factors to Consider

Description

Number of controllable devices

One: used as a replacement for a broken or lost remote

Multiple: used as a replacement for lots of remotes

Programming

Special learning mode

Codes

Automatic scan

Online updates

Assigning tasks to a button

Each button has a specific task

One button performs different tasks for different devices

User interface

Buttons

Touch screen
When buying a universal remote control, as well as considering its features, its shape should be taken into account. A good remote control feels comfortable in the hand. So, it is a good idea to find an ergonomic design that makes the universal remote control convenient to use on a regular basis. Touch screen remote controls are often larger and may require both hands to operate them, while other remotes can be operated with just one hand.
Buying the Right Universal Remote Control on eBay
If you are looking for a universal remote control on eBay, first decide what kind of features you require. Keeping a budget in mind can also be helpful. Search for "universal remote control" by typing the keywords into the search box that you can find on top of any page of eBay. After receiving the initial search results, you can browse the items or narrow down your search by using the filters. It is possible to choose the item's condition among other features. Sorting by price is also a useful way to identify the right universal remote control.
In order to find out the specific features of the universal remote control, you should read through the detailed item listing. If you have any further questions about the remote control, you can address them to the seller directly using the "Ask a question" link. The seller should provide information about payment methods, delivery, refunds, and exchanges.
Conclusion
With more electronic devices found in homes, the number of remote controls can become overwhelming. With a good universal remote control it is possible to reduce the number of remotes to one. Universal remote controls work by sending infrared pulses to the controllable device. The pulses are transmitted as codes and these codes can be programmed in order to make the remote work with multiple devices. Universal remote controls can be programmed by using a special learning mode or by using computer and online interfaces that offer easy updating. Some universal remote controls are updated by transmitting audible signals over the phone, but this is increasingly rare.
Universal remote controls are compatible with DVD and Blu-ray players, televisions, and games consoles, and can operate them with a simple click. Even lights and windows may be controlled conveniently by some universal remote control models. Universal remote controls can be coupled with an array of accessories including Bluetooth to infrared adaptors and range extenders. Choosing the right universal remote control to purchase on eBay depends on the buyers individual's requirements, and they have a wide selection to choose from.