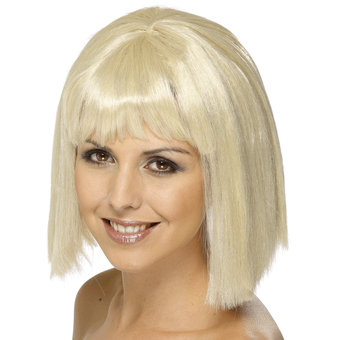 Finding a women's wig that flatters a face shape can seem be a somewhat overwhelming process. Issues such as colour, texture, and shape can all factor into a search for a wig, making it seem convoluted and overwhelming. By taking the right steps, however, including understanding her own features and selecting the right accents to emphasise or de-emphasise certain features, any woman can find an ideal wig to accentuate her face.
This guide walks women through some straightforward steps for finding and buying wigs, including assessing their own face shape, finding the right colour, and selecting the ideal shape and texture for the wig. Secondly, the guide takes a look at the right way to have a wig styled or cut. Women's wigs are available at specialty brick-and-mortar retailers, but one may not find the vast selection that an online retailer such as eBay offers. This guide offers tips for finding and purchasing the right wig online at eBay.
Assessing the Face Shape
Women's faces fall into different categories of shapes, ranging from diamond-shaped to oval and rectangular, among others. An understanding of the shape of one's face can help in identifying the ideal wig to complement the face.
The Diamond-Shaped Face
A diamond-shaped face has wide cheekbones and a narrow forehead with a small, pointed chin and jawline. The overall effect is that of a diamond, with the cheekbones acting as the widest points in the shape of the face.
The Heart-Shaped Face
A heart-shaped face also has wide cheekbones and a pointed chin like the diamond-shaped face, but the forehead is broad in this case. A women with a heart-shaped face may also have a widow's peak in her natural hairline.
The Rectangular Face
A rectangular face has a square jawline and a broad square forehead. The sides of the face run in a relatively straight line from the forehead to the jaw.
The Oval Face
The oval face is evenly proportioned across all planes, with no one feature standing out more than the rest. These faces can be long and narrow, but are, in general, balanced.
The Round Face
The round face features a rounded jawline and forehead with soft, circular cheekbones that form the widest part of the face. The lines of this face type are smooth and even and form a circle.
The Square Face
The square face is a shorter version of the rectangular face, with a squared-off forehead and jawline and a straight cheek line. The cheekbones can be sharp and defined in this face type, but they may be set in so as not to push the cheek line out.
Tips for Selecting the Right Wig for Your Face Shape
Women should keep in mind some general guidelines when looking for a wig shape. The guidelines address the different face shapes listed above, so it helps to know what shape category one's face fits into before choosing a wig.
Try to Soften Blunt Edges
Women with square or rectangular faces should seek to soften the angles in their faces with soft layers and curls. Wigs with wisp and curl accents that fall just at the jawline and around the forehead are ideal options for these face types. A bob cut on a wig is particularly flattering as it can significantly soften a sturdy jawline to make it more feminine.
Try to Widen Narrow Sections
Women with long oval faces, diamond faces, and heart-shaped faces should look for wig cuts that work to widen the narrower sections of their faces. A long face, for example, can work well with soft curls or volume around the centre of the face, and this can widen the face to create a more ideal oval shape. Heart-shaped faces should focus on more volume at the jawline to make it more proportional to a wider cheekbone area and forehead, while a diamond-shaped face needs volume both at the top and bottom of the face.
Create Angles in Soft or Round Faces
Women with very round and soft faces may want to create more angles rather than minimise them. These women can create more dynamism and angles in their faces by looking for geometric wigs with sharp lines and layers. The defined angles of the wig can imbue a face with more angles. For example, a sharp and short bob that cuts into the cheek line can create the illusion of sharper cheekbones on a round face.
Choosing the Right Colour Wig for the Face
In order to choose the right colour in a wig, a woman must first determine if she has a cool or warm complexion. There are many different skin tones and colour types, but all skin colours fall into either a warm or cool category. Women with cool skin tones have a blue or pink undertone to the skin colour. Cool skin tones can include women with very pale and very dark skin colours. These women have bluish veins in general. Lighter-skinned women with cool skin tones can burn easily in the sun.
Women with warm skin tones have a yellow or brown undertone to their skin colour. Most women with medium skin colours from olive to brown fall in this category. These women tend to tan very easily and can have veins with a greenish hue.
Cool and Warm Hair Colours
Cool hair colours that go well with cool skin tones include platinum blondes, ash browns, and blue blacks. In the bolder, more punk rock type of colours, you have strawberry blonde and cool tones include ice blues and lilac purples. Warm hair colours are full of reds and warm browns and vary from deep auburn to a brownish, golden blonde. If a woman wants to select a bolder, more unnatural colour type for warm skin, she should look at fuchsias as well as warmer blues and purples that hue closer to the redder side of the spectrum.
Choosing the Right Texture for a Wig
Wig textures can vary dramatically from the tightly curled to the bone straight. Women who are looking to soften the lines of the face should look for softer, looser curl in the wig hair. Women who wish to add geometry to the face should look for straight and angular designs. In general, tight curls work well on oval faces. Women should pay special mind to the placement of curls and hair lines so as to accent or de-emphasise certain facial areas, as mentioned above.
Cutting a Wig
Wigs should be professionally cut and styled by a hair stylist who knows how to cut wigs. Wig hair falls differently than natural hair and needs special techniques to cut it correctly. A woman who finds an ideal wig but wishes to tweak it a bit should look into contacting a styling professional who can create the right shape with the wig hair.
Shopping for the Right Wig for Your Face Shape
Offline, local retail shops can provide a range of selections when it comes to wigs. Local beauty and hair purveyors may have a limited range of colours and textures, but they usually adhere to general style types that can cover the most generalised set of customers. Local wig shops may have a wider range of options, but they may not have quite the diversity and range of selection that the online auction site, eBay has. On eBay, women can look through thousands of listings of wigs, from long and sleek to short and punky, to find the ideal selection.
Buying the Right Wig for Your Face Shape on eBay
To begin a search for a wig on eBay, use the search bar found on any page on the website to start pulling up appropriate listings. To get an overall idea of the types of wigs available on eBay, you can use a general search term such as "women's short wig". If you have a particular item in mind, use a narrower search term such as "long straight black wig".
When shopping for wigs on eBay, getting to know the seller from whom you want to buy an item can help guarantee that you find the perfect wig to get to you at the right time. Visit a seller's page by clicking on the seller name on the listing page for the wig. Take a look at the seller's past auctions and review the feedback the seller has received from other customers. Researching the seller's track record can add an extra layer of assurance as you initiate the purchasing process on eBay.
Conclusion
Looking for the right wig for your face shape does not have to be an overwhelming process. By assessing her own face shape and understanding the type of wig style that complements the shape, any woman can find and purchase a flattering wig for herself. After assessing her face shape, a woman should consider the desired colour and texture of the wig, taking in her skin tone as well as her face shape once more when factoring in these elements. With this information in hand, a woman can then access the unprecedented catalogue of wig options on the online auction site, eBay. At this website, women can find a varied selection of wigs that can range from the classic to the complex and edgy types of wigs. With the help of eBay's vast catalogue and user-friendly features, a woman can be sure to find just the wig she needs to feel beautiful and vibrant.