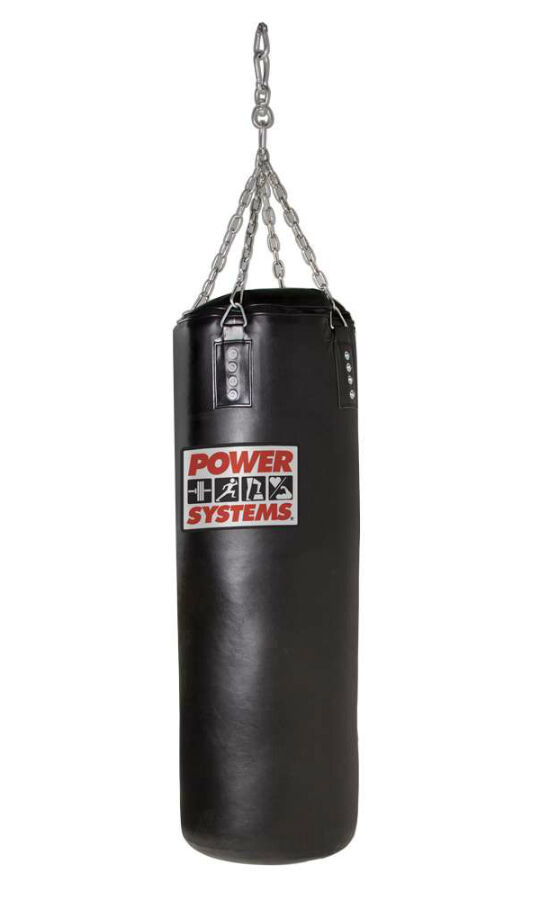 Martial arts is one of the oldest forms of self-defence in the world, and is now widely practised across the world and has many modern variations. Every martial arts lover will have at one point of another used a punch bag to practise their moves on.
Anyone wishing to practise at home will want a punch bag, but knowing which type to select and what weight to get can be a hard decision to make. This guide aims to inform the buyer how to purchase a hanging punching bag on eBay.
What Is A Hanging Punch Bag?
There is a wide variety of punch bags available for different training purposes. A hanging punching bag is a heavy, hard bag that is used to practise kicks and punches repetitively. The hanging punching bag is not designed to move far and is therefore not ideal for teaching speed and reflexes. Hanging Punching bags are filled with sand and some padding and suspended from the ceiling; they represent the human body weight, not necessarily in density but to absorb the power from the punch or kick. These punching bags are good at developing power and strengthening the core muscles in the arms and hands, and to a degree, some technique.
Other punching bags are standing bags which aren't as heavy as hanging punch bags and offer the buyer a similar punching platform as the hanging punch bag. These standing bags are mounted on a heavy base and won't need to be hung and can be moved about easily.
Hanging punching bags are suspended by at least four thick chains; this gives the bag some stability when being hit.
The Different Types Of Hanging Punch Bags Available
The following table breaks down the different types of hanging punching bags and their uses.
| | |
| --- | --- |
| Heavy Bag | This type is the typical hanging bag which weighs over 100 pounds. These are packed with sand and can be made from synthetic materials or leather. |
| Maize Bag | This is a tear drop shaped hanging bag which is classed as small to large; weighing from 15kg to 30kg. It can be used for ducking and dodging skills in boxing. Since it is small it is possible to have both a heavy punching bag as well as a maize bag. |
| Angled Heavy Bag | The angled punch bag is more oddly shaped but is packed like a straight heavy bag; this sort of bag is good for varied punches like uppercuts and hooks. |
There are some more varieties of punching bags such as wall mounted punch bag systems, these are relatively new but many professionals would advise that a single heavy bag is sufficient for training at home.
For those who already have a hanging punch bag that may wish to move but don't have a ceiling joist to attach it to, there are free standing frames that are available. These are good for buyers who can't secure their equipment to the wall for various reasons. The slight disadvantage to these frames is that they take up more space than a punching bag hanging from the ceiling or a wall joist. Buying the frame and the punch bag separately may increase the overall cost of the whole item, so the buyer will have to bear that in mind.
Selecting the Weight of the Punch Bag
The weight of the punch bag will depend on a few important aspects. Two elements will be the total weight the house/building can handle, as well as the desired punching weight of the user. The user's age and gender should also be taken into consideration; it is advised that females under the age of 21 should not train extensively with heavy punch bags, as well as males under the age of 18. A general rule when selecting the weight of the punch bag is not to exceed the weight of the person punching it.
Lighter weights: 50-60 pounds
Medium Weight: 60-70 pounds
Heavy/Professional weight: 100-120 pounds.
Users can risk breaking bones and hand and knuckle related injuries if they try hit a punch bag that is too hard or heavy for their weight range.
Material Punch Bags Are Made From
The price and quality of the punch bag will impact on the material used. The quality of the filling will affect how well the punch bag absorbs the blows and how well the punch bag will keep its shape over time. Punch bags filled with heavier fibres are well suited to users who wish to increase their hitting strength.
Punch bags will have different coverings, but most of this will be practical wipe clean surfaces. Vinyl is the most common and cheapest type of cover. Leather covered punch bags are deemed to be the best quality and will last a long time when looked after. The covering and filling will depend how often the buyer will use the punch bag for and how much they wish to spend on the punch bag.
Advantages to Having a Hanging Punching Bag at Home
Installing a hanging punching bag at home has numerous advantages for the buyer:
The buyer can exercise in the privacy and comfort of their own home.
The buyer can save money on gym memberships over a long period of time.
The buyer has the option to upgrade or change the punch bag whenever they choose. A dedicated gym area in the house means the buyer can have a range of gym bags at hand to choose from depending on their workout needs.
Conclusion
Keeping fit needs to be fun, and purchasing a punching bag means the buyer can try out all types of boxing and martial arts in the comfort of their own home. Hanging Punching bags come in a range of weights and materials and selecting one can be hard. Is the buyer new to boxing and only wants to spend a small amount? Or is the buyer wishing to purchase a professional punching bag? eBay with its worldwide database ensures that the buyer can find exactly what they need.