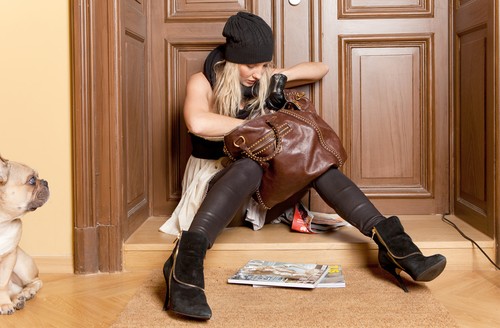 Every woman needs at least one leather handbag in her wardrobe. They are classic and their style never grows old. Styles may change all the time, but leather handbags are a constant in every generation of women. Leather, in general, costs more than many other materials used in clothing or other items so it is important that every woman knows how to care for their leather accessories.
There are many places to acquire leather handbags, but top-quality leather is important for a bag that can last years. Some of the better quality handbags can be found in vintage stores or boutique stores. Aside from these, there are also many options online for a shopper. Sites like eBay, for instance, have excellent selections of quality handbags. Leather is expensive, as mentioned before, therefore getting the most out of the purchase is a goal of the responsible shopper. The leather handbag is just one of the items in the woman's wardrobe that needs care now and then. To make a leather handbag last with proper care, learning things like the type of leather used to make the bag, and ways to care for particular kinds of leather, or bag types, is helpful.
Types of Leather
Different types of leather have different benefits, and they also have their own drawbacks. Some types of leather are easier to maintain than others, and some require more time and effort.
Leather is basically the tanned hide of an animal, and there are many animals that give exemplary hides. The four most used in clothing and clothing accessories are cowhide, water buffalo, lambskin, and sheepskin. There are others that are commonly used, like goat hide and pigskin, but most other animal hides are used in specialty products. There are three basic categories for leather.
Leather Type

Description

Aniline

Most natural looking because the processed hide is not coated

Less resistant to dirt and stains than semi-aniline and pigmented leather

To colour the leather, dye is needed, not polymers like the other two

Semi-Aniline

More durable than aniline

Has a coating of polymer and pigment, though less than in pigmented leather

Has some resistance to staining

Pigmented

Most durable

Also called protected leather because of the polymer used to coat it, also contributing to the fact that it looks the least like natural leather
Patent leather is an example of pigmented leather used in many fashion items from shoes to handbags. Another example of a more specific leather type is suede, which is softer and more often thinner than other kinds of leather because it is only part of the inner hide. This leather is soft and has a loose fibre structure, used in many types of footwear, clothing, and more. There are many other specific types of leather. Some can be categorised by methods of tanning, like chrome-tanned leather. Full-grain leather is leather that has not been buffed, meaning the hide's natural texture is plainly visible. Top-grain leather has the natural grain sanded down and it is less costly than full-grain. There are also plenty of exotic leathers, from alligator hides or ostrich skins and the like, which are also used for handbags.
Leather Handbag Care
Leather is one of the more durable materials used in creating handbags, but that does not mean that it is impervious to damage. Leather items can last for years and decades, and leather is classic; even if leather handbags are deemed unfashionable next year, in three or five years after, people may again be dusting the cobwebs off of their handbags and showing them off.
Prevention and Protection
Leather can be strained, torn, wrinkled, or dried out during years of use or storage. The first stage of care is preventing all of that from happening.
Plenty of leather handbags are made with vegetable-tanned leather. This means it is prudent to keep them away from dampness and water, as these types of leather can be discoloured by moisture. Leather is a natural material, capable of absorbing grease and other substances. Keep hands clean when handling leather to minimise contact with skin oils.
There are commercial products that can be used to protect the leather surface of handbags from heat and damp. Make sure the leather is dry before application and dry before using the item.
Cleaning
Most leather cleaning materials seen in shoe stores are safe, but remember to stay away from cleaning products that leave residue on the leather. There are bags that have hardware made out of precious metals. It is possible to ask the people running the store to help in that regard. Of course, sweeping the leather with a dry cloth regularly does wonders for everyday appearance. Make sure the cloth used is soft, as not to damage the leather. Nubuck cloth is a good idea because of its absorbent nature and softness. Suede bags and other bags made from the softer unpolished leathers can be cleaned with a suede brush.
Take care of mildewed leather handbags by swiping the mildewed area with a rubbing alcohol and water solution. If there are still traces left, try a mild soap solution with germicide.
Stains on leather ought to be taken care of immediately. Oil or grease stains can be removed by sprinkling absorbent powder, chalk powder is most efficient, on the stain and letting it stay there overnight.
Odours can be stubborn when holding onto leather, in which case there are professional dry cleaners that can help. It is possible to avoid the expense by using a quick fix using baking soda to remove the bad odours.
Conditioning
A good leather conditioner lubricates leather and maintains the material's suppleness, preventing the leather handbag from drying out. Products that contain petroleum and mineral oils, as well as those that leave greasy residues, should be avoided. Regular conditioning of a leather handbag also prevents the leather from flaking and wrinkling. For optimum results, condition handbags once a month, more if the leather has been exposed to long bouts of hot sun or damp.
Storage
If the handbag came in a dust bag or box, it can be used to store the handbag as well. Fill the bag with stuffing to help it keep its shape and prevent wrinkles and cracks. A couple of packets of desiccants, like silica gel, prevent dampness from ruining a bag. Air out the bag periodically to prevent mould. Always store leather bags in cool, dry places, and in containers that allow air flow. Plastic bags or containers should not be used.
Buying Leather Handbags on eBay
Online retailers are some of the more popular sources of top-quality leather handbags, though many offline shops have incredible selections as well. Buying on eBay is simple; all you need to do is navigate to any eBay page and all you need is right there. Type in the item you are looking for into the search bar and browse through galleries of leather handbags in all styles and colours. After that, you are able to modify your results using the options given on the site page. It is also possible to reorder the results of your search by condition, price, or the time left in the auction.
Typing in a more specific search term also results in items that are more relevant to your preferences. Include things like colours, type of leather, style, and more to further refine your search. Remember that it is prudent to evaluate both the seller and the item before clicking to checkout. Take note of the seller's return policies as well. It may be that the item shipped is not the one you are expecting. Checking the shipping company the seller uses allows you to determine whether it is possible to have your package tracked or insured as well.
Conclusion
Leather is durable on its own, and with the proper care, leather items can last even longer. It would be a thrill to dust off an old handbag later in life and find that far from being old-fashioned, it is now vintage. The most insidious enemies of leather handbags are heat, damp, and oils from dirty hands. Of course, keep the handbags away from chemicals as well. Leather can be delicate in some ways; if you would not put it on human skin, keep it away from a handbag. Most of these problems can be remedied, but prevention and protection is also more than effective.
Take note of proper procedures in applying cleaning solutions, conditioners, or other substances on leather handbags. Improper care is also one of the more common causes of damage to a handbag. Be sure to clean and care for the hardware on the bag as well; this means buckles, fasteners, and chains. Improper care of hardware could leave them to rust.
Leather handbags are ubiquitous; they are seen and can be acquired many places both online and offline. The eBay retailer site is one of those that have a large selection of leather handbags of all colours and shapes. It is certainly worth visiting if only to browse the many wares it offers.