Fragile cup and saucer sets are often made from porcelain, which requires extra care in terms of cleaning and storing. Whether you have received a fragile cup and saucer set as a wedding gift or you inherited it as a family heirloom, caring for it properly will ensure a long life. Reading more about how to care for fragile china cup and saucer sets can help you avoid any kind of damage such as fractures, breaks, or discoloration.
Cleaning Fragile Cup and Saucer Sets

Always wash fragile china pieces by hand, paying special attention to handling when doing so. This is especially important for valuable vintage pieces and those that feature embellishments such as gold, silver, or pearl inlays. Preferably, you should wash the cups and saucers right after use, but if this is not possible, at least rinse them to remove any leftovers from them. Never leave fragile cups and saucers soaking in soapy water. To protect the cups and saucers from chipping, line the sink with thick dishtowels. Use a fragrance-free dishwashing detergent and warm water. Make sure the detergent you choose does not contain any bleach, as this may cause discoloration. Allow the cups and saucers to air dry before storing them away safely.
Storing Fragile Cup and Saucer Sets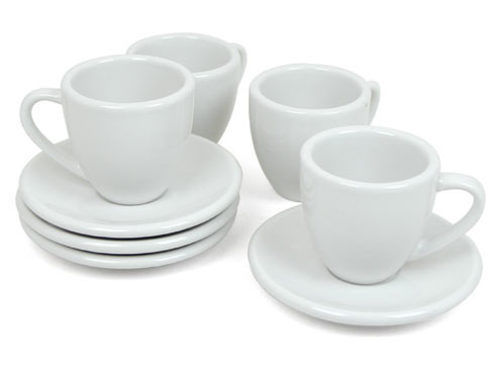 Store fragile cups and saucers in a cool and dry place, away from any objects that may accidentally fall on them. Try not to stack the cups more than four high, as doing so may weaken the rims. Use dish liners between the dishes to protect them from scratches. Leave plenty of room between the items to prevent them from clinking together. This also applies when you want to display the fragile cups and saucers on a wall-mounted wooden rack. If you are looking for a solution to store coffee cup and saucers sets for a longer-term, make sure the place you choose does not have dramatic fluctuations in humidity and temperature. Examples of such places include attics and garages. Wrap each piece of china in bubble wrap and pad the bottom of the storage boxes with soft cloth, bubble wrap, or white tissue paper. Do not use newspaper for packing china because ink may rub off onto it.
Packing and Transporting Fragile Cup and Saucer Sets
When moving home, use boxes marked 'fragile' for transporting cup and saucer sets. Use bubble wrap to protect each piece separately. Choose moving boxes made from corrugated cardboard and use enough padding to make sure the items cannot move around inside the box. Always tape over the serrated sections of the box for extra safety during transit.