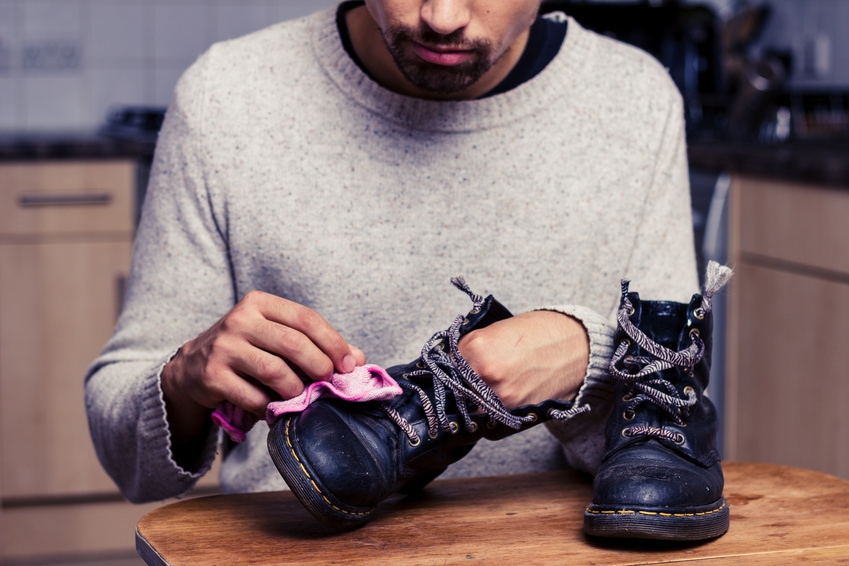 When looking for a top quality pair of men's shoes, consider leather men's boots. Durable, comfortable, stylish, and offering good value for money, there are several styles of leather men's boots available. To care for leather boots and keep them in top condition, be sure to break them in correctly, waterproof them before wearing for the first time, regularly clean and polish them, and store them safely.
Breaking In New Leather Men's Boots

Whether it is a pair of durable leather men's work boots or a pair of expensive leather men's dress boots, they often need breaking in to avoid any blisters or discomfort. For the quickest way to break in new leather men's boots, be sure to get an accurate and comfortable fit to start with. Most men's boots come in a range of sizes, including half sizes, and widths. When one finds a comfortable and reliable brand of boot, especially men's work boots, it pays to stick with it. To break in leather men's boots, wear them with comfortable cotton socks for short periods of time until they are comfortable and conformed to the foot. A shoe tree or special leather softening solution also helps to break in leather boots.
Waterproofing Leather Men's Boots

Waterproofing leather men's boots is important for helping them stay in top condition for a long time. Waterproof the boots before wearing them for the first time. For chrome-tanned leather, use a special leather silicone spray or leather wax. For oil-tanned leather boots, use an appropriate leather oil, such as neatsfoot oil or mink oil.
Cleaning Leather Men's Boots
Cleaning leather men's boots, especially leather men's dress boots, should be a regular occurrence. Gently polish with a soft cloth to remove surface dust every week. For dried mud and dirt, use a shoe cleaning solution with damp cloth, then allow boots to completely dry out before applying boot polish. For black leather boots, use black shoe polish, for light coloured leather boots, use clear shoe polish. Make sure the polish has had time to dry thoroughly before wearing the boots.
Storing Leather Men's Boots
Dress boots, like leather men's cowboy boots, benefit from being stored in the wardrobe with a boot inner to keep them in good shape. Some like to keep their leather men's walking boots in a shoe box. No matter what type of leather boots, keep all leather men's boots out of direct sunlight, away from direct heat, and in a dry environment, away from any damp conditions. If storing away for a long period of time, use shoe boxes to protect the boots.