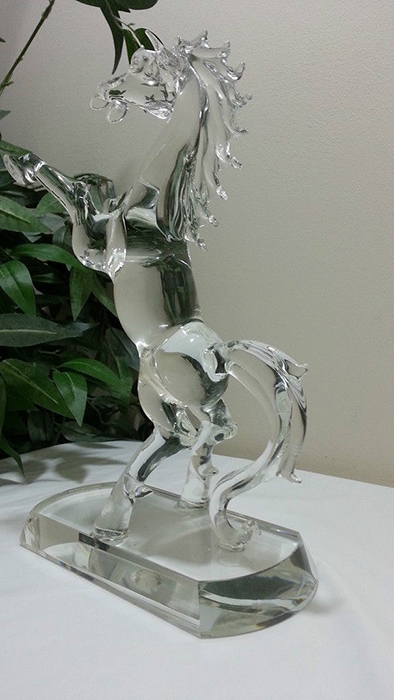 Known for their signature sparkle, Swarovski figurines are simply divine to behold, and deserve to be treated with great care. These miniature glass creations are just as lovely as the jewellery and other crystal-encrusted items for which Swarovski is better known. Animal figurines show off the mesmerising appeal of Swarovski crystal beautifully. This decorative ornamental product line features a number of recognisable characters and whimsical themes in various colours and finishes.
Though they tend to be pocket size, Swarovski animals are not toys. They are delicate by nature and must be handled with care at all times. Because of this, Swarovski suggests several ways people can keep their heirloom-quality crystal animals looking beautiful for many years to come. Additionally, by taking a closer look at how and where these sparkling ornaments are displayed, Swarovski collectors can determine if they are unknowingly causing unnecessary damage to their precious glass menagerie.
High-Quality Crystal Collectibles by Swarovski
Sported by many famous starlets, luxury items from the Swarovski line of wearable fashions are highly sought after. While their collectible animal figurines are a bit less prominent than their jewellery, these cut-crystal creatures are every bit as beautiful. The large Austrian-based business that owns the Swarovski brand encompasses much more than retail cut-crystal boutiques. With quite a bit of proprietary know-how, Swarovski not only produces gorgeous ornamental cut glass, they also hold patents for many manufacturing techniques. By learning a bit more about how this product is made, owners gain a better understanding of the provenance of their Swarovski animal figurine collection.
A Quick Look at Manufactured Crystal
Though it is easily and often misunderstood, the word "crystal" is frequently used to describe ornamental goods for the home. Unlike natural crystals such as quartz, which feature a crystalline molecular structure, man-made crystal is actually a type of glass. Though the standards vary from country to country, to be considered full-leaded crystal, glass should contain a certain percentage of lead oxide. The density of manufactured glass is determined by the overall amount of lead added to the production mixture. As the density increases, so do desirable decorative traits such as lustre, clarity, and refractivity.
Using machines to cut and polish the crystal, manufacturing techniques are perfected to an exacting science capable of producing stunningly beautiful, sparkling results. For easy reference, the following chart lists the three main categories of crystal according to lead content.
| | | | |
| --- | --- | --- | --- |
| Type | Fine Crystal / Crystalline | Leaded Crystal | Full-Leaded Crystal |
| Lead Content | 5 - 10 percent | 10 - 24 percent | > 24 percent |
By understanding these basic crystal standards, owners of Swarovski animals can better appreciate the high quality of their figurines. All Swarovski products far exceed the standard for full-leaded crystal.
The Swarovski Advantage
With numerous proprietary production and finishing techniques to their name, Swarovski sets the standard for decorative items made of crystal. Daniel Swarovski is the man behind the famous crystal products bearing his name. Swarovski learned his trade from his father, who owned a glass cutting factory in the Czech Republic, then known as Bohemia. Swarovski made a name for himself when he built and patented the first crystal-cutting machine in 1892. This equipment made precision glass cutting possible, something that previously could not be done using hand-cutting methods.
Today, the crystal made and cut by Swarovski is the absolute finest available in the world. Typical Austrian crystal, which is considered the second-best in the world, consists of 30 percent lead oxide. In comparison, patented Swarovski crystal guarantees 32 percent lead content, which accounts for its premier status in the industry. This superior-quality crystal is known as Strass crystal.
Swarovski Animal Figurine Care Techniques
Those who own or plan to purchase Swarovski animals can certainly benefit from learning how to care for these delicate and valuable crystal figurines. There are four main areas to consider in regard to Swarovski animal care. These include handling, cleaning, storage, and display. By following this simple maintenance routine, owners can help their Swarovski animals retain brilliance and value for many, many years to come. Some of this advice is gleaned directly from official Swarovski care instructions, and additional maintenance tips are incorporated for good measure.
Handling
Aside from outright damage, fingerprints are the main way that people ruin the look of their Swarovski figurines. Though their surfaces shimmer with rainbows when they are perfectly clean, the oil and grime left by fingertips can quickly dull their natural lustre. Though it can be hard to resist picking up tiny dogs, cats, teddy bears, and other playful characters, this should not be done with bare hands. Instead, use cotton gloves to avoid leaving unsightly smudges on that gorgeous collection of crystal.
Display
Swarovski animals are incredibly cute, which makes them irresistible to some people. To protect the collection from constant touching by unprotected fingertips, store them in a closed case or otherwise out-of-the-way location. Owners are advised to ask friends and family to look but not touch, since fingertips are quick to diminish their shine. Additionally, consider the air quality of the location where the animals are to be kept on display. Since contaminants such as cooking fumes and cigarette smoke can potentially stain the surface of cut-glass figurines, it is wise to avoid these damaging conditions.
Cleaning
An occasional cleaning is an important part of any Swarovski care schedule. When crystal animals are put on display, they can pick up dust and other microscopic debris that detracts from their overall appearance. Swarovski recommends polishing their figurines with a soft, lint-free cloth. Since even dust can put tiny scratches in the surface of crystal, a small brush can be used before the cloth. Lukewarm water is also appropriate if washed carefully by hand, but figurines should never be fully submerged. Do not use harsh chemical cleaners or abrasive compounds to clean Swarovski animals. After washing with water, use a soft cloth to carefully dry and polish the surface of the figurine. For convenience, Swarovski offers a cleaning kit that includes many of items noted above.
Storage
Sometimes collectors find they have too many Swarovski crystal animals to display all at once. Others simply like to rotate the animals they have on display from time to time. If these fragile figurines must be stored for any amount of time, and especially during a move, it is best to return them to their original packaging. In most cases, the factory box includes a piece of foam that is specially fitted to the figurine. This foam protects the animal from harm, and keeps it clean while in storage. It is recommended that owners clean and dry their animals thoroughly before storing them.
Buy Swarovski Animals and Care Supplies on eBay
If you are interested in purchasing Swarovski animals or the supplies needed to care for them, eBay offers a convenient online platform where you can shop for all of these items. To get started, navigate to the eBay home page and decide which product to search for first. For instance, a quick search for " Swarovski" is likely to turn up numerous results, which can then be refined to filter out all but the animal figurines. As a faster alternative, you can look for a specific item, such as a "silver crystal Swarovski animal" to automatically narrow down your options. Either way, to keep track of the items you are interested in purchasing, simply add them to your eBay Watch List.
How to Use the eBay Watch List
While you are browsing the product listings on eBay, you are bound to see a number of new and used Swarovski animals available for purchase. When you find figurines you like, you can put them on your Watch List by clicking on the appropriate link on the item listing page. This allows you to return to interesting listings without having to repeat your search. Depending on your notification settings, you can receive emails regarding the status of items in your eBay Watch List.
Conclusion
Made of the finest cut crystal available, Swarovski animals deserve to be handled, cleaned, and displayed with the utmost of care. These fragile figurines are both fun and fancy, making them popular gifts that are also worthy of collecting. Owners who understand the quality of Swarovski crystal are not likely to skimp on their figurine care regimen. In fact, many collectors take great pride in making sure their crystal always looks its best. They want each and every facet of their sparkly crystal creatures to shine as brightly as possible, showing off the skill and artistry associated with the Swarovski name.
Since Swarovski animals are often displayed for others to see and enjoy, it can be difficult to keep them looking their best without taking the time to properly care for them. As long as owners remember to follow these simple guidelines, their prismatic crystal figurines are sure to sparkle and shimmer for a lifetime, if not longer. A gentle cleaning occasionally helps keep Swarovski crystal shining as brightly as possible. Since fingertips are likely to dull their shiny surface with grease and grime, hands should always be covered with cotton gloves before touching these precious keepsakes. If necessary, store them out of reach, away from the curious hands of children. While proper care of Swarovski crystal can seem painstaking, the result is a collection of animals to enjoy for generations.