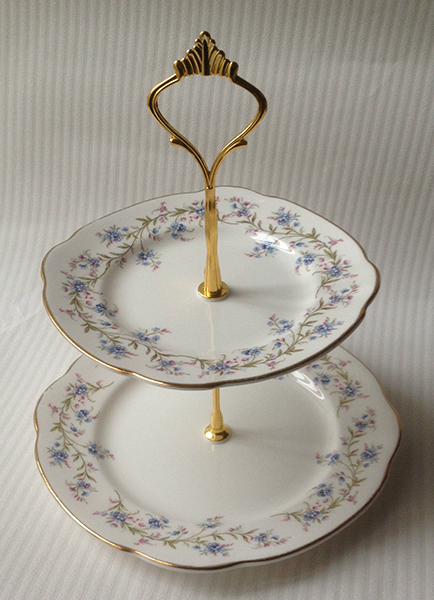 Vintage china sets are one of the most common family heirlooms, passed down from generation to generation. Taking centre stage at family dinners or holiday gatherings, vintage china is known for its intricate details and delicate design. Many vintage china sets are hand-painted, making each piece unique and valuable. Vintage china refers to pieces made before the year 1960. Fine china is usually made of porcelain or bone china, which are more delicate than other materials, and require specific care instructions to ensure the china remains in good condition. Aside from being a family heirloom, vintage china is also a popular gift for new couples, and is commonly given as a wedding gift.
Compared to modern china, vintage china is a bit harder to find. While many brick and mortar department stores carry modern china, they usually do not carry vintage china. Vintage china is usually found at antique shops, or online using websites like eBay. Unlike antique shops, eBay has a large selection of vintage china, and does not have the high markup that antique shops do. By shopping on eBay, it is easy to find the style of vintage china that the buyer is looking for at an affordable price. When considering vintage china, it is also important to understand the different types, as well as how to care for the china.
Types of Vintage China
Vintage china dates back to the 10th century, where it was handcrafted in different parts of China. There are many replicas of antique china, which is a less expensive, mass produced replications of a vintage set. Authentic vintage china has an identifier, and is usually tagged with a marker or dynasty. When looking for authentic vintage china, it is important to learn how to recognise authentic marks to ensure that the piece is worth the price.
There are three main types of authentic vintage china. Each type is based on the material used to make the china. The different types of china differ in durability and price, so understanding the different types helps the buyer determine which type of vintage china best fits within their needs and budget.
| | |
| --- | --- |
| Type of China | Description |
| Soft Paste Porcelain | Grittiest type of porcelain, least durable, most affordable. |
| Hard Paste Porcelain | Second most durable and moderately priced porcelain. |
| Bone China | Most durable and expensive type of china made with bone ash. |
Because bone china is significantly more durable than porcelain options, it became the most popular option for china manufacturers throughout Europe, and eventually became the standard. Although bone china is the most durable, it is still important to remember that all vintage china is delicate, and should be cared for properly.
Caring for Vintage China
Caring for vintage china is the best way to keep the china in good condition. The materials and paints used for vintage china is not as durable as materials used for modern china, so following the care instructions for vintage china is essential in keeping the pieces looking beautiful. Keep in mind that most vintage china was made before modern technology, so most vintage china is not microwave or dishwasher safe. Also, vintage china should not be used in the freezer or oven.
Cleaning Vintage China
One of the most important rules for caring for vintage china tableware is to never put it in the dishwasher. The harsh detergents may strip the paint from the china, and the high temperatures may cause the china or the glaze on the china to crack. Vintage china should always be washed by hand using a mild detergent and lukewarm water. Strong detergents, or detergents that contain acid such as lemon or citrus, may also erode the paint over time. Gold paint is especially delicate, so when washing it is important to never scrub the gold paint. Washing the china with a soft cloth is the safest option, and using a rubber mat in the sink prevents the china from cracking if it hits the sink. Also, the china should never be fully submerged in water. Vintage china should be washed at least once per year to prevent cracking from the china getting too dry.
Cleaning Discolouration
Since vintage china is older, it may become stained over time. When cleaning discolouration, it is important to never use bleach on vintage china. Instead, mix baking soda and water to form a paste, and let the paste sit on the discoloured spot for several hours before rinsing the mixture with warm water. Discolouration can also be cleaned with a peroxide and water mixture or vinegar and salt mixture. The peroxide mixture contains two parts peroxide to one part water, and should be dabbed on the stain. This usually has to be repeated several times to remove the stain. Another option is to mix half vinegar and half salt, and let the mixture soak on the stain. A soft cloth, cotton ball, or toothbrush can be used to gently scrub the stain clean.
Storing Vintage China
The first thing to consider when storing vintage china is temperature. Vintage china should not be stored in very hot or very cold conditions since its material is susceptible to cracking. Since attics, garages, and basements may have extreme temperatures, it is not recommended to store china in these places. Even storing china too close to a fireplace may have an impact on the china over time. It is best to display in a china cabinet or store in a cabinet, box, or sturdy trunk.
When storing china, the best way to keep the china in good condition is by storing the pieces properly. Vintage china plates should be balanced and stacked on top of each other, and separated by a soft cloth, paper towel, or coffee filter to ensure the pieces do not get scratched. More than ten plates should never be stacked in the same pile. Also, larger dinner plates should be on the bottom of the stack, with smaller plates on the top. China cups, mugs, or bowls should never be stacked because stacking these items places too much pressure on the rim of the glass or bowl , which is the weakest part of the china and most likely to break. It is best to store mugs on hooks and cups and bowls in a row next to each other.
Repairing Vintage China
Taking precautions with proper care, cleaning, and storage is the best way to protect vintage china and keep it in good condition. However, accidents happen, so if a piece of the china does get cracked, scratched, or broken, the best option is to bring the piece to a specialist to get repaired. Many museums offer references to professionals who specialise in repairing vintage china. Since most vintage china is very valuable, getting the pieces professionally repaired ensures that the vintage china set does not decrease in value because of a damaged or missing piece.
How to Purchase Vintage China on eBay
Because of the large selection and competitive prices, eBay is the best place to search for vintage china. To begin your search on eBay, you can start with the use of keywords in the keyword search bar. By searching 'vintage china' in the keyword search, you can browse through thousands of sets, and narrow results by different factors, such as type of china or price. By setting your price maximum, it is easy to stay within your budget by only searching through options that fit within your price range.
Since vintage china is such a valuable item, you may feel the most comfortable making a purchase from a local seller, or an eBay Top-rated Seller. When purchasing china from a local seller, you can usually arrange to pick up the china instead of having it shipped, which saves money on shipping costs and ensures the china does not get broken during transit. Purchasing from an eBay Top-rated seller means the china is coming from a trusted seller, based on the seller's transactions with previous customers. Top-rated sellers have the most positive feedback from previous buyers, ensuring a stress-free purchase.
Conclusion
Vintage china makes a great collector's piece or family heirloom. Unlike mass produced tableware, vintage china focuses on intricate details, and is hand painted to make valuable, unique pieces. Taking care of china is the best way to ensure the lasting value of the china. Pieces go up in value with age, so proper care and storage is essential to protecting the investment.
When choosing china, it is important to determine the type of china as well as the style. Many replicas of vintage china is available and is much more affordable with a similar design. Regardless of the type of china, eBay makes it easy to find the perfect china set to fit within the buyer's style and budget. eBay also saves the buyer from having to travel to multiple antique shops since they offer a large selection of vintage china, that can be purchased with the click of a button.