The sheer, lightweight properties of voile fabric give it a frothy and frosty appearance that allows light to enter through windows whilst providing some privacy. Voile gathers and drapes well, making it a perfect underlining as sheers for curtains or drapes. You can keep low maintenance voile curtains clean and fresh looking with a minimum of care.
Washing Voile Curtains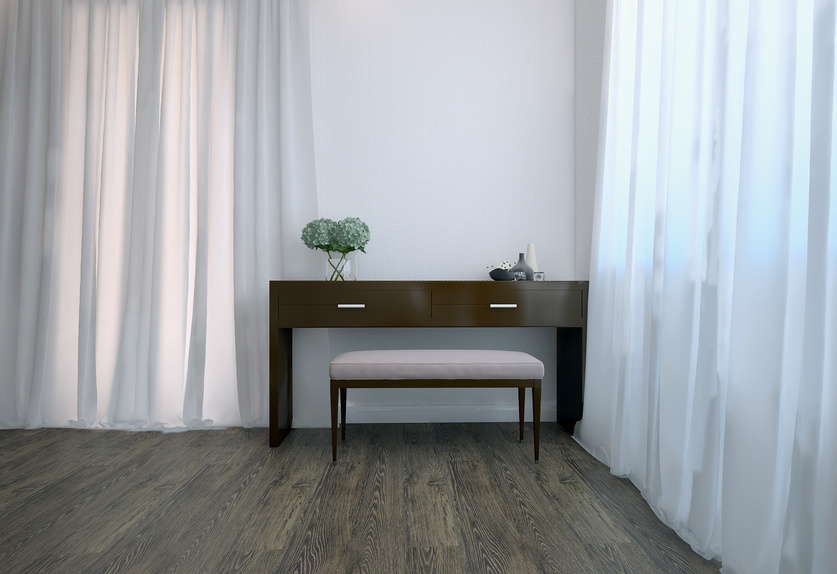 You can wash voile in the washing machine with cold water using the delicate cycle. Use a mild detergent. You should only use chlorine bleach on white voile curtains. Be sure to mix it with water in a cup before adding it to the wash. For non-white voile and voile net curtains, you can add a mild non-chlorine stain remover to the wash cycle. If you decide not to use chlorine bleach, a few tablespoons of vinegar mixed in the wash water is a good odour remover.
Drying Voile Curtains

Voile is delicate and should not be subject to the heat and tumble of an automatic clothes dryer. It is best to lie the curtains flat or hang them out-of-doors on a clothesline. If the curtains are of very light construction, hanging them back on the rod or curtain pole also works well. If the curtains need ironing, be sure the iron plate is clean and dry, then iron on a cool setting. You may need to iron tab top curtains to keep them flat and hanging evenly.
Dusting Voile Curtains
Open windows, household dust, and pet hair and dander can build up on your voile curtains. Dusting the curtains regularly can prevent the buildup of dirt, which can cause discolouration or stains. Run the furniture tool from your vacuum lightly over the curtains while they are on the rod. Be careful not to tug or yank on the fabric, which could cause thread pulls or unsightly wrinkles. As an alternative, remove the curtains from the rod, take them outside and give the panels a good shake.
Stain Removal
You can use chlorine bleach to remove stains on white curtains. A tablespoon of bleach in a coffee mug of water is a good mix. For stubborn stains in coloured fabric, a paste of baking soda and water may remove the stain. Put the solution on the stain and leave it for an hour prior to laundering. If using a household stain remover, be sure to read the instructions carefully. Testing before using is a good idea with stain removers.
Odour Removal
Pets and tobacco can leave difficult and unappealing odours in the fabric of your voile curtains. Several commercial products work well for odour removal. Be sure to spray lightly or the spray may leave stains. Follow the manufacturer's instructions, and spray using a back and forth motion. Remove Voile swags from the rod before spraying them.