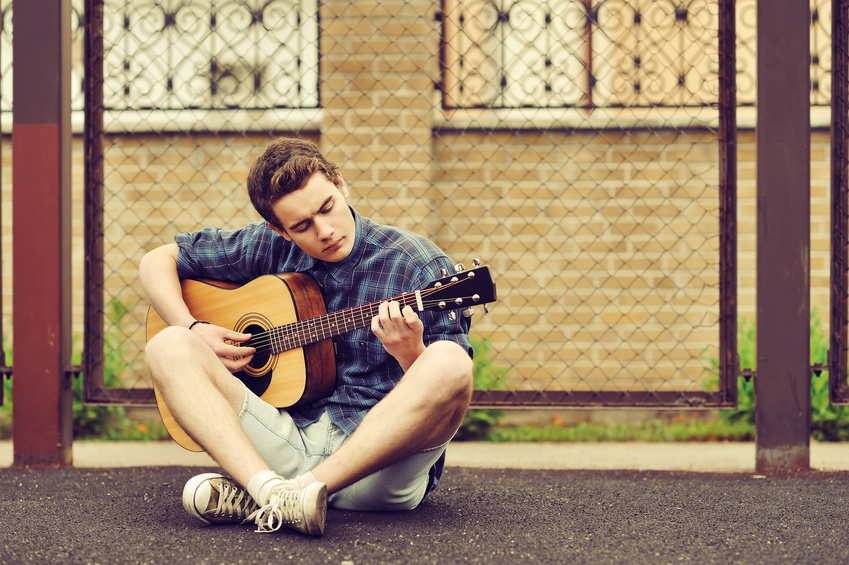 Acoustic guitars are delicate instruments and require appropriate care to keep them in tune, as well as in stellar condition. The natural sound that comes from an acoustic guitar differs greatly from the music that comes from an electric guitar, so you cannot care for both instruments in the same manner. Learn how to care for your acoustic guitar so it plays well for you for years to come.
Storing Your Acoustic Guitar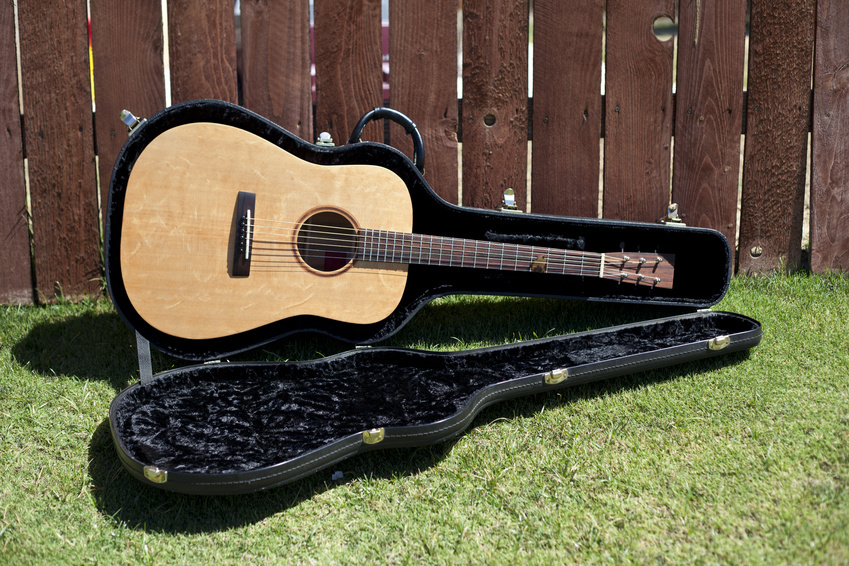 Humidity and temperature changes greatly affect the thin wood of your guitar. Keep your guitar stored in an area that does not fall lower than 7.2 degrees C, but does not rise higher than 12.7 degrees C. Make sure there are no rapid temperature changes or the wood on your guitar may crack, ruining it and its sound forever. Make sure the humidity also stays at a comfortable level. Too much moisture in the air causes the wood to warp, ruining the instrument. Have both a thermometer and a hydrometer on hand to measure temperature and humidity on a regular basis. If you take your guitar out into freezing temperatures, keep it protected in a case at all times.
Cleaning Your Acoustic Guitar
Cleaning this instrument is simpler than you think. Just take a soft, damp cloth and wipe your guitar down on a regular basis. Do not use any type of chemical solvent, as it may eat through the finish on your guitar. Use a polish specifically made for guitars to give a lustrous finish to your guitar when its shell starts looking dull. Wipe it down as you would for a general cleaning before applying a light coat of polish.
Using the Right Strap

Make sure your guitar strap will not damage the finish and the sound of your acoustic guitar. Avoid vinyl and synthetic leather straps, as the chemicals they contain may seep onto the guitar's finish, causing both functional and aesthetic damage. If you do use these type of straps due to the comfort they offer, be careful not to allow the strap to come in contact with the instrument's finish. To keep the guitar extra safe, remove the strap after each use and store it separately from the guitar.
Travelling With Your Guitar
Keep your guitar on the back seat rather than in the boot when driving, as the back seat usually has better ventilation than the boot does. Temperatures also vary in the boot and severe changes can cause the body of the instrument to warp. When on a plane, ask the baggage attendant to walk your guitar to the gate rather than have it travel with carts of other luggage. Also, request the attendant hand it back to you instead of putting it on the conveyor belt at the baggage check.