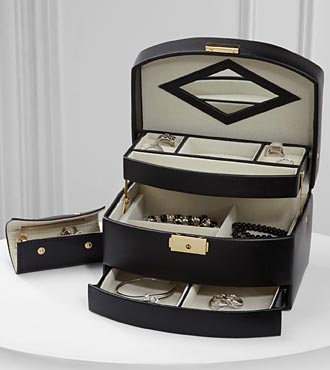 Charms have been worn in some form throughout human history as a way of protecting the wearer from bad luck or evil spirits. The modern charm bracelet became popular in the 1950s and 1960s, and has small charms that are attached as mementos and keepsakes. Charm bracelets remain a popular choice of jewellery, with buyers able to choose from a variety of bracelet styles. There is also large selection of charms that can be simply decorative or can mark life events, such as birthdays and graduations, as well as celebrations. Caring for a charm bracelet properly is important because it does more than just preserve a piece of jewellery: it maintains the record of special moments in a life. Jewellery owners have a variety of ways to protect their charm bracelets, including restricting when and where they are worn and what they are exposed to. Charm bracelets can be cleaned at home or by a professional.
When considering how to care for charm bracelets, it helps to understand the types of bracelet and the manufacturer's care instructions. Charm bracelets and all of the equipment needed to care for them can be found at jewellery shops and online at eBay.
Types of Charm Bracelet
Charm bracelets come in two varieties: the classic chain with links that charms can be attached to, and the slider style, where the charms can be strung on the bracelet like beads. Link charm bracelets are often worn by younger people, whereas the beaded style is a sophisticated choice for all ages. It should be noted that beaded charms cannot be adapted for link bracelets, but it may be possible to buy link charms for a beaded bracelet that have a special adaptor.
Materials for Charm Bracelets
The bracelet is the foundation that holds all of the charms, so it should be chosen carefully. Gold and silver are popular choices for charm bracelets, and some manufacturers offer leather or fabric. Although gold and silver are traditional, choosing a leather or fabric bracelet provides more options in terms of colour. The buyer can choose a bracelet from a range including, pink, purple, red, or black.
When choosing gold or silver bracelets, buyers can select the quality of the metal. Gold can be found in a variety of purities, from 24 carat pure gold. Most good quality jewellery uses 18 carat gold, which is 75 per cent gold and 25 percent other metals, or 14 carat gold, which is 58.3 percent gold and 41.7 percent other metals. Most silver bracelets use sterling silver, which is a combination of 92.5 percent silver and 7.5 percent other metals, typically copper.
Manufacturer's Care Instructions for Charm Bracelets
To keep your charm bracelet in the best possible condition, always check the manufacturer's recommended care instructions. Avoid using a cleaning method or performing any actions to your bracelet that the manufacturer advises against, as this may damage the bracelet or the charms. It should be possible to buy any care and cleaning products from the charm bracelet's manufacturer, or they should at least be able to provide a list of recommended products.
Tips for Caring for a Charm Bracelet
The first step in caring for a charm bracelet is to keep it safe to prevent any unnecessary damage. Firstly, avoid overloading a charm bracelet, especially a bracelet with links. It may be wise to invest in accessories for the charm bracelet to keep the charms separate. Secondly, the charm bracelet should be stored correctly when it is not being worn, as with any other piece of jewellery.
Do Not Overload Your Charm Bracelet
Overloading a charm bracelet made of links can damage the charms because they can rub against each other and collide, creating erosion. So, limit the number of charms placed on the bracelet to protect them. Accessories, such as spacers and beads can be bought for beaded charm bracelets, which can be placed between the charms. They can be clipped to the bracelet to hold a set of charms in place, rather than letting them slide around. As well as separating the charms, they help to create a unique look for the charm bracelet by highlighting a few beaded charms.
Store Your Charm Bracelet Correctly
You can store your charm bracelet and charms in a variety of ways, but in general they should be kept separate from other pieces of jewellery. This prevents scratching and damage that can come from pieces of jewellery rubbing against each other. Separate jewellery bags are an ideal way to store loose charms and the charm bracelet, but even simple plastic grip seal bags can suffice. A jewellery box, made of wood or leather and lined with fabric is also a good way to store charm bracelets. However, the box should have separate compartments to store each piece. An ideal solution is to store the charm bracelet in its original packaging.
Minimise Your Charm Bracelet's Exposure to Damage
Harsh chemicals can damage charms and charm bracelets, so avoid bringing the jewellery into contact with them, even chemicals in perfume, cosmetics, and hairspray. Wearers should not wash dishes or shower while wearing the charm bracelet, and it should be removed before visiting swimming pools and saunas. A good rule of thumb for the charm bracelet, like any jewellery, is that it should be the last item that you put on before you go out and the first thing that you take off when you come home. Another way to minimise damage to a charm bracelet is to wear it on the wrist opposite the dominant hand, because it is used less frequently. This helps to reduce exposure to all sorts of potential wear and tear.
Clean the Charm Bracelet at Home
Inevitably, a charm bracelet acquires some dirt and oils from being worn. If necessary, metal charms and bracelets can be wiped with a soft jewellery cloth, or cleaned with some mild soapy water and either a soft cloth or soft toothbrush. After cleaning, rinse the jewellery in clean water. Some charms, especially silver that can tarnish over time, may be able to withstand polishing with a jewellery cloth, but this should be checked with the manufacturer's recommendations. If a charm features any special materials or gemstones, then check with a jeweller whether than can be cleaned at home. Also, the bracelet and charms should be completely dry before you store them, because moisture can lead to tarnishing. A leather bracelet should never be made wet.
Have Your Bracelet Cleaned Professionally
Depending on where the charm bracelet was purchased, it may be possible to take it to the jeweller to be cleaned professionally, especially if it is made of a precious metal or features valuable gemstones. If this is not possible, for example, for an online purchase, check with your local jeweller to see if he or she can clean the charm bracelet. Professional cleaning means the bracelet is in the safe hands of experts who know how to bring the bracelet and charms back to their original condition.
Buying Charm Bracelets on eBay
eBay has a large selection of jewellery, including charm bracelets. If you have not decided exactly which kind of charm bracelet that you want to buy, you can try a general search, such as "charm bracelet" or "silver charm bracelet" and browse through the results. You can always filter results by condition, price range, or other features. If you already know what you are looking for, you can use more detailed keywords, such as "Pandora silver charm bracelet". Research the item and seller before you buy so that you know exactly what to expect from the transaction. To learn more about the buying process, check eBay's buying basics page.
Creating a Wish List on eBay
If you have never shopped on eBay before, you may consider creating an account so that you can sign in before you start browsing. By signing in, you can save items that you are interested in, and even save searches so that you can come back to them later. eBay also lets buyers create a wish list of items they would like to buy.
Conclusion
Charm bracelets are an excellent way to preserve memories of special occasions and milestones, so keeping them in good condition is important. Wearer's should check and follow the jewellery manufacturer's care recommendations. Also, observing practices that keep the charm bracelet safe can prevent wear and damage. Keeping minimal charms on a bracelet can prevent them from being eroded, and when not being worn, the charm bracelet should be stored safely, either in a jewellery bag or box. It is also important to keep a charm bracelet away from harsh chemicals and to avoid exposing it to water in the shower, a swimming pool, or sauna.
However, even with careful treatment a charm bracelet can become dirty. To clean charms or bracelets, use mild soapy water and a soft cloth or toothbrush, and rinse them in clean water. Remember that leather bracelets should not be cleaned using this method. Buyers may also consider professional cleaning to help to maintain more valuable charm bracelets. eBay has a great selection of charm bracelets, and products to ensure that they are well cared for.