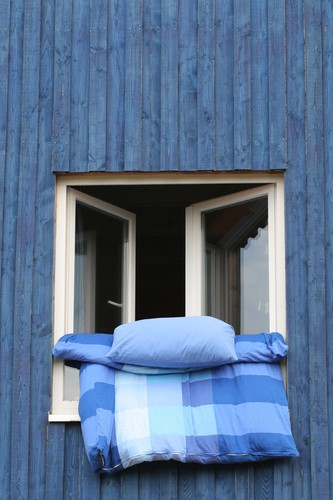 A duvet, also commonly referred to as a comforter, is a big, comfortable, fluffy, blanket for your bed. If you have a duvet, chances are you don't need any additional blankets. With a duvet, all the warmth and comfort you need can be provided. Duvets can either be simply for decoration, or they can be used to keep you comfortable and warm while you sleep. Duvets are made of many different materials and they come in various colours, patterns, and styles. If you spent a lot of money on a designer duvet or it's a family heirloom, you can always slip a duvet cover over it to keep it protected.
Washing a duvet may inspire questions. Does the duvet go into the dryer? Is it dry clean only? Is it hang dry? There are several ways to care for your duvet to keep it looking new, smelling fresh, and stain free. Caring for your duvet also is determined by what type of material your duvet is made from. There is a different variety of ways to care for your duvet such as washing, drying, keeping them stain free, and of course airing them out.
Types of Duvets and How to Care for Them
Duvets aren't just made of cotton; some are made of silk, polyester, or fluffy, feathery down. All duvets are not created alike, and different materials may need to be cared for differently. If a duvet has a stain on it, focus on removing just the stain instead of washing the entire duvet. Duvets can be washed, but shouldn't be washed too frequently. That's the great thing about using a duvet cover; it can be slipped over the duvet and washed anytime, then placed back on the duvet, so the actual duvet doesn't have to be washed as much. This will keep it looking beautiful for longer.
Silk Duvets
Silk duvets are beautiful, luxurious, and simple to care for. It's also a hypoallergenic material, so it's great for people that have allergies. It's a natural fabric that feels soft to the touch and looks gorgeous. Silk duvets aren't hard to keep clean, but they shouldn't be washed often. Instead, to keep your silk duvet fresh, take it outside and air it out. Leave your silk duvet in the sun for a few hours to refresh it without having to wash it, and this will keep it looking fabulous.
If by chance you have stained your silk duvet, simply use a mild soap and warm water to gently rub the stain away. A silk duvet should not be immersed in water if you want it to stay pretty and not come apart. Dry cleaning your silk duvet is not recommended. If your silk duvet is cared for properly, it can last for years. The great thing about duvets made of silk is they require less care than cotton duvets because they don't retain sweat, mites, or bacteria. Never place a silk duvet into the dryer.
Cotton/Polyester Duvets
A cotton duvet that has a high thread count can be a cosy blanket to sleep under. Cotton duvets are simple to care for, but they do need more regular cleaning than a silk duvet does. To keep a cotton duvet from losing its shape, shake it a bit regularly to fluff it and keep the filling inside evenly distributed. If you sit or lie on one side of the duvet more often than the other side, the filling can become lopsided, so it needs to be fluffed out sometimes. To remove stains from a cotton or polyester duvet, you'll simply need to use a mild soap like Woolite to remove the stain along with warm water.
A cotton duvet that has artificial filling (not down feathers) can be placed in a washing machine, but since duvets are generally fairly large and bulky, you may need to use a commercial washing machine, to ensure that the duvet doesn't become ripped or compromised in any way. Check for the care instructions that are on the duvet's tag, and follow those for best results. To dry a duvet, never use a high heat. Always use low heat and the gently cycle. If the duvet doesn't become completely dry in the dryer, that's all right. It can be hung dry on a sunny day to finish drying, and this will add a fresh, natural scent to the duvet as well.
Down Duvets
Down duvets are filled with soft down feathers. You'll need to take special care when cleaning these special duvets. Down duvets shouldn't be used by people with allergies, as duvet can be a bit allergenic for sensitive people. If you have a down duvet, don't wash it frequently. In fact, it's probably best if you only wash it a couple of times a year. That's why it's best to use a duvet cover with a down duvet, so it will stay protected. When you do need to wash your down duvet, use a very mild soap and select the gentlest cycle on your washing machine. Once again, you may need to head to the Laundromat to put the duvet into a larger, commercial machine to give it the room it needs.
The trick with drying a down duvet is that when it's in the dryer, you need to throw in a couple of tennis balls while it's drying. This sounds weird but it's the best way to keep the down fluffy. The one thing you don't want to happen to your down duvet is for the down feathers to become lumped up together, so the tennis balls will help keep them separate, allowing the down duvet to remain fluffy. The duvet can then finish drying in the sun. Fluff the down comforter regularly to keep the down evenly distributed. Spot clean as needed similar to silk and cotton duvets. To keep the down duvet fresh between cleanings, air it out in the sun as needed.
How a Duvet Cover Protects the Duvet
Duvet covers are like giant pillow cases for your duvet. The duvet can slip inside and it can be secured with buttons, snaps, or even a tie closure. The duvet cover keeps the duvet protected at all times, and lessens the frequency of washing. The great thing about duvet covers is that they come in lots of different colours and styles, so you can change up the way your bed looks simply by changing the duvet cover. Duvet covers can be washed as much as they need to be and easily slipped back over the duvet. You'll still need to shake the duvet from time to time to keep it fluffy and even, but you won't have to wash it as much if you use a duvet cover.
They also come in different materials, so you can use a jersey duvet cover, velvet or flannel duvet cover, or a super soft, high thread count Egyptian cotton duvet cover. Purchase pillow shams and a dust ruffle to match, and dress your bed up without having to purchase a new duvet.
Additional Duvet Care Tips
Taking care of a duvet isn't hard, but there are certain things to keep in mind to keep your duvet in the best shape possible for years to come. Flip your duvet over and rotate it every couple of weeks to ensure that it's getting an even amount of wear on all sides. This makes it harder for clumps of filling or down to all end up on one side of the duvet, creating a lumpy, uneven look that's not comfortable or attractive. If for some reason you need to put your duvet into some type of storage, do not put your duvet into a plastic bag. It needs to be stored in a bag that can breathe, or a cotton bag. Shake and fluff it thoroughly after it's been stored, or leave it outside to get some air in the sunshine.
Always follow the care tag when you're washing the duvet, and don't use any harsh detergents, chemicals, or stain removers on the duvet, as this could leave a permanent mark on the comforter. Never use high heat or high agitation on a duvet. Use a duvet cover if you feel like your duvet needs protection and you want to avoid frequent washings.
How to Buy Duvets on eBay
Duvets are a fabulous and cosy addition to your bed, and come to fit every size of bed. To find a duvet for your bed on eBay, search for "duvet", and see what is available. You can tailor the search by size, material, and brand; so narrow the fields for your specific bed, then begin your search for the perfect duvet for you. You may score a duvet set that comes with pillow shams, or you may find a beautiful, patterned duvet for your bet. Purchase a duvet cover, too, just to keep your investment protected, and set yourself up for a fabulous night of sleep.
Buy a duvet on eBay with confidence from a Top-Rated Seller that has lots of positive feedback from other buyers, and perhaps even buy more than one item from the same seller for a bundled package that may get you a discounted shipping rate. Sellers in your area may let you arrange a personalised pickup for your duvet, which will not only negate shipping but create a one on one shopping experience that you can't get on other sites.
Conclusion
You may love the way beautiful beds look in magazines, but you didn't think you could afford a stylish duvet for yourself. By purchasing a duvet on eBay, you can save money and find the perfect duvet for you. Search duvets by materials so you can get the duvet that will fit into your lifestyle best, and will be the easiest for you to care for and keep clean. If you're buying a duvet for a child or teen, you may want to slip a duvet cover over it, just in case of spills. Duvets can be a great addition to any bed, and provide warmth during the cooler months.
A great duvet can last for years, if it's properly taken care of. Don't wait to have the bed of your dreams. Find a lovely duvet today to add something special to your bedroom, and give your bed a makeover. Buying a duvet on eBay is simple, convenient, fun, and hassle-free.