Outdoor swing sets provide endless hours of fun. Some have multiple swings, slides, and other climbing equipment that allow children to enjoy the fresh air while playing. Swing sets are made from several materials that each have different levels of care. Buyers should inspect their swing set regularly to ensure it is safe for children.
Materials for Your Outdoor Swing Set

Outdoor swing sets are typically made from metal, wood, or plastic. Metal outdoor swing sets require regular maintenance to prevent or reduce rust. Painting the set every year diminishes the impact of weather conditions. Treat rusty areas by sanding them before painting or replace the parts if the rust is severe. Wooden outdoor swing sets should be treated with wood stain to prevent splitting. When the wood starts to show signs of rot, replace the beams to prevent injury. Sand any rough areas to reduce splinters. All outdoor swing sets, including plastic versions, should be placed in a shady part of the garden to prevent the sun from drying out the materials and causing damage. This also keeps the set cooler to prevent burns.
Safety Tips for Your Swing Set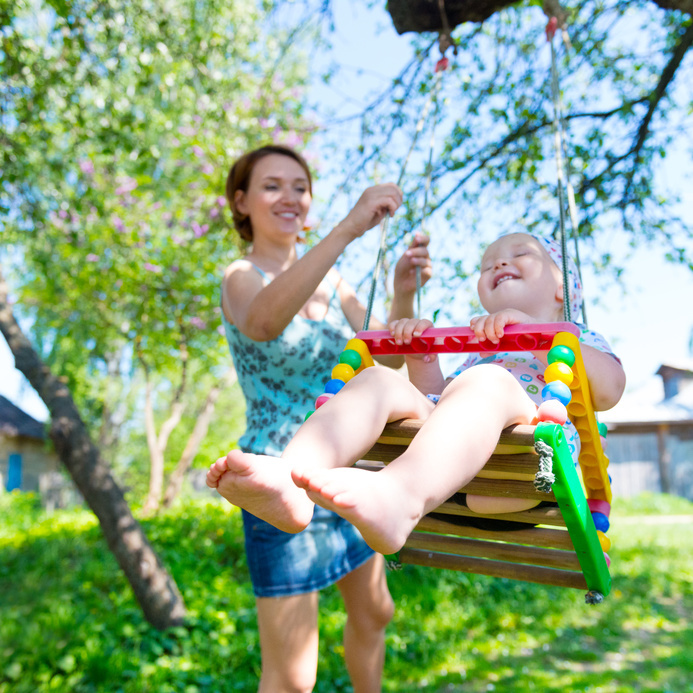 The frame of the swing set should be anchored into the ground to prevent it from moving due to high winds or energetic play. Every season, replace the rubber mulch or other soft materials around the swing set to ensure that there is a cushioned area to protect children. Keep the area immediately surrounding the swing set free of debris and materials that could cause children to stumble and fall. Adjust the height of the set as your children grow to make sure that they have enough room to swing their legs without hitting the ground.
Inspect Your Swing Set
Regular inspections of your swing set help to ensure that all of the parts stay in working order. Check plastic swing seats for cracks that pinch small fingers. Look for frayed ropes, which could snap. Cables, chains, nuts, and bolts that hold pieces together begin to wear after years of exposure. To keep the swing set safe, check and tighten loose pieces monthly. Lubricate metal components regularly to keep them in good working order. Cold temperatures wreak havoc on many swing materials, so dismantle outdoor swing sets, if possible, and store them in a garage or shed during the winter.