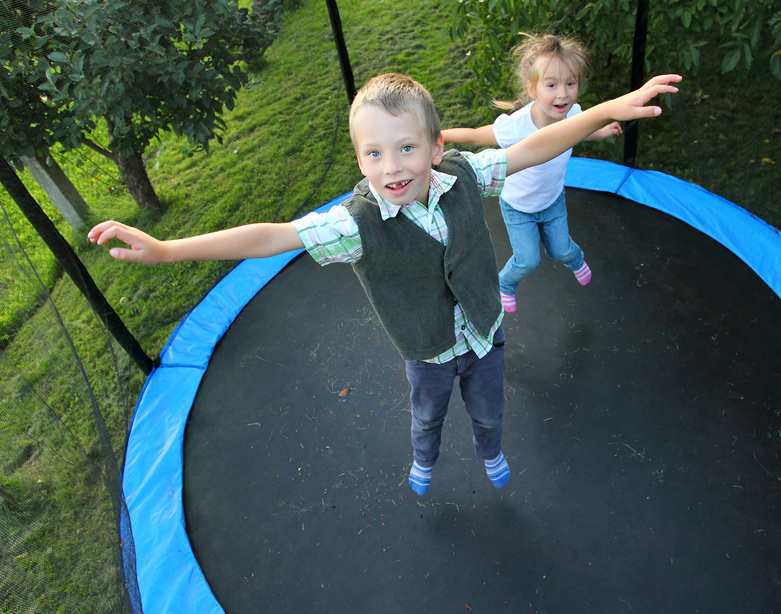 An outdoor trampoline is a popular children's outdoor toy. Enjoyable to use and good exercise, outdoor trampolines come in a range of shapes and sizes, suitable for any age. A top quality trampoline may cost more in the beginning, but is likely to last many years. With proper care of a trampoline, one can ensure it stays in good condition, providing optimum safety and fun. Caring for a trampoline includes washing it, storing it away for the winter, using a cover, and keeping it grounded.
Washing an Outdoor Trampoline
For best care of an outdoor trampoline, regular washing every few months year-round is ideal to keep it in optimum condition. Using a bucket of warm soapy water and soft scrubbing brush, gently wash away built up dirt and dust, bugs, insects, and spider webs that accumulate on the trampoline mat, frame, and springs. Regularly wash the trampoline when it is left outdoors as well as before storing it. Just ensure it is completely dry before storing it away for the winter.
Storing an Outdoor Trampoline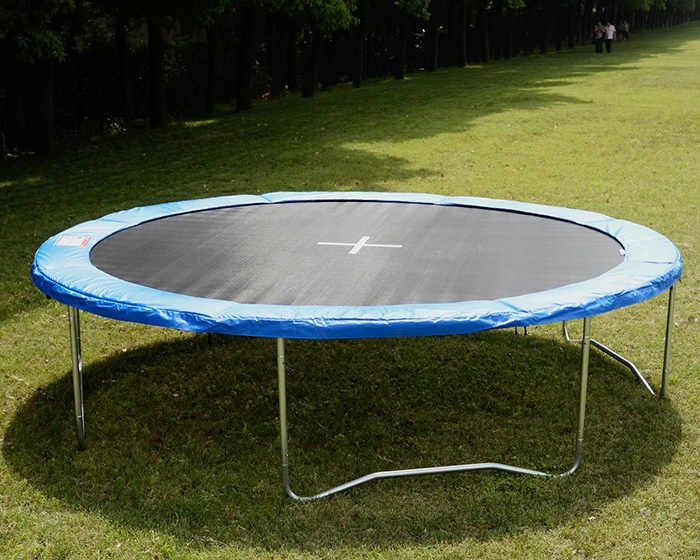 Many owners like to store their outdoor trampoline over winter if it is not going to be used at all. Harsh, cold weather conditions care quickly damage a new trampoline, causing springs to rust and the net to come apart at the seams. Whether it is a round trampoline or a rectangular trampoline, dismantle it by first removing the mat from the springs, then taking the frame apart. Some like to label the pieces, making it easier and quicker to reassemble in the spring. Either pack the pieces into a durable storage bag or wrap them securely in plastic sheeting or a tarpaulin.
Using an Outdoor Trampoline Cover
A trampoline cover is the best choice for those who do not wish to pack down their outdoor trampoline entirely for the winter. A trampoline cover is easily put into place over the mat and springs and quickly removable when necessary. It is the ideal option for those who like to use their outdoor trampoline any time of the year. The majority of covers are available for round trampolines, and range in size from small 8-foot covers, to larger 12-foot covers and 15-foot covers.
Keep the Outdoor Trampoline Grounded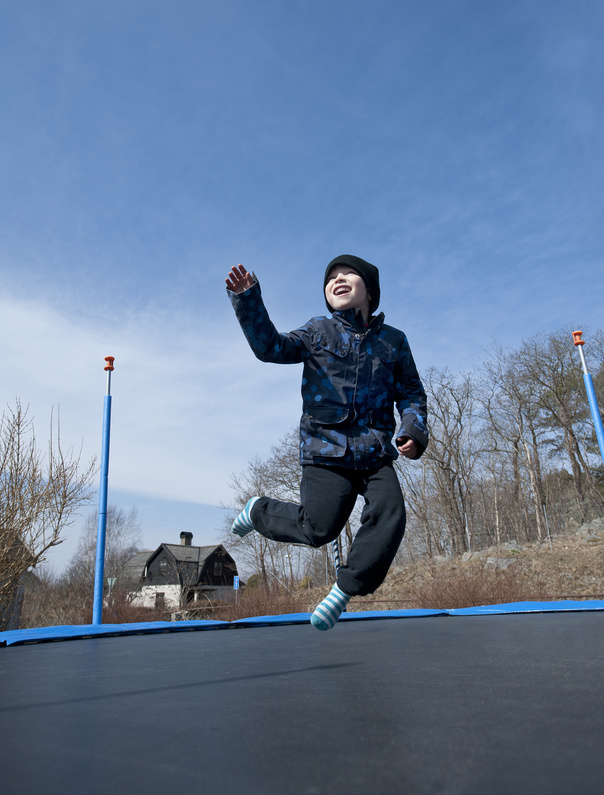 For safety in windy conditions, it is necessary to keep the outdoor trampoline pegged down into the ground. A trampoline that is not securely anchored, may be able to blow over in the wind and is likely to get damaged, breaking the frame or poles. Replacing or repairing a trampoline can be expensive, so anchoring the outdoor trampoline to the ground is a good way to care for it.