Chronograph watches not only keep time, but also function as a stopwatch. They are often equipped with anywhere from one to four smaller dials, depending on watch design. While additional features may vary, most also display the day of the week or the date. It is important to care for it through regular maintenance, as this keeps it in proper working condition.
Protection from Damage
Whether caring for a women's or men's chronograph watch, avoid exposing it to extreme heat or cold. Extreme heat shortens the lifespan of the battery, and extreme cold may cause the watch to lose time. Likewise, never expose the chronograph watch to abrasive solvents, chemicals, or gases, as this may lead to discolouration or deterioration. Similarly, direct contact with cosmetics and perfumes can also damage the plated dial or watch strap.
Watch Storage

Be sure to store the chronograph watch in its original box or another watch box when not worn. If neither is available, consider wrapping it in a soft cloth to protect the surface from scratching.
Watch Maintenance
Chronograph watches require regular maintenance. This involves not only cleaning the watch, but also lubricating the movement. In general, have a mechanical movement serviced every three to four years. Conversely, with a quartz movement, immediately replace a dead battery; otherwise, it could leak acid and damage the movement. For best results, consider professional servicing, as opening the timepiece in a bad environment can expose it to dust and moisture, which can cause issues.
Cleaning a Chronograph Watch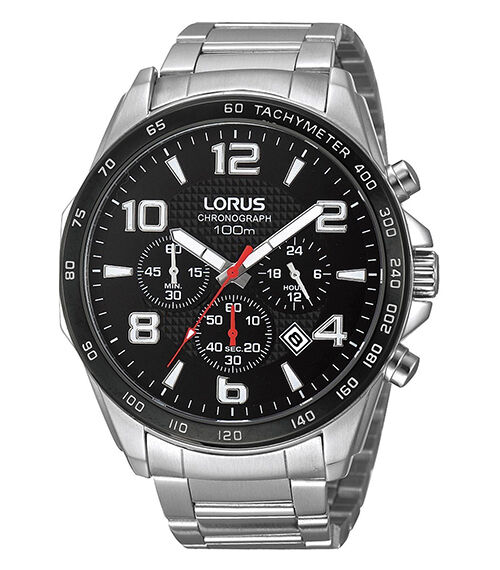 Lotion, sweat, and dirt build-up may occur without regular cleaning. These elements do not only mar the watch's appearance, but also hinder performance. Whether cleaning a Lorus chronograph or a Seiko chronograph, first remove the watch strap, even with water-resistant models. If you cannot remove it, avoid getting the watch wet, as this may result in permanent damage. Next, soak the watch strap in a mixture of water and a mild dish detergent; for leather options, forgo the dish detergent and add a small amount of white vinegar instead. With a soft cloth or brush, remove any dirt. Then, rinse under running water. Be sure to dry it thoroughly with a lint-free cloth to remove any moisture. Finally, reattach it to the watch component; wipe the watch itself clean with a damp cloth.