A leather couch makes a classic, beautiful piece of furniture that, with the right care, can last for decades. Unfortunately, without that care, the lifespan of a leather couch is significantly shorter. Learning to properly care for, and maintain, leather ensures that your couch remains in good condition for years to come.
Cleaning a Leather Couch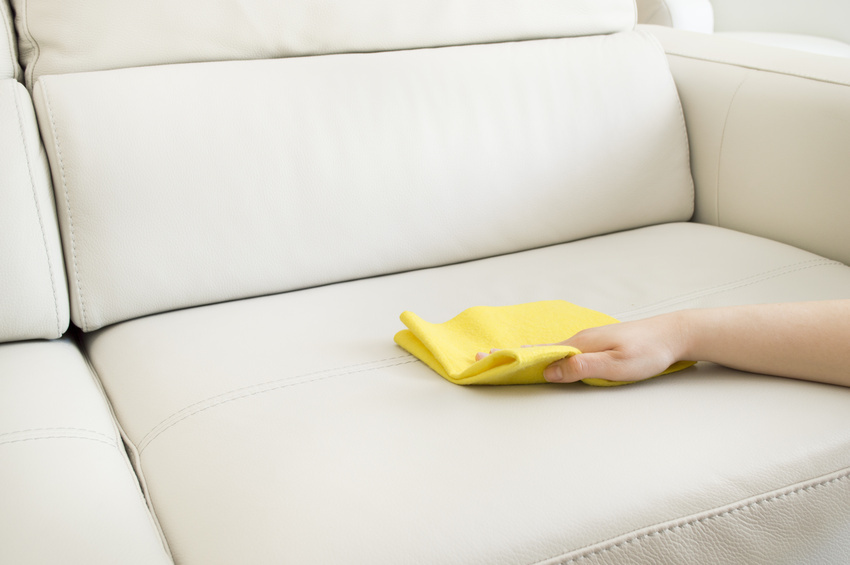 Regular cleaning is the most important part of maintaining a leather sofa, as it ensures that the leather retains its bright, beautiful colour without fading, stiffening, or cracking. Vacuum or dust your leather couch every few weeks, paying careful attention to the crevices between pillows. If you have pets, vacuum your couch at least once a week. Clean up spilled items as quickly as possible, especially if you have a white or cream leather sofa, where stains might be more visible. Finally, wipe the leather couch with a dry cloth, and use water as sparingly as possible, and only when necessary. A rubdown with a damp cloth once a month is more than sufficient for keeping most grime off the leather. Cleaning too often, using too much water, or using harsh soaps will speed up the stiffening and cracking of the leather. Always spot test any cleaners on the back or a non-visible part of the couch, even if the cleaner says 'leather cleaner', because it may discolour or damage the leather.
Conditioning a Leather Couch
You should also remember to condition your leather couch regularly. Once every six to 12 months is more than enough for most climates. Popular leather conditioners include Gliptone, Armour All, Meguiars, and Astonish, and several brands use cleaning solutions in the conditioner. It is always important to apply according to the directions on the bottle, and to apply sparingly in order to avoid stiffening the leather, or causing it to crack.
Positioning a Leather Couch

Leather is susceptible to heat and dry conditions, so it is important to protect the couch from such conditions. If possible, place any leather furniture as far away from sunny windows as possible because sunlight can discolour and damage the leather over time. Likewise, avoid placing leather near radiators, heaters, or other heat sources, as the heat dries out and cracks the leather. The closer the couch is to a heat source, the more often you have to condition it.