Adding a piece of solid oak furniture such as an oak desk to a home office or work space is a great way to create a substantive and productive work environment. In order to preserve this piece of furniture well into the future, those with an oak desk may want to learn some care tips and tricks for these quality pieces of furniture. Using a variety of products available, any homeowner can keep an oak desk in prime condition.
Cleaning and Dusting an Oak Desk

Cleaning and dusting an oak desk is much simpler than many make it out to be. The best approach to cleaning an oak desk is to use a soft cloth to dust it on a regular basis. An annual application of a wood wax can help preserve the finish and help the desk retain moisture, but regular applications of polishes can lead to buildup which in turn can damage the finish on an oak desk. A simple approach is always best with one of these desks.
Placing an Oak Desk in a Space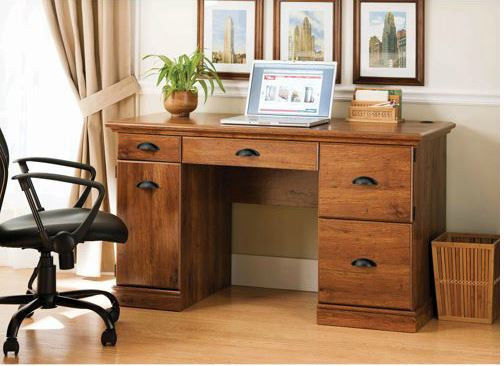 When choosing the placement of an oak desk in a space or office, homeowners need to consider both sunlight and any heating components in a room. Direct sunlight from an open window can, over time, harm the finish and colour of an oak desk. Desk owners should always strive to keep a desk away from direct sunlight, as well as any heating components, including radiators and fireplaces. The application of heat can affect the finish on a desk, but can also loosen joints by melting the wood glue inside.
Using Protective Desk Accessories with an Oak Desk
Working at a desk can involve everything from using a heavy monitor on an oak computer desk to keeping a glass full of water nearby. Protecting a desk from these various threats with desk accessories is essential to keeping it in good condition. Items such as coasters placed under a glass or a blotter placed over a writing space can add years to the life of a desk. Consumers should keep in mind that rubber and vinyl can yellow the finish on an oak desk. Leather, wood, stone, and cloth options are often better choices.
Maintaining Humidity Levels Around an Oak Desk
High or low humidity levels can both have dire effects on even a solid oak desk. Ideally, a room holding an oak desk should have somewhere around 35 per cent humidity. An environment that is too humid may cause the wood in the desk to expand, while a dry environment can cause the wood to contract. Using either a humidifier or a dehumidifier in a space can protect the structure of a desk in the long term.