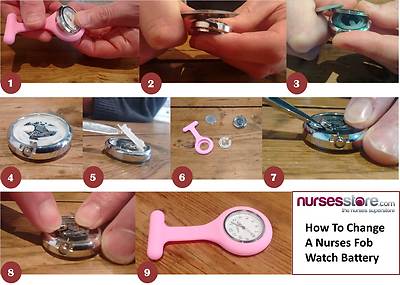 Save Money, Do It Yourself
Changing the battery on your nurses's fob watch is not a difficult task and you will only need one tool, a penknife. So to save some cash simply follow our step by step photo guide. Anyone can do it - simples!
Step 1: Remove the movement from the silicone watch casing.
Step 2/3: Take the back off thw watch casing with a penknife, slip the blade between the casing and the cover a lever away.
Step 4/5: Take out the plastic securing component that stops the movement moving inside the case of the watch.
Step 6/7: Lever the battery from the movement and set aside - you don't want to confuse it with the new battery!
Step 8: Insert the new battery ensuring it is the correct way around, the engraved text on the back of the battery should be visible when inserted. Replace the securing component to ensure the movement is secure and then the back of the watch, ensure this is firmly pushed home.
Tip: Before you replace the back of the fob just check the watch is working and second hand is moving , if it is not just push home the battery again.
Step 9: Job done!
We have a great range of silicone fobs and all come with a free spare battery, have a look.