Exchanging the factory-installed tip on your vehicle's exhaust system with an aftermarket tip allows you to personalise your vehicle with a stylish accessory. Because installation is simple, you can change the look of your vehicle in minutes. Decide on a type of exhaust tip and an installation option, consider factors such as diameter and length when choosing a tip, and clamp or weld the new tip into place.
Exhaust Tip Style and Material

Exhaust tips come in dual, oval, round, square, straight, angled, and curved styles. The material it is made of determines the exhaust tip's look and durability. Chromed mild steel and stainless steel exhaust tips are attractive and durable. Chromed mild steel exhaust tips are more affordable, but less durable, than stainless steel versions. The chrome coating may peel and flake over time, exposing the steel to the elements. Stainless steel exhaust tips last longer than chromed mild steel exhaust tips do, but are more expensive.
Exhaust Tip Installation Method
A clamp-on exhaust tip is quick and easy to install and requires no welding. Some models come with integrated clamps for greater ease of installation. Although these tips are easy to add to exhaust systems, vibrations can cause the clamps to loosen and they are vulnerable to theft. Weld-on tips require welding to keep them in place, but are secure and theft proof.
Exhaust Tip Size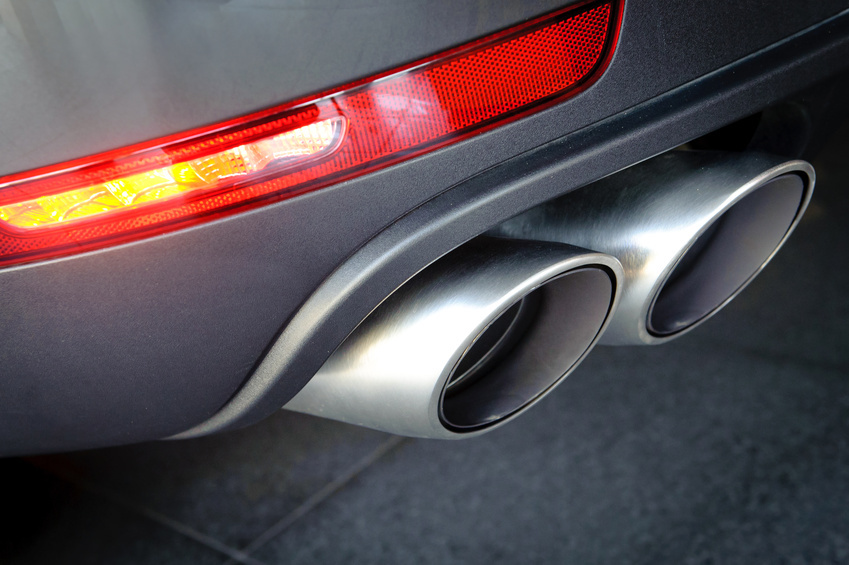 The size of the exhaust tip you choose should suit your vehicle and fit the tailpipe of the exhaust system. To avoid burning yourself, before measuring the tailpipe diameter or working on your vehicle's exhaust system, ensure that the metal is cool. The inlet size of the exhaust tip must match the diameter of the existing tailpipe. You should measure the diameter of the tailpipe and not the diameter of the existing exhaust tip. The outlet size must match the vehicle bumper and cowling cut-outs to avoid damage. Choose a length long enough to vent spent exhaust gases from the system, but not so long as to pose a hazard to passing pedestrians.
Replacing an Exhaust Tip
Remove the old exhaust tip by loosening the bolts holding it in place or simply twisting it off depending on the type of exhaust tip installed. You may need to lubricate the bolts and tip to achieve removal. Lubricate the inside of the new tip and the tailpipe and push the tip onto the pipe. Cover the tip with a towel and gently tap it into place using a rubber mallet. Tighten the clamps to complete the installation. Remember to tighten the clamps periodically to keep the tip in place. If you have chosen a weld-on exhaust tip, you need access to a welder and welding skills to install it. Simply weld the tip to the tailpipe along the seam. If you cannot complete the installation yourself, have a professional install the tip.