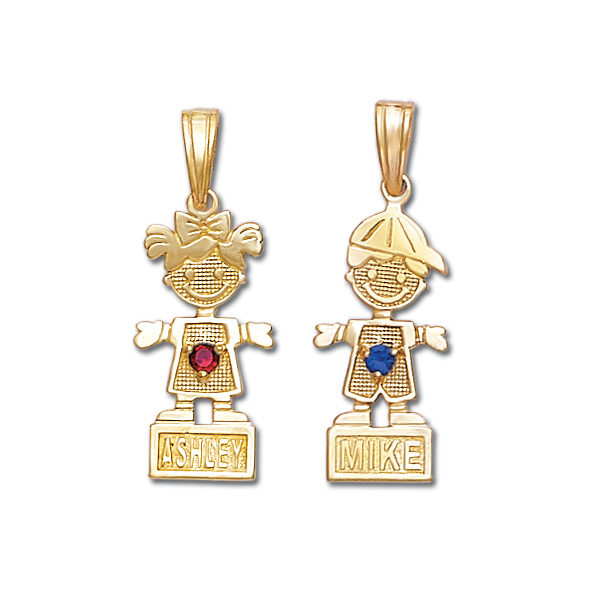 Charms are small decorative pendants. They come in various shapes, designs, and colours. Charms can often signify a particular occasion or may indicate a special relationship. They are widely collected and worn around the wrist on a bracelet as an accessory. Many collectors of charms tend to stick to a specific theme such as animals or travel memorabilia. While traditionally worn by both men and women, more modern charms are usually collected by teenage girls and young women. Charms can be found in a wide array of materials ranging from sterling silver to gold. When purchasing charms for a charm bracelet, buyers should familiarise themselves with the history of charm bracelets, learn how to begin the collection process, and consider popular milestone categories. Buyers should also consider charm type, price, and bracelet sizing, and learn how to apply charms to a charm bracelet properly. Charms can be bought at jewellers and online retailers such as eBay.
History of Charm Bracelets
In ancient Egypt, charms were used to identify a person to the gods in the afterlife, and as symbols of faith and good luck. During the Roman Empire, Christians wore tiny, hidden fish charms in their clothing as a way to identify themselves as Christians. Medieval knights wore charms for protection in battle. Charms were also worn in the Dark Ages to denote family origin and political convictions. Charm bracelets were made popular by Queen Victoria's reign, and have been in and out of fashion since then until the present day. Charms were traditionally made of shells, animal bones, and clay. Later, charms were made of gemstones, rocks, and wood.
Starting a Collection of Charms
Charms can be found in almost any style. When beginning a collection, buyers should decide between gold and silver charms. Choosing a particular metal gives a buyer's collection a consistent look and feel. Buyers should consider narrowing down their options according to theme. Choosing a particular theme ensures the harmonious look of a charm bracelet. Popular themes include animals, flowers, or unique shapes that express the wearer's personality. Buyers may even choose to keep a charm notebook, which includes the history of each charm, the date received, the givers name, and the occasion. Keeping track of this information is a great way to recall stories and special moments, and is a nice keepsake if the bracelet is passed onto a relative later.
Popular Milestones for Charms
There are various milestones to consider when starting a charm bracelet, each targeting a specific age range or a special occasion. When choosing the best charms for a charm bracelet, buyers should consider which milestone is the most appropriate. The table below can help the buyer to gather ideas before buying the charms for a charm bracelet.
| Milestone | Types of Charms |
| --- | --- |
| Bride-to-be | Symbolising the start of a life's journey together, matching the theme of an engagement or wedding ring |
| Wedding guest | Representing the location, theme, or other aspects of the wedding |
| New relationship | Diamond encrusted |
| New mothers and grandmothers | Representing family events, such as the birth of a child |
| Young child | Alphabet charms signifying a child's school days |
| Young adult | Favourite hobbies such as horse riding or dancing |
| Best friends | Symbolising a special friendship, such as hearts or shared interests |
| Graduation | Representing study, such as a mortar board or scroll |
The milestone in a person's life may help buyers to choose the right type of charm. Whether buyers are purchasing the charms as a gift, or for themselves, the selection is limitless.
Factors to Consider When Choosing Charms for Your Charm Bracelet
When choosing charms for a charm bracelet, buyers should first learn to differentiate between European and Italian charm bracelets. Then they should consider price and sizing.
European Charm Bracelets
Europeans charms bracelets emerged in both Europe and North America in 2002. These bracelets are made of a chain onto which different charms can be placed. European charms can be constructed from gold, silver, or Murano glass. They are interchangeable, allowing the wearer to add to or replace them, in order to create their own look. European charms can be sculpted to simulate anything from animals to people. In the UK, the most successful brands of European charm bracelet are Pandora and Lovelinks. All charms are compatible with these major charm bracelet manufacturers, an important aspect to consider when buying charms. This helps to ensure a good fit and prevents the charms from falling off and becoming lost.
Italian Modular Charm Bracelets
Italian modular charm bracelets are configured slightly differently from European charm bracelets. As opposed to dangling from the wearer's bracelet, Italian charms lie flat against the wearer's wrist and interlock to the next charm. Similar to European charms, each Italian charm is separate and interchangeable. They are often crafted using a stainless steel backing and a gold plated or 18 carat gold face. The face of the charm, which features the design, is soldered or glued to the stainless steel link. A typical Italian modular charm bracelet consists of eighteen Italian charm links.
Price of Charm Bracelets
The price of charms can vary widely, depending on their type, date, and the quality of the metal a buyer wishes to purchase. Well sought after charms include mechanical charms with intricate moving parts. Most gold mechanical charms are considered vintage and were created between 1930 and 1970. These charms tend to command a higher price. Gold, platinum, and diamond charms are usually considered to be high-end. More modern charms tend to be less expensive and can be found in various metals, including silver.
Sizing for Charm Bracelets
When creating a charm bracelet, buyers should consider the number of charms that fit on the bracelet itself, without making the bracelet look cluttered. It is also a good idea to space out the charms evenly on a bracelet to prevent the bracelet from becoming unbalanced. If the links of the bracelet are removable, then it can be sized to fit the the wearer's wrist. The extra links can be stored in a safe place for future use.
Adding Charms to a Charm Bracelet
When buying charms, they often come with either a jump ring or a split ring, allowing them to be attached to the bracelet. A jump ring is the simplest and most common attachment method, while split rings are consider to be more secure. However, they require an additional measure of manual dexterity. If the charm does not come equipped with a mode of attachment, these rings can be purchased separately at a small cost.
Jump Rings for Charm Bracelets
When applying jump rings, buyers should grasp the ring on the right side of its opening with a pair of pliers. Then grasp the ring on the left side of the opening with a second pair of pliers. Gripping both pairs of pliers, buyers should pull one side of the ring up and the other side down. This opens the jump ring wide enough to allow it to be placed through the bracelet link at a preferred location. The sides of the jump ring should then be pulled back together using the pliers. The open ends of the ring should line up and close tightly for a secure fit.
Split Rings for Charm Bracelets
When using a split ring, buyers need to insert one end of a metal nail file into the split of the split ring. They should then twist the file gently to separate the coils. This process can also be accomplished using a pair of pliers. Once there is enough space between the coils, buyers can slide the ring onto a link in the bracelet at the place where they want the new charm. They should then removed the file or pliers. The ring can then be rotated with the thumb and forefinger until it attaches to the bracelet securely and the coil snaps back together.
How to Buy Charms on eBay
Buyers can search for charms on eBay by entering a phrase such as "silver heart charms" in the search box that appears on every page. Before buying charms on eBay, buyers should read the item listing carefully. Each item listing should contain a detailed description of the charm, including its condition, size, and material, as well as images of the item. If no images are provided, or if buyer's would like additional information, they should use eBay's "Ask a question" feature. This allows buyers to communicate directly with sellers. Reputable sellers are usually more than happy to provide any additional details to promote a positive transaction.
Feedback Ratings
eBay's feedback rating system is designed to help buyer's feel comfortable and confident throughout the purchasing process. This system allows buyers to leave feedback for sellers upon the completion of a transaction. It also helps prospective buyers gain insight into the level of customer service provided by a particular seller. Sellers with high feedback ratings are recognised by the eBay community for dealing fairly and for their accurate item descriptions.
Conclusion
Charms are small, decorative pendants that are often attached to chain link bracelets. They can be found in various styles and designs. Although the reason for collecting has changed over the decades, charms have a long standing history. Once used to ward away evil spirits, charms are now used for self expression, offering an insight into the wearer's hobbies, interests, and life events. Buyers can choose to limit their collection to a specific theme. This gives the bracelet a harmonious look. When choosing charms, buyers should bear in mind their price range. In general, silver charms are inexpensive, while gold, platinum, and diamond charms are more of an investment. Buyers also need to consider the various types of charm bracelets. The charms on European bracelets dangle from the wearer's wrists. As an alternative, buyers may opt for Italian bracelets which have charms that rest flat against the wearer's wrist. Knowing how to apply charms properly ensures that they stay adhered to the bracelet. eBay sellers offer a wide range of charms for all themes and milestones.