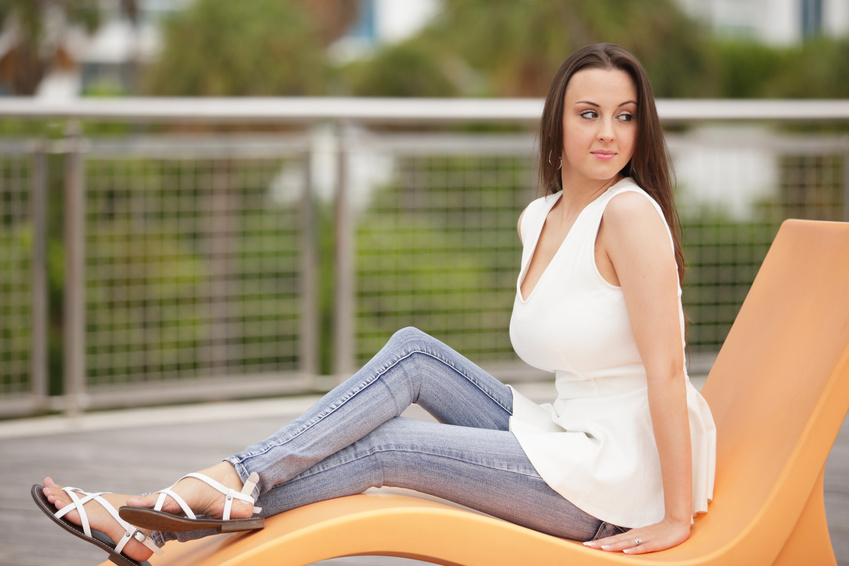 Skinny jeans are a must for any fashionista, but it's often challenging to find the right pair of shoes that go with this slinky piece. The truth is, almost any type of footwear can go with a pair of skinny jeans. However, just like any piece of clothing, there are a guidelines the wearer should follow when matching shoes with skinny jeans. By following these guidelines, almost anyone can look fantastic in these sexy pants.
Find Shoes that Accentuate the Figure

Skinny jeans look best on women with long and lean figures, but this doesn't mean that curvy girls can't look good in this piece. This just means that slim women can wear almost any type of shoes with skinny jeans, but shorter and curvy women need to be more discerning. The silhouette on these jeans naturally draw the eyes lower, which is why choosing the right pair of shoes can help in creating the right look. Knee-length boots can help balance out a top-heavy body, while tall heels can make the legs appear longer and slimmer.
Wear Weather-Appropriate Shoes

Much like any outfit, the wearer should pair the right pair of shoes for the weather, but especially so when wearing skinny jeans. For warmer months, a pair of sexy sandals, thongs or Converse can help keep the wearer cool. In the winter time, a great pair of suede or leather boots can help the wearer stay warm and during those rainy days, a pair of wellies can keep toes clean and dry.
Choose the Right Heel
Believe it or not, the type of shoe heel is also important and can help flatter the figure. When it comes to skinny jeans and shoe heels, the rule is, the higher the better. High heels can help elongate the legs and make calves appear slimmer, plus make almost any denim trousers look dressy. Those who don't have naturally long legs and sculpted calves should invest in a pair of high-heeled pumps or sandals that can help them look sexier in a pair of skinny jeans.
Shoe Style Matters
Everyone wants to to look their best when wearing skinny jeans and the style of shoe can certainly help. Skinny jeans hug every curve, from the bottom down to the ankle, giving the wearer a slim profile, so the wearer should choose a pair of shoes that are not too big or too small. Large bulky shoes like combat boots can look awkward and make the feet look clownishly huge. Stiletto heels, on the other hand, can often create a contrast and overemphasise the person's bottom and ankles. A pair of pointy heels or slim wedges can help balance out the figure and looks quite smashing on almost any figure.

Shoes from brands such as Clarks, Lacoste, Office, Karen Miller, Art and other Canvas shoes look great with jeans. If you are looking for a pop of colour pink and orange shoes offer a bold, style statement.