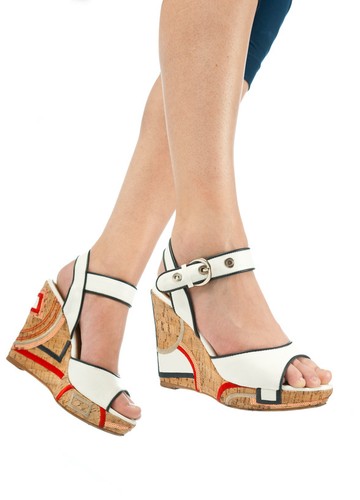 The bohemian 1970s platform shoe gets a modern update in today's platform sandals. Combine the lightweight, flirty style of the sandal with the platform shoe's ability to bring women to new heights, and you have the platform sandal. This festive shoe style is remarkable because it lengthens the shape of the legs while adding on inches in height without resorting to wearing stiletto five-inch heels. All body types can wear platform sandals, but the secret is picking out the correct style that flatters your figure.
Finding the best styles and materials can get a little confusing with all the different options that are available either in local stores or online websites like eBay. Therefore, savvy shoppers need to learn the basics of what makes platform sandals fabulous. Choose a platform sandal based on its style, colour and material for a shoe that you simply cannot live without during the spring and summer months.
Platform Sandal Style
Platform shoes have a trademark style that can be spotted from all the way across the room. The sole of a platform sandal is unusually thick, and on average falls between 1.0 to 3.0 inches, or 2.5 to 7.6 cm. The elevated height of the sole means that even with a high heel, the angle of the shoe is not incredibly steep. It makes the shoes more comfortable when walking and standing once the woman gets used to the platform feel. Because they are more comfortable, even women who cannot stand high heels on a regular basis will wear platform sandals. There are two main types of platform sandals that one might be able to purchase on the market, the wedge and the heel.
The Wedge
Wedge sandals get their name because they have a single sole from the front of the toe to the back of the heel, giving the shoe a wedge shape. Some wedge sandals are almost entirely flat, meaning the woman can wear them to gain additional height and make her legs look longer without having to shove her foot into a high heel. Other types have a slight elevation, where the front of the shoe may only be an inch or so off the ground while the heel area is two inches high. They are also easier to walk in for someone who has never worn platform shoes before since the thick heel makes balancing easier.
The Heel
Platform high heel sandals combine the sexy look of high heels with the flirty nature of sandals, with the elevating height of platform shoes. The front of the shoe rests on an elevated midsole while the back rests on a high heel. One of the main issues many women have with high heels is that while they may look sensational in them, the high heels are typically uncomfortable. By design, the average high heel places all of the weight of the body on the toe and arch of the foot. Some of the tallest high heels, those that are more than 3 inches, force the foot into a sharp, vertical angle, that can lead to bunions and blisters at the end of the day. Petite women who always wished they were a few inches taller but were never able to quite get the hang of walking in 4 inch heels should try a platform shoe with a thick sole. Even if the heel is 4 inches, the thick platform in the front makes the foot fit more naturally inside the shoe.
Choosing the Right Platform Sandal
Platform sandals are all about lengthening the shape of the legs. Any high heel shoe makes legs look shapelier, since the angle of the heel forces the lower leg muscles to stand out against the calf. However, certain body types need to take care when picking out a style of platform sandal. If you are an "apple" body type, which means you are heavier up top than on the bottom, then picking a large style like the wedge is only going to make your legs seem smaller. Wedges are big and blocky, so they contrast sharply against tiny legs. Apples or petites look best in small, dainty, heeled platform sandals. On the other hand, "pear" body types, which are heavier on the bottom than they are up top, tend to look best in the wedge style.
Platform Sandal Materials
When selecting a platform shoe, it is important to pay close attention to the material used for the platform itself. Platform sandals usually have either cork, wood, or plastic soles. Plastic platform sandals cost less than the others, and the entire shoe can be treated with a shiny finish that's perfect for any night out. However, plastic doesn't do much for the comfort of the foot, and many women find them somewhat uncomfortable. Wooden soles look especially stunning in the wedge style with their polished grains. However, wooden platform sandals are also heavier than cork or plastic. Many women swear that cork platform sandals are by far the most comfortable kind of sandal. Braided cork styles create a modern boho look, while regular cork allows you to add another layer of contrasting materials to your outfit. However, some women simply don't like the look of cork heels.
Colour
Colour plays a vital role in selecting the right platform sandal and making legs look fabulous. For example, a neutral, skin-toned coloured sandal lengthens the legs. Therefore, if you know that you have short legs, picking a neutral coloured sandal is probably your best option. On the other hand, if you have lovely legs and tiny ankles, show it off by selecting neon or metallic colours. These bright shades instantly draw attention to the feet, and help your legs to be noticed. Dark colours like black are typically worn for formal occasions, but in the spring or summer it's perfectly acceptable to wear white or pastel colours for formal events.
Sizing Platform Sandals
Women may wear a different size in high heels than they do for flats or athletic shoes. This is because the angle of the foot puts pressure on different areas, making some women need a larger or smaller size. Your best bet before purchasing a shoe online on a website like eBay is to visit a local shoe store and have your foot fitted. Try on several different high heels and see how the size feels on your foot. Once you have determined the right size, save yourself from the high retail prices at the store and go home to shop online. If you do not want to visit a store, you can also measure your foot at home to gauge your size. The chart below lists women shoe sizes.
| | | | | | | | | | |
| --- | --- | --- | --- | --- | --- | --- | --- | --- | --- |
| Size | 2 | 2.5 | 3 | 3.5 | 4 | 4.5 | 5 | 5.5 | 6 |
| Length (cm) | 20.8 | 21.3 | 21.6 | 22.2 | 22.5 | 23 | 23.5 | 23.8 | 24.1 |
Some manufacturers and designers also have their sizes run slightly smaller or larger than average. If you are unsure, check out the seller's listing or the manufacturer's homepage to find a size chart.
Buying Platform Sandals on eBay
Smart shoppers adore buying their shoes online simply because the selection is unmatched when compared to local retail stores. eBay in particular, is known for its extensive shoe collection allowing women to find platform sandals in all shapes and styles. Furthermore, they can also find shoes in the right size without having to drive from store to store. As a bonus, most of the platform sandals sold online are cheaper than their retail counterparts. If you are willing to purchase gently used shoes, you can even get designer label sandals for a fraction of their listed price. No website has a greater selection of pre-owned shoes than eBay.
Finding Platform Sandals on eBay
Learning how to use eBay's search engine makes shopping a snap. Whatever terms you enter into the search engine initiates the program to scour the website looking for auction descriptions that match your terms. Broad terms return more results while narrow terms return highly focused listings. For example, if you want a white platform sandal, then type in "white platform sandal". After looking through the results, if you decide you prefer a wedge cork style in a size 4, then type "white cork wedge platform sandal size 4" into the search engine to return those specific results. You can also add in name brands, heel height, or whatever else you are looking for into the search engine. Take some time to understand how the search engine works so that you can quickly find the shoes you want.
Conclusion
Platform sandals are built to enhance the legs and add extra inches to a woman's height. They also look cute and fun, as opposed to the more serious style of traditional high heels. Wearing platform sandals in the spring or summer allows you to keep up with the latest fabulous fashion trends. When buying platform sandals, make sure the style you want fits with your legs. Thin legs need thin sandals while muscular legs require big sandals like the wedge shape. Colours also enhance the length of the legs and certain vibrant shades will draw the utmost attention to your feet. To keep comfortable while looking great, choose platform sandals made out an absorbent material like cork. For a night out on the town, choose a plastic platform sandal to accommodate the extra walking. There's no reason to limit yourself to only one pair especially with the great deals on platform sandals found on eBay.