Charms are a popular type of jewellery that you can wear on necklaces, bracelets, pendants, and even key rings and purses. Sterling silver charms offer value, durability, and beauty to wearers, and include a mix of 92.5 per cent silver and the remainder base metal. Most charms are available from a number of designers, in different sizes, different shapes, and in several types, which affects how the charm attaches to the jewellery.
Sterling Silver Charm Type

You can purchase different types of sterling silver charms. These include the classic charm with an attachment for connecting a jump ring or chain, the Italian charm, which features a hole through the centre for looping a chain or rope, and several other variations such as clip-on charms and charms with jump rings. Italian charms are popular because they are more difficult to lose, as they loop through the bracelet or pendant, rather than relying on a thin jump ring or band to hold them in place. Trollbeads are very similar to Italian charms, but sellers typically label them regular charms.
Sterling Silver Charm Designer
The charm manufacturer is sometimes important to consider, especially if you are purchasing from a series. Some popular examples of famous designers include Trollbeads, Pandora, Lovelinks, Biagi, Zable, Reflections, and several others, many of which feature signature styles. While not all of the charms from any given brand are sterling silver, many are. There is a wide range of Silver charm braclets you can purchace on ebay. such as Tiffany & co.
Sterling Silver Charm Theme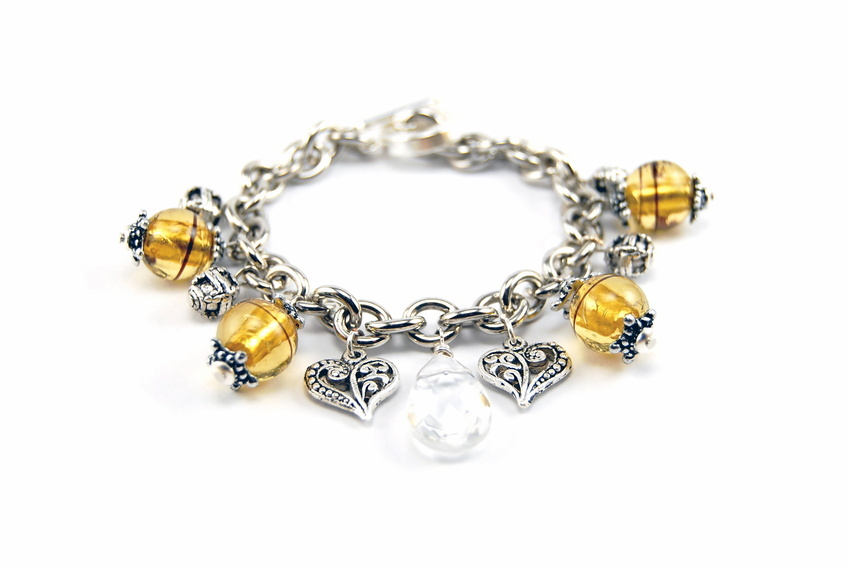 You can purchase charms to go with a specific theme, especially if you are creating a charm bracelet or necklace. Multiple charms with the same theme create a unique and stylish item of jewellery. For that reason, when purchasing a sterling silver charm, consider what theme you want it to go with, and what other charms you already have, or intend to purchase. Examples of popular themes include music, the beach, summer, fashion, or animals.
Sterling Silver Charm Style
Style is one of the most important considerations for anyone purchasing a sterling silver charm. You need to consider what you intend to wear the charm with and what different types of charms you like, as their style should match. Generally, as long as the charm fits in with your personal style, any sterling silver charm is a good purchase.