When you are looking at beaded jewellery you will hear a lot of terms used such as silverfoil lampwork, semi precious, Swarovski crystal. These may have instant meaning to you and what type of jewellery you will be buying made from these choices. But here is a guide to fill in any blanks.


Semi Precious
Of all the types of beaded jewellery, the most expensive option tends to be those made from semi-precious
gemstones
. Within this category are wide ranges in prices and colours as well as finishes to the stones from the most basic chips, which are random little pieces of the stone where no two are ever exactly the same, up to faceted stones similar to those used in fine jewellery.
Below are a list of some of the more frequently found gemstones and what colour they are to give an idea:
| | |
| --- | --- |
| Stone | Colour |
| Agate | Various |
| Amber | Yellow Brown with natural inclusions |
| Amtheyst | Purple |
| Citrine | Yellow |
| Emerald | Green |
| Garnet | Deep Red |
| Hematite | Metallic black |
| Jade | Various |
| Jasper | Various |
| Labradorite | Shades of brown |
| Lapis | Dark denim blue |
| Malachite | Dark green with black markings |
| Moonstone | Iridescent |
| Obsidian | Black |
| Onyx | Black |
| Peridot | Light Green |
| Quartz | Various |
| Tigers Eye | Shades of brown |
| Tourmaline | Various |
| Turquoise | Blue or green shaded turquoise |
As well as these, there are a large number of other stones that are semi-precious and can be made into beads. Often placed into the category are freshwater pearls and shell beads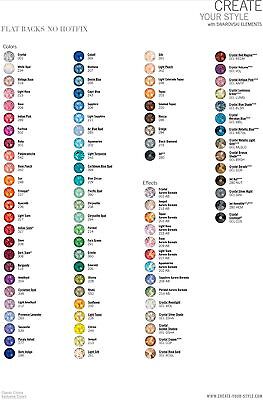 Glass Beads
Crystal beads tend to be the most eye catching of the glass beads section and premier in this category are
Swarovski
crystals. These are produced by the same company as the fine crystal jewellery and ornaments, among other sparkling items, and come in a wide range of shapes and colours. Their stones often come in a range of sizes as well, for example their bicones are often found in 3mm, 4mm, 5mm, 6mm, 8mm and 10mm. This means necklace can be made with a variety of sizes and the knowledge that the stone will be an exact match in colour. Among other shapes in their ranges are
hearts
, butterflies, flowers and stylised shapes.
Czech Glass Beads are another well known type of glass crystal who offer high quality finish and reliable colour. One of the main brands is Precosia who also have a huge range of colours, sizes and shapes. Fire Polished Beads are a type of Czech glass beads that have a faceted surface, hence their name. The beads have a high shine due to the finishing process involving using a raw flame to partially melt the surface of the bead.
The next level from the crystals are the normal glass beads and there is a huge range of them. They are weighty like gemstones but cost a fraction as much and come in a massive range of colours and shapes. Within this category are lampwork beads – these are beads made using an ancient process called lampworking where rods of glass are melted inside a special torch and then worked around a steel rod to form the bead. Silverfoil lampwork are a subdivision where a layer of silver foil is laid inside the glass to give a metallic finish inside.
Glass pearls are far less expensive than the real thing but have the sheen of freshwater pearl. The advantage to them, aside from the cost, is the uniformity of the size and shape as well as the range of colours. They weigh very little and add the classy element of a pearl with the modern twist of colour.
Acrylic Beads
Acrylic
, or plastic, beads were once seen as something for the kids to play with but modern acrylic beads are a serious jewellery component. They have the advantage of being made in any colour, size or style and having virtually no weight. This is especially important for large focal beads that would be extremely heavy in glass or gemstone but weigh nearly nothing when made in acrylic.
Within the category are special finishes. One is crackle beads which are acrylic beads that have the appearance of tiny bubbles inside to give them a shimmer. Miracle or illusion beads are another category that use an optical effect similar to found in Tigers Eye.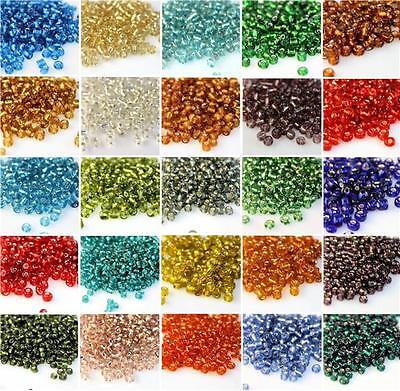 Seed Beads
The smallest beads are seed beads and even they come in different sizes. The very smallest tend to be Rocailles that can come in the very tiny size 15 right up to size 3 and Japanese tend to be the best of the producers of these beads. Some of the names in this area are Toho and Miyuki.

Seeds beads are also available in different shapes such as hexagons, cube or square beads and drop beads. Different manufacturers also produce specialist finishes and ranges so there is always something unique to be added between the big beads. These small beads are also the ones used for bead weaving and similar threaded patterns.

Bugle beads also come under the seed bead category but these are actually tubular beads. They can be between 3mm and 12mm and are a similar diameter to seed beads. They too are used in weaving and threading patterns.


Fashion Beads
Fashion beads are those that have appeared through certain trends or particular companies, by whose name the beads are often known. Examples of these are the European charm beads, inspired by the Pandora range that have large holes usually lined with silver plate and a massive range of finishes. These have the advantage of not being permanent arranged on the bracelet and usually contain a lock bead at one end, which can be unlocked, and the content or order of the bracelet altered as required.

Shamballa is another name that is in fashion at the moment. These are ball beads often made from rubber or resin, into which a varying number of small rhinestones have been pressed. The base bead and the rhinestones normally coordinate in colour to give a startling effect. The original use of shamballa were for woven or knotted bracelets but due to their attractiveness, their uses have become ever more varied.


Other Beads
Wooden beads are perhaps one of the oldest types of beads known to man. They were once seen as a bit cheap and for kids, like plastic beads, but have seen a resurgence with the surfer look where many men have taken to wearing bracelets and thongs with wooden beads decorating them. You can also find unusual, one off pieces made by specialist woodworkers for something truly unique.

Spacer beads are what they sound like – the ones that go in the middle. Usually made of metal and often of the less expensive Tibetan Silver, these beads come in a wide range of styles to complement any pattern or design and add a touch of metallic to the piece as well as helping with the weight load on glass jewellery. However they are also available in a wide range of finishes from brass to black metallic and in 'real' metals such as sterling silver.