Vintage plastic jewellery is beautiful, fun, and highly collectable and wearable. You can find plastics jewellery in a variety of materials, including Bakelite, Lucite, thermoplastic, vinyl, hard plastics, and celluloid art. Whether you are just starting a collection or already have many pieces, understanding how to identify and choose vintage plastic jewellery is important.
Bakelite Jewellery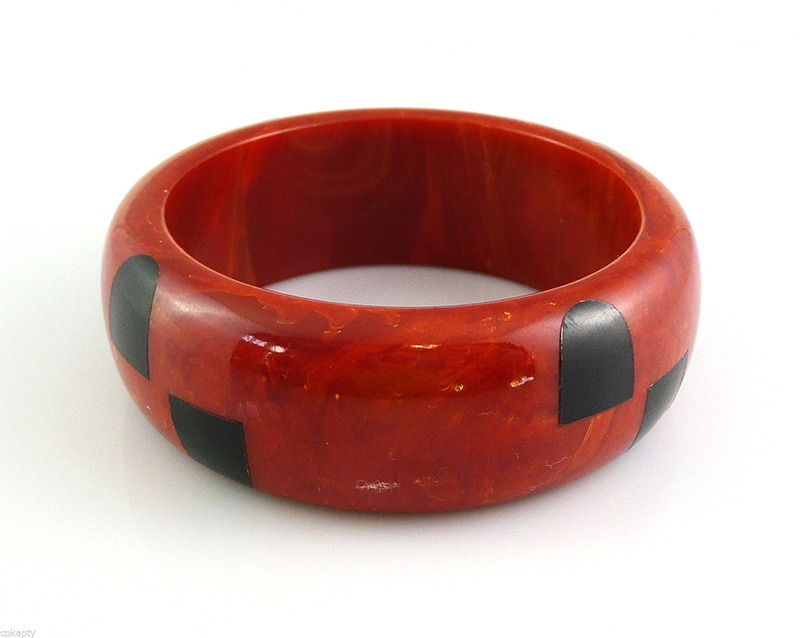 In the mid to late 1940s, factories retrofitted from military applications to civilian products and Bakelite, which had previously been made into hard cases, plastic sheeting, and military operations, began to produce Bakelite jewellery boxes, desk sets, clocks, and kitchenware. New products included beads, bangles, earrings, and amongst other jewellery pieces. Marbled Bakelite, translucent Bakelite, and Bakelite in various colours contributed to the manufacture of interesting, fun, and useful jewellery pieces. From necklaces to earrings, Bakelite jewellery is highly collectible and fun to both own and wear. Look for jewellery in good condition that is original to the time, rather than the new combinations that are sometimes on offer.
Lucite Plastic Jewellery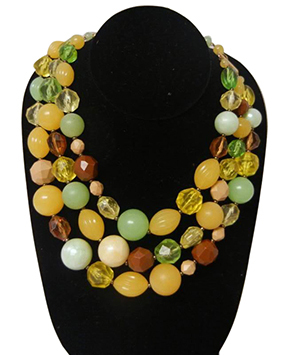 Lucite jewellery has been around for many decades, but 1940s and 1950s jewellery is quite popular. This costume jewellery is available in many forms including brooches, necklaces, bracelets, and earrings. Solid colour Lucite can take on the colour of milky glass in a pair of earrings and black Lucite can mimic onyx. Carved, moulded, embedded, or plain Lucite jewellery is still popular for the beauty and colour of this versatile plastic. One of the most popular forms of Lucite jewellery is Moonglow as the pieces appear to light up from within. Companies manufactured them in a complete range of colours, for a variety of jewellery pieces. Confetti Lucite has a wide range of variations in its transparent form and includes chips of glitter inside it. Granite Lucite appears opaque with chunks or bits of Lucite in varying colours that emulate granite. Each form has its own qualities and is very collectable and wearable.
Resin Jewellery
Resin jewellery features a resin poured into moulds that needs curing time. Resin moulding creates various coloured jewellery that can take on the qualities of antique or vintage costume jewellery. It is very important when purchasing vintage earrings, necklaces, or any other piece in resin to be sure it is in fact vintage and not a new manifestation of an old design. Resin jewellery that looks like amber is very popular, as is anything designed and created before the mid-20th century. Look for resin jewellery that is unmarked or chipped, has a translucent quality, and still has its original closures or pins.