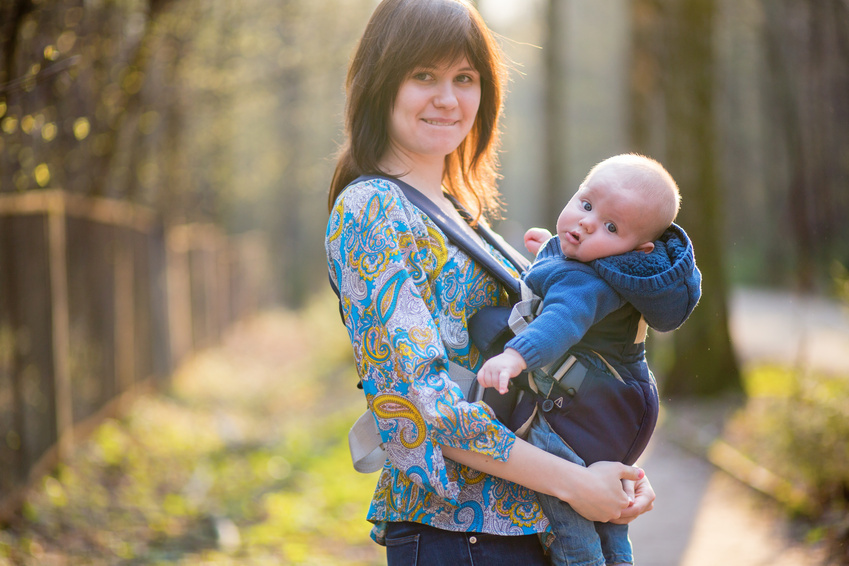 Many babies fuss when they are out of their parents' arms for too long, but it is impossible for parents to hold their children all the time. Baby slings allow parents to free up their hands while keeping their babies close to them. Slings are worn in various ways, but they all situate babies on the front of parents' torsos. Some have extra features such as structural support and pouches, while others are simple swatches of fabric with clasps.
Determine the Primary User of the Carrier
A baby sling must fit the parent as well as the child, and because adults have different shapes and sizes, it is important to match the baby carrier to the primary user. Adjustable slings are sometimes capable of fitting both the mum and the dad, but a particular style may appeal to one parent more than the other. In these situations, it is better to have a sling for each parent to ensure maximum comfort. Because every sling positions the baby a little differently, using a sling that does not fit well could lead to back pain or even block circulation or restrict a parent's movement. Well-known brands like Moby, Premaxx, and Bjorn make popular, quality baby slings.
Baby Sling Wraps

Baby sling wraps are usually comfortable because they wrap around the user's body and distribute the weight evenly, rather than all on the shoulders or back. They consist of lightweight fabrics and come in a rainbow of colours. Some even transform to position babies in various different positions so they can sleep and switch positions to avoid soreness. Mothers who breastfeed may enjoy wrap slings with breastfeeding positions. Some wraps also include pockets for storing the baby's necessities.
Ring Baby Slings

Ring baby slings are for the minimalist. The slings look like two large scarves that drape over the shoulders and connect using large rings. Because of the large surface area, the slings evenly distribute weight, and adjustment is a cinch, literally. These slings do not have pockets or other features, but they adjust to accommodate growing babies. Some parents even use them to carry their toddlers when they need to run errands on foot.
Mei Tai Baby Slings
Mei Tai baby slings are fully adjustable and usually come with additional support for the parents as well as babies. The slings look somewhat like backpacks for the front of the torso. They vary greatly and sometimes include useful features like headrests, padded shoulder straps, padding for babies, and safety restraints.