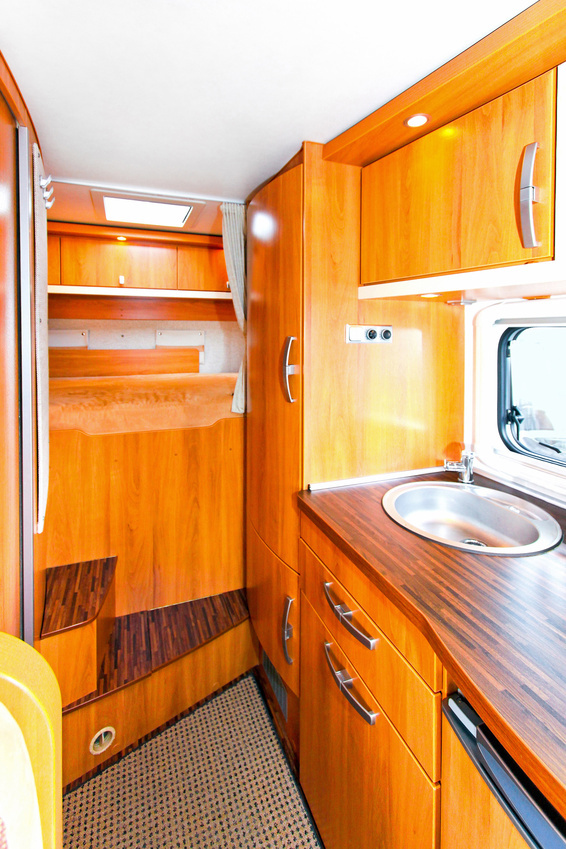 A camper van can provide a home away from home for long road trips and holidays. The inclusion of a kitchen enhances the comfort and versatility of the vehicle by allowing the driver and passengers to cook while on the road.
Buyers looking for a camper van with a kitchen have many choices to make. Begin by choosing the type of base vehicle used. Options include A-class, overcab, low profile, rising roof, and fixed roof styles. Conversions are also available. It is useful to consider the power source for the camper van kitchen. Look for vehicles that use deep cycle batteries, mains electricity, or both.
Camper vans can be purchased from specialist dealers and private sellers. There are some important differences between each type of seller, so it is useful to be familiar with both options to find the best deal. Sellers list their vehicles in classified advertisements and online marketplaces, such as eBay. Where possible, verify a seller's reputation before buying to ensure a positive transaction. With a bit of patience, buyers can find a good quality camper van with a kitchen to enjoy whilst travelling.
Styles of Camper Van with a Kitchen
Camper vans are available in many different styles. They may be coachbuilt by the manufacturer, which means that they are designed as a camper van, or they may have been converted from a passenger vehicle. There are several basic classifications used to identify different camper van styles, such as A-class and rising roof. Bear in mind that larger units offer greater comfort at the expense of driving convenience. For example, a large camper van may have more beds and furniture, but may be difficult to drive, manoeuvre, and park. The following table offers a brief description of common camper van styles.
Style of Camper Van

Description

Built on a medium or large van chassis

Cab is integrated into the camper

Overcab

Often designed with a standard van cab

Camper area extends over the top of the cab with a sleeping area

Larger than an A-class

Examples include the Fiat Ducato and Renault Master

Low profile

Similar to the overcab

Smaller base vehicle than overcabs

No sleeping area over the cab

Rising roof

Built like a small van

Roof that extends upwards to hold an extra bed

Example includes the Volkswagen Transporter

Fixed roof

Similar in design to rising roof models

Roof is stationary and does not have an extra bed

Examples include the Volkswagen Transporter and Mercedes-Benz Vito
Another common camper van type has a detachable camper that rests on the body of a pick-up. However, these do not normally have any type of kitchen facilities.
Conversions
Unlike the types of camper vans listed above, conversions are not designed by the manufacturer with a kitchen. Instead, the kitchen unit has been installed by a previous owner. Although conversion vehicles can provide opportunities to enjoy the same comfort and convenience as factory-built models, buyers are at greater risk with these camper vans. It is important to examine a conversion carefully before buying to test all of the appliances and features.
Power for Appliances in a Camper Van Kitchen
The lights and appliances in a camper van kitchen require their own power source in order to avoid draining the vehicle's battery. The oven is normally gas powered, while the hob may be either gas or electric. The fridge can be powered by gas, mains electricity, or a battery. Similarly, the lighting in the unit is supplied by either a deep cycle battery or mains power. Deep cycle batteries emit a large percentage of their capacity at once, allowing them to power larger appliances. Most of these are lead acid batteries. Using this option allows drivers to maintain use of their appliances whilst travelling. However, batteries wear out over time and must be replaced.
Mains electricity requires a cable connection, to obtain power for appliances, such as at a campsite. Although this option is not useful while driving, it is a reliable and steady source of power that is ideal for camper vans stationed in one place for a long period of time.
Inspecting a Used Camper Van
If buying a used camper van, make a checklist of things to inspect inside the vehicle. These are issues that should be examined to ensure that the camper van is comfortable to drive and live in for an extended period of time. The following table provides a list of common issues in used camper vans that should be checked.
Type of Damage

Description

Rust

Check wheel arches and in the connection points between the camper and the cab

Rust that has been painted over reappears quickly

Leaks

Window and door seals should not be dry or cracked

Look for discolouration and damp marks on interior walls and ceilings

Furnishings

Sit or lie down on all furniture in the camper van

Check for size and comfort

Furniture that feels overly soft is likely to be uncomfortable to use over time

Seats

Look for wear or splits in the fabric on the driver and passenger seats
Ask to take a used camper van for a test drive. If buying the vehicle becomes a serious possibility, have a mechanic check that it functions correctly.
Sellers of Camper Vans with a Kitchen
There are two primary types of seller of camper vans: dealers and private sellers. Buyers should be familiar with each type to obtain the most reliable vehicles at the lowest prices.
Dealers
Dealers sell both new and used camper vans. Some specialist retailers have entire forecourts of camper vans available, allowing buyers to select one with the most desirable features. Dealers tend to be a reliable source for used camper vans, as they often disclose as much information as they have about a vehicle. Some dealers even provide a vehicle history report on all used vehicles that they sell. However, dealers often price their camper vans higher than private sellers.
Private Sellers
The biggest benefit to buying from private sellers is the possibility of a lower price. Honest sellers can also offer good quality information about the history of the vehicle, especially if they have been the only owner. However, private sellers are more likely to withhold information about a vehicle in order to encourage a sale. It can also be difficult or impossible to contact them after buying the vehicle. When possible, browse through websites and other sources that provide background information on private sellers and a reliable means of communication.
Buying a Camper Vans with a Kitchen on eBay
A wide selection of camper vans with kitchens can be purchased from the sellers on eBay. The easiest way to begin shopping for these vehicles is to enter keywords into the search field on the home page. For example, type "camper van" into the field to see all of the items tagged with those terms. You may refine listings by adding the name of a brand or vehicle model.
Read the Item Description
Click on the name or image of the vehicle in the search results to see its full listing. Read the description of the camper van before buying and compare it with the available photographs. Many listings include a specification sheet that details information about the vehicle's engine and other technical aspects. Determine whether the camper van is new or used and whether it is sold by a private or commercial seller. Understand the full price of the camper van and the available delivery options. In most cases, buyers are expected to collect the vehicle in person.
Seller Feedback
eBay offers detailed information about the history of its sellers on the site. Look for a feedback rating to begin. This reflects the satisfaction of buyers within the past 12 months. Compare this with the number of transactions a seller has completed to make a quick estimate of his or her reliability. You can also view comments from past buyers in the seller's full profile. Read these to learn details about the seller's level of communication and the accuracy of their item descriptions.
Conclusion
Camper vans are an excellent way to explore new regions and to take holidays without worrying about accommodation. Camper vans with a built-in kitchen provide added convenience, allowing holidaymakers to eat home cooked food instead of at restaurants. Camper vans with kitchens are designed in a wide selection of styles. Begin by choosing from A-class, overcab, low profile, rising roof, or fixed roof designs. These styles are coachbuilt, which means that the manufacturer designed them to be camper vans. It is also possible to find camper vans that have been converted from a passenger vehicle. Conversions are normally pre-owned vehicles sold by private sellers.
Consider the power source for lighting and appliances in a camper van. Most ovens are gas-powered, although some have an electric hob. Fridges and lights can be powered by a deep cycle battery or mains power. Batteries are great for travelling, while mains electricity is a convenient and steady source of power for campers staying in one place for an extended period of time.