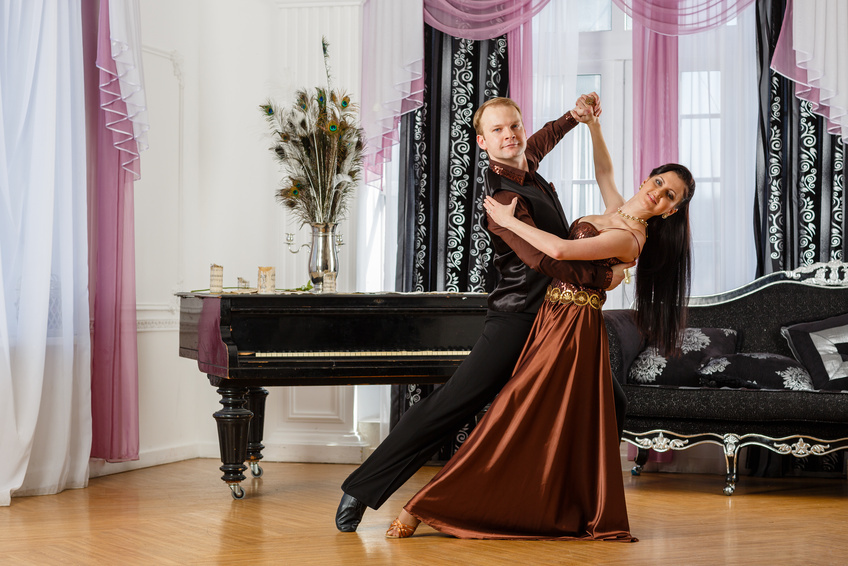 Choosing a dance dress is not always easy. Aside from selecting the right colour and material, you also have to select the right style and the right fit. Many women make the mistake of assuming that a dress style that looks good on another woman or on the mannequin will look equally good on themselves, but that is not usually the case. To select the right dance dress, you have to consider the parts of your body that affect how the dress fits, including bust, waist, hips, and even thighs.
Choosing a Dance Dress Neckline

This may not seem important at first, but if you select the wrong neckline, you may find that you look flat chested, or frumpy in your "could have been" sexy dance dress. Depending on how much or how little you have to work with, select a neckline that will flatter. Large breasted women should stay away from turtlenecks and high, rounded necklines. These necklines give the appearance of a single extra large boob. With that said, do not wear plunging necklines either, unless there is another, more subtle layer beneath it. V-necks and wrap top dresses are the most flattering for large breasts. On the other hand, women with small breasts should go for halter tops and narrow v-necks with subtle plunges. The aim is to draw attention to the chest without highlighting any bony structures. Spaghetti straps and strapless necklines can work well for small breasts if paired with a good "lifting" bra.
Choosing a Dance Dress waistline

Choose a waistline based on the shape of the body and the bust. An empire waistline is best suited for small busted women as it makes them look fuller. It also hides a bulky midline and makes short women look taller. A dress with a natural waistline always looks good on women with hourglass figures, but should probably be avoided by someone who is top heavy. A basque waistline suits most women because it starts as a natural waistline then goes down to a v-shape in the front of the dress. This is seen on many wedding dresses. It is normally a fitted waistline that sucks in the midline to give the illusion of an hourglass shape.
Dance Dress to Flatter Your Hips and Legs
The waistline of a dress generally determines how well it fits over the hips, so an empire waistline is great for women with wide hips, but may make a slender person seem even straighter. Ladies with wide hips should avoid mermaid dresses unless they want to accentuate those hips and make them look even fuller. They should also wear dark coloured bottoms and keep the dress embellishments closer to the top of the dress. Ladies with wide hips and thick thighs should avoid really short dresses, even if its for contemporary dancing. Ladies with smaller hips should look for dresses with a fitted bodice and a flare at the bottom.