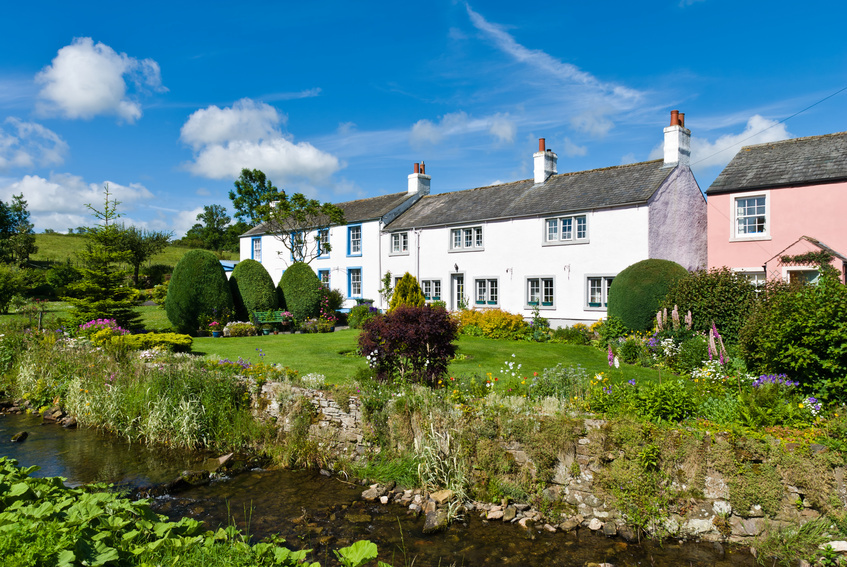 There are so many beautiful places in the United Kingdom to spend one's holiday. One such lovely location is the Lake District, where those on holiday can rent a cottage during any time of the year. Cottages make for excellent getaways, whether guests are staying alone, with someone special, or with an entire group of family or friends. Cottages combine the comfort and amenities of one's home with the opportunity to get away from the daily routine. Kitchens, multiple bedrooms and bathrooms, and a television are just a few of the nice features that most cottages offer. Beautiful architecture and picturesque views of the Lake District may be an added bonus, as well.
Because holiday cottages in the Lake District are such prime real estate getaways, they can also be quite costly. However, hopeful travellers do not have to worry. There are some useful tips for how to choose a holiday cottage in the Lake District within one's budget. Individuals can look for holiday cottages by looking online at travel websites that help holiday travellers book places to stay in specific price ranges. eBay also offers its users the ability to search for available holiday cottages in the Lake District for various time frames, and these results are sometimes more affordable than travel agents' listings. Knowing how and where to find the right cottage ensures that one's time is spent relaxing and satisfied in the Lake District on the next holiday.
Finding Holiday Cottages in the Lake District
There are so many different holiday cottages available, and the selections vary by location, level of luxury, size of the accommodations, and activities available in the nearby area. All of these factors should be considered when picking one of the beautiful holiday cottages in the Lake District. However, the most important factor to consider is one's personal budget for the holiday. Prices for a holiday cottage can add up to a significant amount, especially for those who are planning longer duration visits. Comparing prices and amenities available at the different cottages is a critical part of the booking process.
Pick a Type of Cottage and a Preferred Location
There are different types of cottages one can choose to stay at for a holiday in the Lake District. This includes self catering cottages, romantic cottages, and big, pet-friendly cottages that are designed for large groups of people. Cottages also vary in location within the Lake District, from remote farms and fells to epic locations with beautiful scenery off the Cumbrian coast or the rolling hills facing to the east. Because there are so many options to choose from, doing a little research to figure out the options that are most appealing is a good first step before choosing a cottage in the Lake District.
North Lake District vs. South Lake District
Both regions of the Lake District have a lot to offer visitors. The large towns in both regions are popular during the summer when the highest concentration of holiday travellers retreat to the Lake District. Both the South Lakes area and the Cumbrian coastline offer a wide selection of activities and pastimes to entertain the masses. Possible activities include sightseeing, hiking, cycling, shopping, and simply enjoying the beautiful views.
Lake District Region

Description

South Lakeland

Located near the Lake District National Park

Near the town of Kendal, a historic town with a 12th century castle, museums, and shopping

Near Lake Windermere, England's largest lake

Offers outdoors activities in the national park, the amenities of being near a popular town, sightseeing at the castles and museums nearby, and the feeling of a coastal getaway by Bowness on Windermere

Near the World of Beatrix Potter, Aquarium of the Lakes, and the Windermere Steamboat Museum

Popular location for mountain biking, walking, and jogging

Many visitors also come to hike or canoe in the nearby fells and river Brathay

Cumbrian Coast (Northern Lakeland)

Located in the northern end of the Lake District

More relaxing, beautiful getaway from the business of centrally-located holiday cottages

Near Wastwater Lake, England's deepest lake

By sleepy villages Ennerdale and Loweswater

Historic castle located in Muncaster

By three nature reserves in Grange-over-Sands

Many museums nearby as well, such as the Motor Museum, the Pencil Museum, and the Football Museum

Keswick is close enough to provide town-side amenities for those staying in the more secluded cottages on the Cambrian coastline

Carlisle is a busier town that is popular for its shops, restaurants, castle, and cathedral

For the more adventurous holiday travellers, some cottages are near the Go Ape high ropes adventure course, water sports opportunities at Ullswater, and hikes through Skiddaw, Catbells, and Aira Force to the region's tallest waterfall

Home of the pastime of climbing

The permanent Mountaineering Exhibition is housed in Cumbria

Also near Scotland's borders
Wherever one plans to stay in the Lake District for a holiday, there are endless possibilities from which he or she can choose. Both the North and South Lakelands offer diverse activities, pastimes, and beautiful scenery to be enjoyed on a relaxing holiday. Cottages vary individually, as well, from being self catering on remote working farms to being closer to town and offering space and accommodations for large groups, families with children, and pets. Whatever one needs, the perfect holiday cottage in the Lake District can be found.
Stay Within Budget by Comparing Prices
Possibly the most important part of choosing a holiday cottage in the Lake District is setting a budget for a holiday and sticking to it. It is easy to look at the different holiday rentals available through various sources and feel like the only good cottages are out of one's price range. However, the truth is that almost every cottage is beautiful, perfect, and exactly what practical holiday travellers are looking for when they want to get away from work and the cities they normally call home.
The beauty of the Lake District holiday cottages is that they are all located in the heart of beautiful land that was formed from glaciers over the course of a million years. Every cottage is somewhat close to historic castles and estates, gorgeous views, national parks, and some towns for shopping, restaurants, and pubs. Plus, every Lake District cottage is, of course, near at least one lake.
Staying within budget keeps vacationers' bank accounts happy, and it reduces the resurgence of stress that could occur at the end of holidays if travellers go over budget and find themselves hurting financially. Simply sticking to a practical budget is always the best course of action for the most fulfilling holiday.
Choosing a Holiday Cottage in the Lake District on eBay
One of the websites that individuals can use to find an affordable holiday rental in the Lake District is eBay,, where many owners of holiday cottages advertise their beautiful properties at reasonable prices. Shoppers on eBay can use the search box located on every page of the site to insert keywords like 'Cumbrian holiday cottage&' or 'pet friendly Lake District cottage&', and relevant results appear within seconds. Users can also specify a price range on eBay and use other filters to narrow the results to only show listings that pertain to their own personal preferences.
Before committing to a purchase, eBay users can also look at the feedback left by previous holiday renters of particular cottages. By reviewing the feedback of a seller on eBay, holiday travellers can get an overall feel of the satisfaction that past customers had with a holiday cottage and the seller's trustworthiness. After booking and enjoying a peaceful holiday cottage in the Lake District, then travellers can return to eBay and post feedback regarding their own experiences with the seller and his or her property.
Conclusion
A holiday is meant to be relaxing, fun, and an opportunity to escape from everyday life. Planning one's holiday should be a similar experience. When looking for cottages to rent in the Lake District, there are plenty of resources to help holiday travellers find the perfect cottages to stay in for the duration of their visits. A variety of cottages are available, from working farm cottages to luxurious resort cottages that are closer to town. The Lake District has so much to offer its visitors, including peaceful, contemplative views of the coast and rolling hills and more active opportunities like mountain biking or climbing on the northern end of the Cumbrian coast. The region is full of important English history, as well, and is the home to famous authors and ancient castles.
Finding the right holiday cottage in the Lake District is made easy when holiday travellers use websites like eBay to search for cottage rentals based on personal preferences, including price range and location. Local travel agents offer holiday cottage rentals and, in some cases, may even offer packages that include other features in addition to cottage rentals. Making successful holiday plans does not have to be stressful. Once the right cottage is chosen, stress-free days and beautiful sights await.