Not only are polo neck jumpers a warm and cosy choice for winter wear, they are also quite fashionable. This classic jumper comes in many different materials and colours but is always somewhat reminiscent of 1950s and 1960s style. Both men and women can sport the timeless polo neck jumper look if they keep in mind a few simple tips when choosing one.
Choosing a Polo Neck Jumper for Men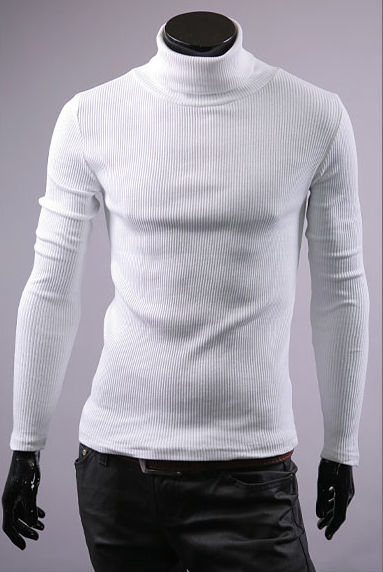 If you are looking for an alternative to your everyday, traditional shirt and tie look, a men's polo neck jumper might be just what you are looking for. A polo neck, or roll neck jumper looks great under a blazer, but remember that if you are trying to create an office-worthy look, it is best to choose a polo neck jumper with a fine-gauge knit. A chunky knit polo neck jumper is still stylish; just make sure that if you plan to wear one under a blazer, it still fits comfortably. Finally, make sure you choose a polo neck jumper that is a perfect fit. Even a half size too small and the neck of the jumper can be intolerably tight.
Choosing a Polo Neck Jumper for Women

Women might hesitate to wear polo neck jumpers because they often cling tightly to the body, which might not flatter all figures. That said, there are a number of women's polo neck jumpers which are quite flattering. In fact, much depends on how you wear your roll neck jumper. For example, full-figured women should avoid wearing chunky knit polo neck jumpers. Instead, they should choose fine-gauge knits that do not add extra bulk. On the other hand, slim women might prefer chunky knit polo neck jumpers, as they tend to maximise curves. Fine knit polo necks are ideal for layering, because they are easier to wear and look sleeker under jackets and dresses. To create balance and avoid looking top heavy, busty women should wear their polo neck jumpers underneath V-neck tops, tunics, or cami tops.
Choosing the Right Polo Neck Jumper Colour
Polo neck jumpers add an extra element to any outfit for both men and women. For this reason, solid-coloured jumpers are often the best choice. Polo neck jumpers with patterns or several colours can look too busy. This is especially true if you plan to layer your roll neck jumper underneath a dress, jacket, or blazer. Choose solid colours like black, brown, white, blue, orange or another shade that complements both your outfit and your complexion.