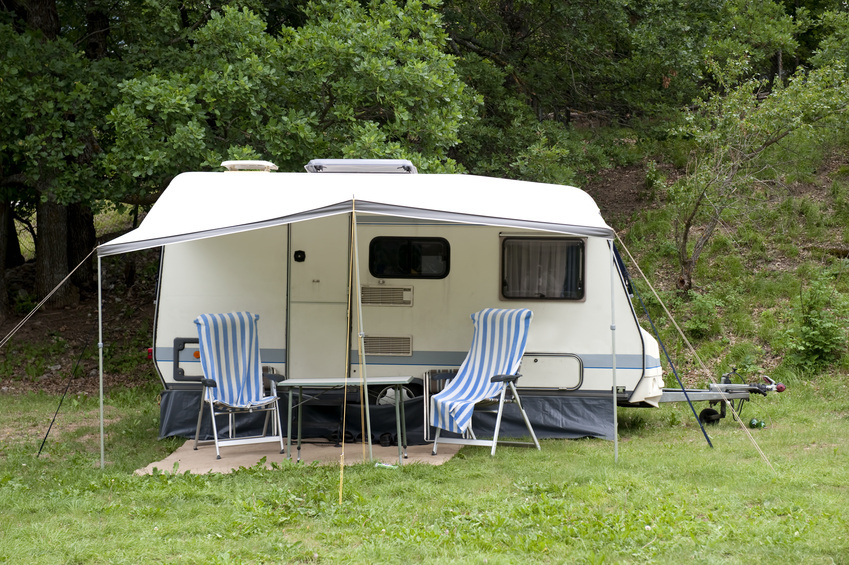 A romantic getaway does not have to include expensive hotel rooms in faraway exotic locations. A caravan holiday can be even more special, and costs considerably less, which means that even those on a budget can enjoy a cosy, private, memorable break. The money saved by choosing a caravan holiday can always be put towards other special luxuries to enhance the romantic experience.
When planning a romantic caravan break it is important to consider the destination carefully. There are many across the UK, so the choice depends largely on the activities that the couple enjoys and whether they want a quiet, relaxing break in the middle of nowhere; to participate in adrenaline-filled activities; or to visit local attractions. Holidaymakers can book a romantic getaway at number of caravan parks across the country or, for the simplest option with the best deal, they can book their holiday through agents and private owners on eBay.
Romantic Caravan Destinations
Choosing a suitable destination is one of the most crucial elements of planning a romantic holiday. There is a huge range of possibilities within the UK, with something to please everyone. From Cornwall to Scotland, holidaymakers can find that special venue.
Romantic Caravan Getaways in Scotland
Scotland is a fabulous place to get away from it all. The unspoiled countryside is perfect for a romantic holiday for those who love long walks and getting back to nature. The romance of the Scottish wilderness is unsurpassed. There are plenty of sites where you can park a touring caravan, as well as motorhome sites and static caravan holiday parks.
Scotland also boasts lively, busy cities, such as Edinburgh and Glasgow for those who want to experience the history and vibrancy of these places. The unique nature of Scotland means that you can always combine the countryside with the city; experiencing the best of both worlds. The towns and cities offer fine dining; romantic, picturesque restaurants and tea shops; and plenty of places to shop, as well as a busy nightlife and many cultural attractions.
Romantic Caravan Getaways in Wales
Wales has a long and fascinating history and makes a perfect destination for couples. Many choose to holiday in a touring caravan or a motorhome when they visit Wales so that they are free to explore. However, there are also plenty of static caravan sites available to rent. The myth and majesty of the medieval castles, many of which are still intact, brings a touch of the fantastical to a romantic caravan getaway for two. There are also a large number of other cultural attractions, including museums and galleries.
For the more active couple, there is a range of sporting activities, including surfing, abseiling, and diving. For a more relaxed couple, there are plenty of opportunities for romantic walks on secluded trails, or crafts, such as pottery workshops where couples can make each other a unique gift. Use the money saved by booking a caravan to enjoy a romantic spa day and then eat at a fabulous restaurant. There are numerous performing arts venues, so couples can enjoy an evening at the theatre or experience live music.
Romantic Caravan Getaways in Northern Ireland
Northern Ireland is a romantic wonderland steeped in myth and legend, making it an ideal destination for a romantic caravan getaway for two. Couples have the option to tow their caravan to secluded caravan sites, many of which are adult only, or to rent a static caravan on a peaceful, well kept, adult only holiday park. Northern Ireland is home to some astounding scenic vistas and there are plenty of hiking and cycling trails for active couples, with hidden spots for a romantic picnic.
For a romantic excursion, couples can consider visiting the Tannaghmore Gardens located in Craigavon. It hosts the infamous kissing gate that has been something of a local legend. Couples who kiss over this gate are fated to marry within a year. Couples can also take a romantic boating excursion off the coast, complete with a picnic and perhaps a little champagne. The Mountains of Mourne are a very popular destination, famed for their breathtaking beauty and for being the inspiration behind the mythical land of Narnia from the British classic "The Lion, the Witch, and the Wardrobe" by C.S. Lewis.
Romantic Caravan Getaways in Cornwall
Cornwall is renowned for some of the best weather in the UK. It is an incredibly popular holiday destination and perfect for a romantic caravan getaway for two. There are many adult only holiday parks with a range of onsite amenities. Couples can indulge in the local food and drink, sampling classic Cornish fare, such as clotted cream and Cornish cider. Cornwall is home to attractive and secluded beaches where couples can share a romantic picnic for two.
To further enhance the romance, take an evening trip to watch a spectacular performance at the unique open air Minack Theatre. The stage is carved into the cliff face and there are a number of performances, including Shakespeare plays, such as "Romeo and Juliet", musicals, and dramas, all performed under the breathtaking Cornish stars. This can always be followed by watching a glorious sunset from one of the many secluded beaches.
Romantic Caravan Getaways in Yorkshire
Yorkshire is a popular couple's destination and is an excellent choice for a caravan holiday. Couples can book a static caravan or hire pitches for a touring caravan or motorhome. Picnics are a perfect romantic activity, and for lovers of literature, there are few places more romantic and awe-inspiring than Bronte Falls, where couples can enjoy a picnic in the same spot that the Bronte sisters are known to have frequented. Capture the feeling of the legendary romance of Cathy and Heathcliff by exploring the craggy, windswept Yorkshire Moors. Drive-in films are another popular activity for couples. Watching a movie on a huge screen beneath the stars can enhance the romance.
For couples on a honeymoon or who wish to celebrate an anniversary, a popular choice is to take dinner in the beautiful steam train dining carriages. With exquisite food and an opulent, old world ambience, this is a great choice for a romantic meal for two. For those that wish to try this option, book a static caravan for a few days at one location, then enjoy a luxury train ride to another static caravan.
Factors to Consider When Choosing a Romantic Caravan Getaway for Two
Couples must decide whether they want a static caravan, motorhome, or touring caravan. A static caravan is more spacious, and offers more amenities and conveniences, but does limit how far couples can explore, because they must return to the holiday park each night. Touring caravans and motorhomes offer more flexibility, because couples take the vehicle with them. However, they are bulky, consume large amounts of fuel, are less spacious, and require power and water hook-ups each time a couple wants to stop for the night.
Couples should pre-book pitches and activities where possible. This ensures that they are not disappointed. Additionally, it is advisable to check what amenities are offered at the caravan site or holiday park. Some have clubhouses that serve breakfast and sometimes evening meals, as well as doubling as a bar. Others offer shower rooms, toilet blocks, and laundry facilities. It is also advisable to check whether the site is adult only. While this is not a concern for some, many couples looking for a romantic caravan getaway do not want to be surrounded by other people's children.
Searching for a Romantic Caravan Getaway for Two on eBay
eBay offers a wide range of caravan holidays across the country. Simply search from the eBay home page. Appropriate searches include "caravan holiday&" or "caravan in Wales&". Many agents and private owners offer an option to select booking dates, while others offer listings as set dates. Holidaymakers may need to contact the agents before confirming a booking to ensure that the desired dates are available. eBay also offer a full range of caravanning accessories, including bedding, crockery, utensils, and picnic baskets at great prices.
Before confirming a booking, couples are encouraged to communicate with the agent or private owner of the caravan if they have any queries. Additionally, it is strongly advised that couples look at the feedback, which is information left by previous guests regarding their experience. This enables couples to make their booking through the highest calibre agent or private owner, allowing for the smoothest possible transaction.
Conclusion
For couples looking for a romantic getaway, a holiday in a cosy caravan is ideal. A caravan allows couples to holiday inexpensively in secluded accommodation. There are some fabulous destinations throughout the United Kingdom that provide an enchantingly romantic atmosphere and the opportunity for a wide range of activities. Escape to the Scottish Highlands and visit some of the remote medieval castles, or take a caravanning holiday to Cornwall and watch a performance at the Minack theatre, watch the seals and dolphins frolic off the coast, or enjoy some famous local cuisine.
Whether couples seek a quiet romantic retreat or a more adventurous getaway, a caravan holiday allows them to experience anything that they wish. Booking a caravan holiday on eBay enables couples to grab some great deals. Considerably reduced prices may also be found in the event of late cancellations, so couples can save even more money on accommodation to spend on luxuries for their romantic getaway.