The silencer on your car is an essential part of its exhaust system, but whether you want to upgrade, or replace a defective silencer, you sometimes have to purchase a new one. You can choose between basic options and full chrome extensions that can add to the appearance of your car. Consider the level of noise reduction a silencer offers, as well as its type, brand, and features, in order to choose the right one for your car.
Consider the Level of Noise Reduction of a Car Silencer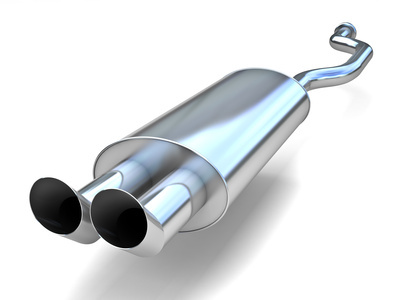 Some silencers offer more noise reduction than others, but there is a trade-off between noise reduction and performance. Silencers direct exhaust gases away from the engine so that they combust inside of an acoustic silencing chamber. Unfortunately, there is a power trade-off, and you will lose top-end performance with a very good silencer. Consider choosing something with more silencing for a standard car, but be sure to consider the trade-off for any sort of performance vehicle.
Choose the Car Silencer Brand
Usually, the most important part of choosing a brand is choosing fit. Many brands produce universal silencers that fit many car models. Other brands produce silencers for the specific shape of the vehicle. OEM or Original Equipment Manufacturer silences are the original brand, such as Fo Ford,rd, Peugeot, or Vauxhall. OEM is the best option if you want to replace a silencer for repair. If you want to upgrade, then you should consider going with performance brands such as Borla or Corsa.
Know the Car Silencer Types

Performance and standard silencers are two different performance types. Turbo silencers are an option if you want to race your car, but they do very little to decrease sound. They also come in a couple of different shapes and sizes, which each offer different advantages. Standard silencers fit under the body of the vehicle and connect to an exhaust pipe that vents out the back. Side options are also available.
Consider the Car Silencer Features
Silencers offer a number of different features such as the shape of the chambers and acoustic louvres, the number of perforations on the side, and even the material. Silencers come in chrome, stainless steel, and sometimes in aluminium. Steel is the most durable, while chrome is the most attractive. Aluminium is more inexpensive, but also lower quality. If you are upgrading your silencer, then you can also choose between single and dual exhaust, with single exhaust being the standard for most vehicles.