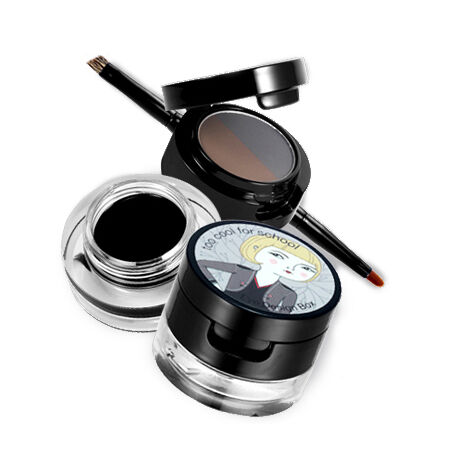 Having perfect make-up is more than simply owning the best brands and the best products. A versatile make-up kit is essential to ensure you are prepared for every occasion. And there are some special occasions where it pays to have the perfect product for the occasion at hand, and to know how to apply it.
Wearing make-up in the morning for work is very different from wearing make-up for the park, a restaurant or to a club. Your outfit also impacts on what kind of make-up is best suited for the occasion. This guide will go through how to choose the best eye shadows for evening wear, and then how to apply them to give the most head-turning results.
What's the Difference?
Each occasion is different and requires a different approach to make-up application. Eveningwear is usually worn out to restaurants, the theatre, to special and formal functions, and perhaps a birthday or wedding. Wearing eye shadow for evening wear is very different to wearing eye shadow to a club, work or during the day due to the formality, elegance and dressed-up feel of the entire event.
Socially, women and men are expected to 'make an effort' when it comes to stepping out in the evening, with a stylish outfit, great accessories and make-up that perfectly compliments. Evening wear for women often consists of elegant, floor length dresses, figure-hugging midi dresses, or smart and tailored suits with a formal, but stylish feel.
What Is Eye Shadow and Why Is It important?
The eyes are often the first thing a person notices on our body. It is an important window through which we communicate, and is often the main thing a person concentrates on when talking to another. When going to an evening social event, it is important to ensure the eye shadow compliments the rest of the make-up and the outfit as a whole, without being distracting or overwhelming.
Eye shadow is made up of coloured light-reflecting minerals in powder form, which sits around the eyes when extracted, and is applied with an eye shadow brush or applicator. Eye shadow comes in a variety of shades and styles, and, for a formal occasion where a sophisticated appearance is expected. It is important to understand which shades and styles are best suited for the eye colour, hair colour, skin tone/complexion and outfit of the wearer for optimum results.
How to Choose Eye Shadow for Evening Wear
As mentioned, there are three main factors to consider when choosing the perfect eye shadow: the wearer's eye colour, hair colour and skin tone.
Eye Colour
Matching eye shadow with the colour of the eyes of the wearer will make their eye colour appear dull instead of vibrant or neutral. Eye shadow of the same colour of the eyes should only be used as a blending agent, used in conjunction with other matching colours to dramatically enhance the colour of the eyes. How this can be achieved will be explained in a later section.
In order to determine the best shades for your eye colour, use a colour wheel, which is often used by artists and designers to determine flattering colours. Simply find the colour that best corresponds with the eye colour itself; the corresponding colour will be the one directly opposite it on the wheel. For example, contrast green eyes with purples and reds and blue with oranges and pinks. Below is a more detailed list of the best shades for particular eye colours:
Brown and Hazel
The most versatile eye colours, brown and hazel eyed people can choose from amber, slate grey, charcoal, copper, lavender, violet, coral, khaki, olive, dark brown, gold. Neutral beige with a green metallic 'pop' is great for hazel eyes; grey combined with turquoise is great for light brown eyes, while metallic gold with bright blue accents can be a striking look for darker browns.
Green
Green eyes often suit colours with red undertones such as burgundy, maroon, plum, apricot and peach, while grey makes the green really 'pop'. Combining shades such as pale pink with a medium-dark purple and a plum eyeliner or bright pink with a soft orange can make green eyes really stand out. Earthy tones such as mocha browns and soft greens are more neutral, whilst a not-too-sparkly gold colour can bring out any gold flecks from the eyes.
Blue
Blue eyes suit pinks, oranges and purples, including peach, coral, wine and grey, with black undertones emphasising the colour more. Silver makes the blue look brighter, whilst bronze can calm bright blue eyes and rosy and earthy tones give a soft look to striking blue eyes.
Grey
Pale versions of colours that look good on either green or blue eyes can suit grey eyes, as grey eyes often have blue or green undertones. Glittery eye shadow may compliment grey eyes, making them look silvery.
Hair Colour
Apart from the face, the part of the body the eye shadow is closest to is the hair, so it is important to pick a shade that flatters both the eye and hair colour. The following is a small guide to picking eye shadow shades according to hair colour:
Brunettes
Black and brown hair have the same advantage as brown eyes: a range of eye shadow shades to choose from including dark colours, such as black, browns, purples, and navy to neutrals like gold, beige and lighter shades of green and yellow.
Blonde
Accents of pinks and purple, as well as greys and gold, suit blonde hair, with bright blues and greens, and black making it shine.
Red
Shades of pink go very well with red hair, with soft colours like olive, khaki and dark greens to correspond with this intense hair.
Skin Tone
There are two main categories of skin tone in regards to make-up and beauty: warm skin tone and cool skin tone. Warmer skin tones have yellow or golden undertones, whilst cool skin tones have blue or pink undertones. It may be worthwhile asking a beauty technician to assess your skin tone, but a good guide is to check the veins on the inside of the forearms under natural light. If they are more blue than green, it is indicative of a cool skin tone, whilst green veins suggest a warm skin tone. Some people have neutral skin, a mix of blue and green veins, which means warm and cool colours complement their skin.
Cool skin tone: silver and white metals, white and black combinations, pale blue, teal, turquoise, dark green, fuchsia, lilac, bright/true red and grey are all great shades.
Warm skin tone: Gold and yellow metals, brown and off-white combinations, orange, brick red, rose, coral, pink, light brown, bronze, taupe, ivory, bronze and soft green are all great shades.
Finally, choose a shade that matches the outfit, either by using the colour wheel, by picking different shades of the main colour of the outfit, or by picking an accent colour that only appears in a small amount in the outfit.
Of course, this is only a guide and experimenting with different colours contrary to what has been outlined above may yield surprisingly beautiful results. In all cases, keep the shades subtle, with a few accents of colour for a truly sophisticated look.
How to Apply Eye Shadow for Evening Wear
Eye shadow application is an important step in getting ready for an evening out, and with these simple guidelines, it can also be one of the simpler aspects of the getting-ready routine. A smoky-eye look is always the best look for eveningwear and it is simple to apply with the following steps:
1. Buy a good quality eye shadow brush set for the best results. There will be five essential brushes used in this guide, which will be introduced step by step.
2. Eye shadow can be applied before or after the rest of your make-up, but a base such as a foundation, primer or concealer should be applied first for a smooth canvas. Use a primer brush for this in long, even strokes, covering the entire eyelid area up to the eyebrow.
3. Choose three eye shadow shades that are light, medium and dark in intensity. The complementary shade that was determined using the tests in the previous sections will be the medium shade – this will be the main shade for the eyes.
4. Apply the lightest shade all over the eyes, up to the eyebrow, using a round, large shader brush . Use gentle sweeping motions to ensure even coverage. Sweep it out slightly at the outside edge of the eyes, furthest away from the nose to begin forming the 'outer V'.
5. Apply the medium shade over the eyeball using the shader brush, going slightly into the natural crease of the eyelid. Sweep it out slightly at the outside edge as before.
6. Apply the darkest shade, which will be the contour, into the natural crease of the eyelid, using a crease brush. Use sweeping motions to first apply the colour, then small swirling motions to carry the colour past the edge of the crease to touch the outside edge of the lashes in a V pattern.
7. Use a blending brush to blend the colours together in small circular motions to get rid of any harsh lines. Blending is an important step for the smoky eye look.
8. Using a pencil brush with a darker shade to create a thin line under the lower eyelid, sweeping it to meet the V created by the crease brush in step 6. If required, the pencil brush can be used to darken the contour for a more defined crease.
9. Add mascara to lengthen the lashes for a more striking look.
Although a simple one-shaded eye shadow with mascara and eyeliner may work with eveningwear, bolder colour combinations can be attempted by the more adventurous, the smoky eye look is the most versatile and elegant way to highlight the eye colour, whilst corresponding with the rest of the make-up, outfit and accessories.
How to Buy Eye Shadow and Eye Shadow Brushes from eBay
You can use the large range of listings on eBay to search for your entire evening look if wished. For a general search for the full range of eye shadows available on eBay, search for 'eyeshadow' on the search bar which sits at the top of the home page.
From the home page, shop by category using the feature next to the search bar. Go to the Health and Beauty subcategory, then the Make-up and Tools subcategory under that. The Eye Shadows sub-category will have a range of eye shadows to choose from, and the Brushes and Applicators subcategory will have brushes and applicators to help create a seamless evening look.
Use refining options such as condition, price, format and item location, and listing sorting options such as 'Auction', 'Buy It Now', 'lowest Price and 'highest Price' to help sort and organise the results.
Conclusion
Armed with great quality eye shadow brushes and a great make-up palette with the perfect shades for your eyes, hair and skin type, it can be possible to create a great evening look with professional-looking results that can be teamed with an elegant evening dress for formal events. By following a few simple steps and using precise techniques, it can be possible to learn a great eye shadow smoky-eye look for the evening that can be used time and time again for flawless results each time.