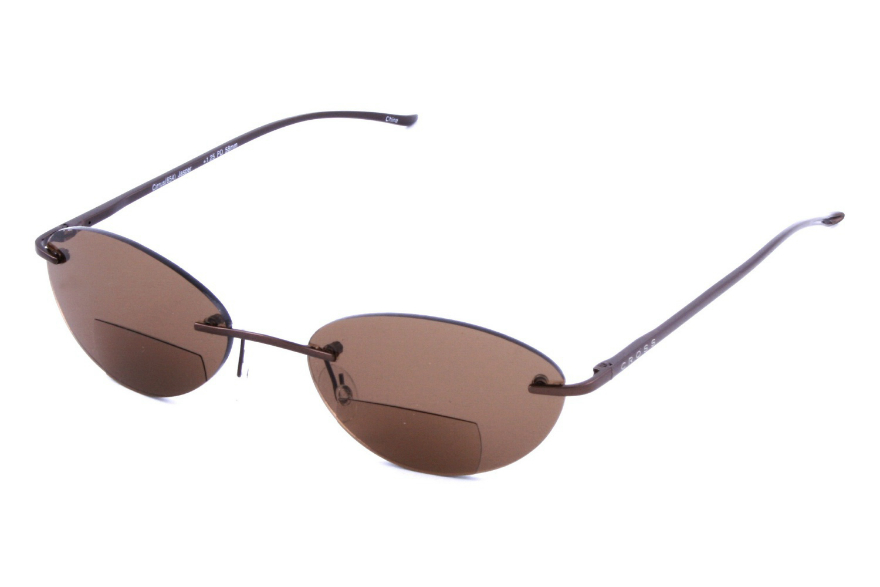 Those with a round face may feel themselves at a disadvantage when it comes to selecting a pair of glasses or reading glasses that will look good, as well as compliment their personality. Picking glasses is a tough decision and can take a lot of time. Knowing where to start, especially with so little advice to be found, can have a positive impact on the glasses ultimately chosen.
This guide aims to inform the buyer how to find the best glasses to suit a round face and also how to buy them on eBay.
Understanding Face Shapes
Faces come in a variety of shapes, but the most common types are: oval, square, heart shaped and round. This guide focuses on those with a round face shape.
These are the following characteristics of a round face:
Face is the same width and length, which gives the face a round appearance.
Chin is rounded; there are no hard lines or angles along the chin to jaw.
The forehead is wide and curved at the hairline, which adds to the rounded face effect.
The face is widest at the cheekbones; rounded faces normally have high cheekbones.
The above points are only to be taken as a guide. Pulling the hair away from the face and studying the outline carefully can also help to discover one's face shape. This can be done with the help of another person, who would probably be able to determine the face shape better from a distance.
What Shape of Glasses Will Flatter a Round Face?
When selecting glasses for a round face it is vital to understand which glasses will flatter and which won't. Those with a round face need glasses with frames that help create a longer and narrower facial appearance.
Round faces can make a person appear youthful, but this can be countered if required by selecting frames with a more 'mature' style. The following frames will be flattering and give the desired definition to a round face:
Narrow or angular glasses help give definition by drawing attention to the eye area and away from the forehead and cheeks.
Glasses with a clear bridge will also bring attention to the eyes and away from the forehead.
Wide frames help to balance the face and give the illusion of definition.
Glasses that are wide at the temple with a thicker frame, rather than wire or thin metal frames are also flattering for round face shapes.
Retro styles like 'cat-eye' and tortoiseshell glasses also suit round faces, as they tend to have a thicker frame, and also have the detail around temple area, which breaks up the roundness of the face.
Glasses that should be avoided:
Oval shaped glasses that draw more attention to a round face than square or rectangular glasses.
Small frames that draw the proportions of the face inwards. The idea is to select frames that make the features look wider.
Round frames that will attract attention to the shape of the face even more.
Short frames that bring attention to the face length, as those with round faces tend to have a short length face.
The above tips will also apply to rimless glasses, and square shapes are better for those with a round face.
Selecting Frames Based on the Buyer's Current Prescription
Now that buyers understand what type of frames will suit a round face, the next important aspect to think about is the buyer's current prescription. The general advice is that those who need thicker lenses due to severe sight weakness will need to factor in the way the lenses will look on the frames.
Those with mild eyesight problems can generally find lenses to fit thinner frames, but if the buyer is not concerned with the thickness of a lens, and how it will appear on the frame, then any frame will be fine to purchase.
On eBay it is possible to find both short sight and long sight glasses. It is helpful if a buyer knows their own prescription before buying glasses with a prescription lens on eBay. Reading glasses are simple to buy as they come with generic prescriptions and in a range of styles that flatter round faces.
Material of the Glasses Frame
For the buyer, material is equally as important as prescription. Glasses can be made from plastic and metals, and the buyer's choice will depend on factors such as an allergy to metal. Plastic is a good material for glasses as it can come in a wide range of colours and nearly any style. Glasses made from plastic tend to have a more comfortable bridge (the piece that rests on the nose and joins the frame together). Plastic is however more fragile than metal and once broken cannot be so easily repaired or eased back into place.
Metal glasses offer a classic look, which some buyers may prefer if working in a professional work place. The metal can be nickel based and if the buyer is allergic to nickel based metals, plastic would be the more suitable option to select.
Selecting Glasses Based on Skin Tone and Eye Colour
Now that the buyer understands what material is best for their requirements, and what style will suit a round face, the next elements to consider before purchasing glasses on eBay are skin tone and eye colour.
Skin tones can be placed into two categories. An easy way to decide on skin tone is to look at the underside of the wrist and look at the veins under the skin. If the veins appear to be greener, then the skin tone is likely to be warm, and if the veins look blue then the skin tone is likely to be cool. The following table shows which colours compliment the different skin tones:
Skin Tone

Characteristics

Complementary Colours

Cool

Blue/pink undertones to the skin

Pinks, purples, lilacs, grey, burgundy, blacks and blues.

Silver jewellery suits this skin tone the best



Warms

Peach/yellow undertones to the skin

Brown, tan, green, teal, gold, burnt-orange, warm red.
Gold jewellery will suit this skin tone the best.
Those with cool skin tones are more likely to have eye colours such as dark brown, hazel and dark blue. Warm skin tones will have eye colours such as light blue, light green or light brown. A general tip when picking glasses is to not pick a colour that is the same shade at the eye colour. In general glasses frames, which are opposite to the eye colour, give the best contrast. For example purple frame glasses would look dramatic for those with green eyes.
How to Buy Glasses for a Round Face On eBay
To begin viewing glasses on eBay for round face shape, the buyer should go to the home portal and select the Health & Beauty portal. From there they should select the Eye Care, and then click on Glasses.
Looking for glasses to flatter a round face may seem a hard task, but the buyer can use several different methods of searching on eBay. The following methods of searching are:
Keyword Search: If the buyer has a good idea of what they want to start looking for, such as 'Wide Frame Glasses' eBay will find listings that are similar to the term entered. The buyer is encouraged to try out different combinations of words to yield different listings. eBay also has a useful feature below the search bar, which suggests similar searches the buyer has entered before.
Categories: The buyer can use the categories option to browse the listings by selecting certain features such as price range. If they are unsure of which brand they wish to look for, eBay offers an extensive list of brands, such as Chanel and Versace.
eBay Stores: Sellers on eBay are like retailers but without the cost of shops and lighting etc. so therefore offer much cheaper products. It is common for professional sellers on eBay to offer free postage and packing with the item, which is a good incentive for the buyer.
Buying on eBay is easy. It can be achieved in a matter of a few clicks. All buyers need to decide is whether they want to bid on the item they wish to buy or use 'buy it now'. Both methods of buying will offer different advantages to the buyer.
Tips to Making a Smooth Transaction on eBay
eBay is designed so that anyone can buy and sell with ease, but for those who are new to buying on eBay or need some help with making a purchase, the following tips will ensure a smooth transaction between buyer and seller:
Read over the description of the listing carefully, looking for any notes of damage to the glasses or issues with wear. If unsure of the item's condition then view photographs closely.
What is the seller's feedback like? The feedback may give an idea about the way the seller has operated in the past, and if they have a lot of bad feedback, it might be a good idea not to go through with the purchase.
Weigh up the cost of postage with the price of the item. Many buyers forget how much it costs to have items posted or delivered via courier.
Always use PayPal to make the payment on eBay; if the seller asks to complete the transaction outside of eBay then the buyer should not do so.
Conclusion
People with round faces may think it is hard to find a good pair of glasses that flatter and add definition to their face, but by following the advice above, anyone can now go onto eBay and locate their perfect frames without any difficulty. And remember, if buyers ever need help acquiring an item then all they have to do is go on to Ebay's Search Tips page, which offers tips on how to search more efficiently.
From flattering reading glasses to unique retro glasses, eBay can ensure that those with a round face shape can find the perfect glasses to suit them.