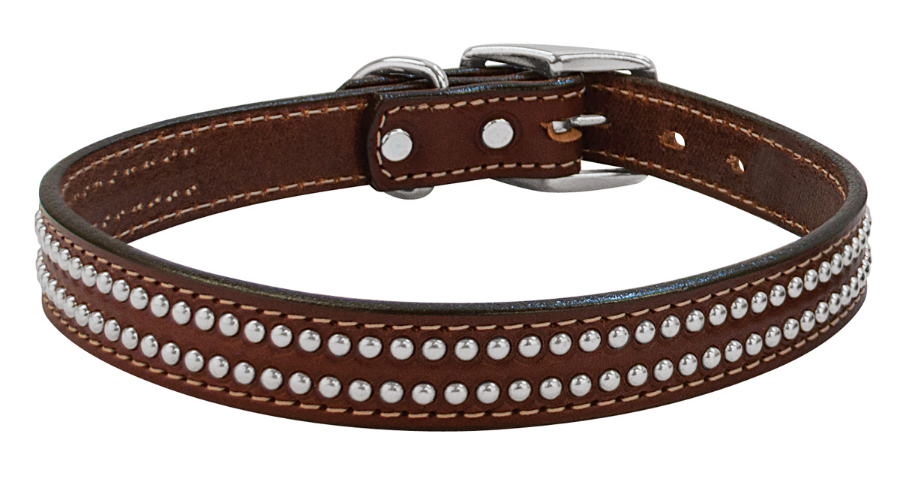 As many dog owners know, collars are a vital item whether used for walking, training, or identification purposes. It can be difficult, however, to find the correct kind of collar for your dog, with the wide range of sizes, materials and types available. With this guide buyers will be able to not only understand the variety of various collars and their uses, but also how to buy a collar for the perfect price on eBay.
Types of Collar
There are many ways to choose a collar for your dog, and many considerations to make in terms of size, material and the type of dog. The main types of collar are:
ID Collar
ID collars are the simplest type of collar, and the one that will likely be favoured by owners who do not need a collar to perform a specific purpose such as training or agility. These collars may be made from a variety of materials, are fastened by a buckle or a snap, and usually contain a loop at the front to which the ID tag of the dog can be attached.
Training Collar
Behavioural training of dogs can be assisted by using a training collar, which have specialised functions designed to stop or discourage certain behaviours. Owners with dogs that display behaviours such as excessive barking, pulling at the lead or trying to leave the property frequently use these collars. The main types of training collar are:
Electric – electric collars are also referred to as 'prong' collars, and are designed to discharge a small electric current onto the dog's neck when bad behaviour is displayed. This is done by using a remote to issue commands to the box on the collar.
Ultrasonic – these are slightly different to electric collars; however, they work on much the same principle. Instead of electricity, ultrasonic collars instead emit a sound only audible to dogs to instantly punish bad behaviour. These collars are also activated by a remote.
There are also choke collars and pinch collars available for purchase, however these are collars best used by professionals, as inexperienced buyers may not use the collars correctly and cause more harm than good.
Agility Collar
Agility collars for dogs are specifically designed for use during agility training and activities. They are specially designed to have a snug, comfortable fit without much movement, so that the collar will not fall off or rub against the dog's skin during activity – as looser-fit regular collars may move about while the dog is training and cause discomfort.
Agility collars also tend to include slide-on dog tags that fit tight against the collar, preventing rubbing and the possibility of a loose tag getting caught on equipment.
Walking Collar
Although many owners use their usual ID collar to take their dog for walks, some owners may feel that their dog needs a different kind of collar to provide more support or to discourage bad behaviour. Common types of walking collar are:
Halter – dog halters are collars with an extra strap that, when worn, fits over the dog's muzzle. This works as a behaviour corrector, as if the dog pulls at the lead then the strap over the muzzle pulls the dog's head back towards the owner, making it difficult for dogs to pull anymore.
Harness – a dog harness fits around the dog's body and provides extra support for both dog and owner and may be better for an owner who has a strong dog with a tendency to pull at the lead. The harness enables owners to keep a better grip of their dog, and the style of the harness distributes any force, so if the dog pulls they will not hurt their neck doing so.
If the buyer is not buying a halter or harness and just wants a sturdy, durable collar for walking they should check the material and attachment of the collar. Most outdoor walking collars are made of a nylon weave that is both comfortable and waterproof, and snap fits are also popular, as they will not rust when exposed to water.
Fashion Collar
Stylish and fashionable, these collars are designed to show off a dog to its best potential. Fashion collars are particular popular with toy dogs that may be too small for regular collars and do not tend to need very powerful collars to control them.
When buying a fashion collar, buyers should make sure to check the material and any accessories included with the collar such as sequins, beads or studs. The material should be durable and kind to the dog's skin, and items such as studs should be blunt so the dog will not injure itself or any others.
Show Collar
It is sometimes called 'show leads', these collars are used during dog shows, particularly when showing the dog in the ring. Designed to be fashionable, show collars are also meant to be unobtrusive so that the dog can be shown off to its full potential without any interference from a large collar or lead.
Show collars are often part of the lead with a looped design, so that the collar can be easily removed. These are only designed for use in shows, as the lead keeps the dog's head up, but when relaxed the dog can easily slip out of it.
Things to Consider
Material
It is important for the buyer to consider the type of material they would prefer their dog's collar to be made in, as different types of material have different strengths and weaknesses. The main materials used with dog collars are:
Leather – leather is both durable and stylish, and a popular choice for owners of dogs of all sizes. Leather is an ideal material for dogs that tend to chew their collars, as it is very resistant to damage. However, leather is more costly than other materials and often has a buckle rather than a snap fastening, making the collar less weather-resistant.
Metal – metal is mainly used in collars for items such as choke and pinch collars as it is sturdy, durable and rust-resistant. However, some owners see metal collars as unnecessary and prefer other kinds of materials as being kinder to the dog.
Nylon – nylon collars are perhaps the most commonly used kind of collar, particularly for walking collars. They are water-resistant, damage-resistant and come in many sizes and colours for a fraction of the price of leather and metal collars. They also frequently feature snap fastenings.
Size of Collar
This is important to know for both the dog and the collar, as different sizes will suit different dogs and vice versa. When buying a collar, the buyer should keep in mind that in terms of width bigger is generally better, as wider collars are less likely to dig into the dog's neck. There are many different sizes of collars available, generally ranging from small to extra-large, and many – especially nylon collars – are adjustable to ensure a perfect fit.
Sizing Dogs for Collars
When checking the size of a dog collar, the buyer should use a tape measure to check the width of the part of the neck where the collar will sit. When the collar is fitted to the dog there should be enough room a slide a finger in, but it should still be tight enough that the dog cannot slip it off. Usually when looking at measurements of collars on eBay the advice is to add 2 to 3 centimetres to the measured width of the dog's neck to get the perfect size.
Safety
This is important, as the safety and security of their collars is essential for both the dog and their owner. The dog collar should be durable, sturdy and unlikely to break or come away from the lead. Leather and nylon collars are the strongest materials, though even fashion collars should be able to take the force of strong pulls on the lead.
It is important to the safety of the dog that their collar sits well and correctly around their neck, as incorrectly fitted collars may irritate and even hurt the dog. This is the case particularly with items such as choke collars, and if the buyer is purchasing this item they should make sure to seek advice from an expert.
Comfort
For most buyers, it is vital to them that their dog enjoys wearing their collar, whether it is a normal house collar or a special training collar. Though dogs can take some time to adjust to new collars, and initial signs of irritation are common. For example, dogs wearing halters for the first time may constantly rub at the muzzle strap. If the dog continues to show signs of distress whilst wearing the collar, the buyer should consider swapping the collar for a different type.
Behaviour like chewing the collar may not be caused by discomfort, but by habit and boredom. This happens particularly in puppies, and items such as Bitter Apple can be sprayed onto collars to stop the dog from biting at them. Some dogs prefer certain materials, sizes and widths of collar, and many owners have several different types of collar to suit different occasions.
Conclusion
Buying a collar is an important step to being a responsible and committed pet owner, and with this guide buyers will be able to not only identify the kind of collar their dog needs, but also understand the various factors that will affect their choice and the impact it may have on their dog.
When searching for items on eBay, the buyer should be aware of the additional benefits of using PayPal, eBay's recommended way to purchase, with supplementary eBay Buyer Protection.