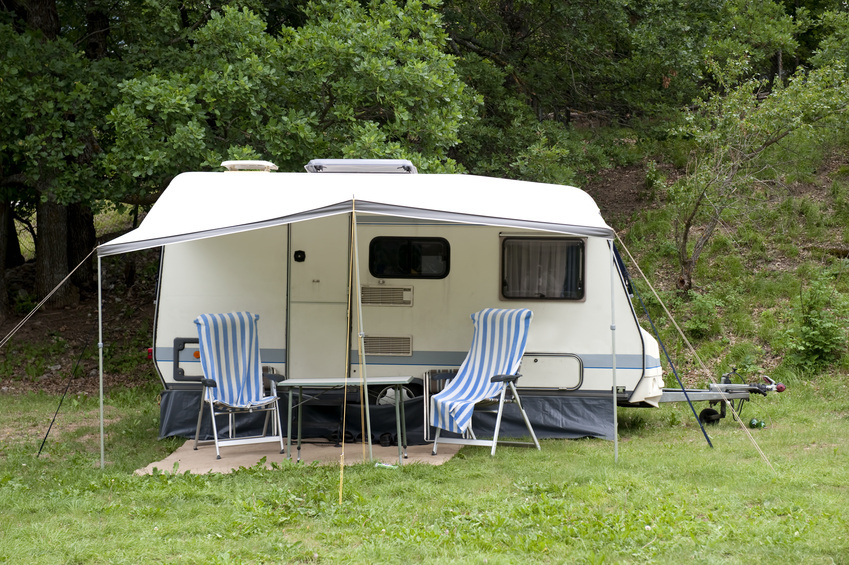 Choosing the right caravan for your holiday means more than deciding between a pleasant or unpleasant camping experience. It can also affect your vehicle's handling, the gas mileage, and even limit the places where the vehicle can go. As with buying any type of car, consumers must be careful to evaluate the different caravans available. The largest model is not always the best, and with so many excellent used caravans on the market today it may not be worth the extra price tag to get a new model.
Consumers can find new caravans for sale at dealerships and through online websites like eBay. eBay truly excels in both the new and used market, and a buyer who does all of his or her research can get an excellent model at a great deal. When buying any caravan for your holiday you must consider your budget as well as the type of model and its condition.
Types of Caravans
All caravans share one single similarity. They are not campervans, which means they have to be hitched behind a moving vehicle. The camper itself cannot be driven, so you must make sure that whatever model you purchase is able to be towed by your car.
| Type | Size | Kitchen | Bathroom |
| --- | --- | --- | --- |
| | Small | No | No |
| Tiny GRP | Medium | Partial | No |
| | Medium to Large | Partial to Full | Yes |
| | Yes | Full | Yes |
These caravans come in different weights and sizes. Fifth wheelers, for example, can only be towed by a pickup truck while the tiny teardrop can be towed by a vehicle as small as a sports car. As long as you pick a caravan that fits with your travel needs, your holiday trip should be a success.
Teardrop Trailers
The teardrop is the smallest style of caravan that is offered. It gets its name from its distinctive teardrop shape. You may not be living in the lap of luxury on your holiday trip, but it is a very affordable caravan and can be hitched behind small cars. It does have enough room for a bed, but no kitchen or toilet area.
T@B
Slightly larger than the teardrop style, the T@B trailer first launched in Germany but has made its way to the UK. It features the same teardrop design but on a slightly larger scale. With the extra room, owners get a large double bed as well as a small kitchen and a tiny chemical toilet. Even with these extra features, it is very light to tow.
Tiny GRP Caravans
Glass fibre-reinforced plastic (GRP) caravans are always a good bargain because of their long lasting durability. This makes them an excellent choice for a used caravan and their small size allows an average family car to easily tow the vehicle. Like the other small models, there is not a lot of luxury inside this model. However, it does offer additional storage space as well as a bed and kitchen area. Many families start with the small GRP caravans before deciding on purchasing one of the larger models.
Single Axle Conventional Caravans
The single axle caravan is between 3 to 6 metres long. Depending on its size it can sleep between two to six people. It also has more luxury than the previous models and has a larger kitchen area along with a bathroom. Most also have a shower in the bathroom which is a true luxury among caravans.
Pop-Top Caravans
Pop-top caravans are easily recognised because of their distinctive shape. On the road, they look like a small, squat van, but when parked at the campsite a part of the roof comes up to give the owners additional headroom. This model is not as popular as it once was due to the creation of larger caravans that provide plenty of headroom, but owners who have to park their caravan in their garage appreciate its compact size.
Folding Caravans
Folding caravans are roughly the same size as conventional single axle caravans with one key difference. The sides of the folding caravan come down when the vehicle is being towed. At the campsite, the sides are raised again for the living space. Their design makes them incredibly compact, but some owners get tired of having to repeatedly put up the caravan. Also, this type is more susceptible to damp conditions than others because of the collapsible walls, so used buyers need to take particular care.
Two-Axle Caravans
Two-axle caravans are larger and heavier than their single axle counterparts. The good news is that they are bigger and therefore afford greater luxury. The bad news is that their size makes them difficult to manoeuvre, and they can only be towed by large vehicles. These caravans can hold six people or more, so they work well for large families. The kitchen area is slightly bigger and includes more appliances than smaller models. Bathrooms include a sink, toilet, and shower.
Fifth Wheel Caravans
Fifth wheel caravans are popular in the United States, and they have slowly made their way to the UK. The main drawback to fifth wheel caravans is that they need a flatbed truck with a professional grade tow hitch to haul the caravan. They cannot be used on the back of a normal car due to their size and weight. However, in return, owners get to enjoy plenty of space inside their caravan while on a holiday trip.
Factors to Consider When Choosing a Caravan
A buyer needs to consider several points when it comes to purchasing a caravan. Size is particularly important, both for when the caravan is at home and while it is on the road. Some large caravans even have trouble getting into campsites. Price is also important, which is why many owners take a look at both new and used caravans.
Size
First, the size of the caravan should be large enough to fit the entire family or group travelling together. If you have children, a teardrop caravan is not large enough, and someone is probably going to end up sleeping outside. Most families tend to go with the single or double axle caravans due to their larger size and built in kitchens.
Living Accommodations
You must also decide how you are going to use the caravan. If you often end up cooking your meals on holiday outside over a campfire, then a kitchenette is not going to do any good. On the other hand, if you often end up cooking for the whole family, you need a kitchen that comes with more than just a microwave and a sink. Two-axle caravans tend to have the largest kitchens and bathrooms. Again, consider where you often spend your time while on holiday. If your favourite campground has a public restroom and wash area, then you may not need to purchase the more expensive caravans that come with their own bathrooms.
Used Concerns
Used models should be sold in good condition. As a buyer, you can protect yourself by being informed. If possible, inspect the caravan first hand and take note of any damp areas. Dampness is one of the main problems among used caravans and can lead to expensive repairs.
How to Buy Caravans on eBay
eBay is known for selling a variety of goods, including caravans. You can find both new and used models listed here, though the used models typically outnumber the new models available. In fact, the selection is so gigantic that you can spend all day searching for caravans on eBay. The easiest way to find the model you want is to learn how to use eBay's search engine.
Start out by typing 'caravans' into the search box. This brings you to a page that lists all results for caravans. From here, you can narrow down your search by manufacturers, such as 'Bailey caravan' or 'Swift caravan'. You can also narrow the results down by type such as 'pop-top caravan'. For families who tend to take along a lot of guests on vacation, you can search by the sleeping size of the caravan or number of bedrooms along with several other features.
Conclusion
Buying a caravan is a big decision and one that should not be made lightly. While the caravan may not see much use throughout the year, it becomes very important on vacations. A good caravan is dependable and fits with your lifestyle. A bad caravan quickly becomes an expensive money pit due to the extra cost of towing it around or numerous repairs.
The best place to begin when it comes to caravans is to study the different models and find the right one that meets your lifestyle. Couples can get away with purchasing smaller models while families tend to go larger. Price, size, and quality are all crucial factors that can impact your final decision. Larger models tend to be more expensive and more costly to maintain. Used caravans are also a good choice as long as the vehicle is still in good condition. Follow these guidelines and own a caravan that keeps everyone happy over the holidays.