Claddagh rings, originally from the Irish town of Claddagh, are popular all over the world as symbols of friendship, loyalty, and romantic love. They come in many different styles, but all feature the symbol of a pair of hands clasping a heart, usually surmounted by a crown. Your choice of Claddagh wedding band depends on your budget, values, lifestyle, and sense of beauty.

Material
Gold Claddagh rings are the most traditional, while silver Claddagh rings are quite popular, and you can find platinum and other metals as well. Some artists even carve Claddagh rings of wood. And of course, even gold presents the choice of several different colours. Part of the decision comes down not only to looks, but price, durability, and even symbolism also enter the discussion. For example, gold does not tarnish and therefore makes an excellent symbol of eternal love, and wood is a natural element part of the cycle of life and so makes for strong symbolism.
Ring Origin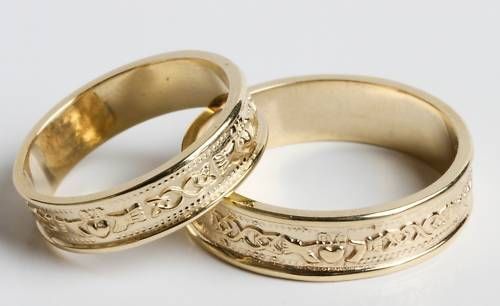 Not all couples want new rings. A second-hand ring has the romance of a storied past, whether you, as the buyer, know that past or not. Buying an heirloom ring is usually a more ecologically responsible choice than new metal as well. Recycled gold or silver is another option. For wooden rings, the choice of specific woods adds to the meaning and beauty of the piece.
Style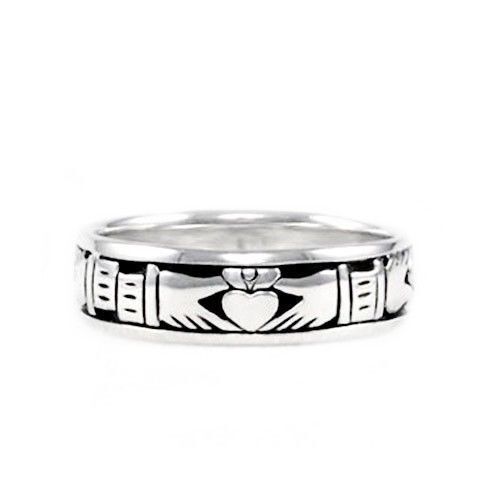 Claddagh rings come in either of two main styles. Some look like tiny sculptures where the joined wrists of the two hands form the band of the ring. Either way, a Claddagh can be heavy and substantial ring, particularly men's Claddagh rings, thin and delicate, or anything in the middle. You might want to choose very different rings to honour your complementary differences, or you might prefer to match.

Gemstones
Traditional Claddagh rings are all metal, but many popular designs add diamonds or other gems. A large gem fits nicely into the centre of the heart, or a band-style Claddagh might have linings of tiny gems all around the margins.

Maintenance
Each kind of ring has its own maintenance needs. Wood, for example, needs periodic refinishing, perhaps as often as every year or two. On your own, refinishing takes just one to three days, including drying time. Some metals need frequent polishing, though gold and silver do not. Gemstones sometimes shatter or fall off. Chlorine, salt water, and other chemicals can damage most kinds of rings. The bottom line is, your Claddagh wedding rings need care just as a marriage does.

Find all the essentials for wedding planning on eBay today.