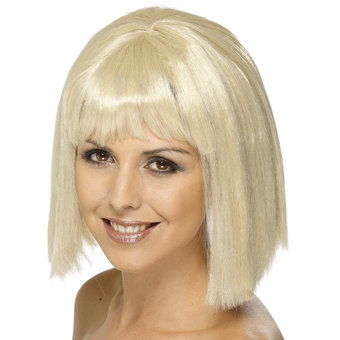 Buying a wig that does not match the skin tone can make the wearer appear washed out, and the wig can look very obviously unnatural. Unless buying a mismatched colour deliberately, most women want a natural look to conceal the fact that they are wearing a wig. Warm skin tones look great wearing a wig with strawberry blonde or auburn undertones. Cool skin tones suit browns and blacks. Before buying a wig, first establish your skin tone, which wig colours work best for that skin tone, and which should be avoided. The difference between human and synthetic hair is also important, as human hair looks much more natural. However, it is considerably more expensive than synthetic. Wigs can be purchased from wig makers, costume shops, and hair care product shops. eBay has a huge selection of wigs for any budget, in every hue, length, and style, made from both human and synthetic hair.
Understand Wig Colour and Skin Tone
Buying a wig is a great opportunity to try out different colours or shades, and to completely change a woman's style. Many women who buy a wig want the most natural look possible. Matching the exact shade of wig colour to the skin tone is a popular choice among women who need a wig to cover thinning or graying hair. One of the most common mistakes is to choose a wig to match the overall colouring of the wearer. The skin on the face is at least one shade darker than the natural skin colour because it is exposed to sunlight completely. Instead, buyers should base their decision on the colour of the scalp. If this is not possible, it is advisable to choose a wig colour based on one skin shade lighter than that of the face. Another reliable option is to match the colour of the wig to the colour of the eyebrows.
Establishing whether buyers have a warm skin tone or a cool one is very important when trying to decide which colour options work best. Even women who want to change their colour entirely should still choose a wig colour that matches their skin tone.
Qualities of a Warm Skin Tone
People with warm skin tones are those who most commonly have golden brown, blue, or hazel eyes with golden flecks. Warm skin tones include those with darker skins with pink or golden undertones. Paler skin tones with golden undertones, or peach undertones, ruddy complexions, and people with freckles are generally considered to have warm skin tones. The natural hair colour of people with warm skin tones include medium to deepest brown, with red or gold highlights. Redheads, strawberry blondes, or golden blondes are also considered if they meet any of the other criteria, such as eye colour or skin colour.
Qualities of Cool Skin Tones
People with cool skin tones have deep brown, grey-blue, or hazel eyes with white, blue, or grey flecks. Skin colour tends to be dark brown, olive, or pale, with very pale cheeks. People who have deep brown, golden brown, black, or white blonde hair, who meet one of the other criteria are said to have cool skin tones.
Choose a Wig to Match Your Skin Tone
Once you have identified your skin tone you can begin to look for the right wig. You may have your heart set on a particular wig, but if the colour clashes with your skin tone, it may create an unflattering look.
Wigs Suited to Warm Skin Tones
Wig colours suited to warm skin tones have an orange or red base, from strawberry blonde to deep plum, and deep brown hues. Highlights of copper, gold, and golden brown work particularly well. If buyers want to purchase a wig with golden highlights, the best overall appearance is given when then highlights are one or two shades darker than the skin colour.
Women with warm skin tones should avoid wigs that are violet or beige. These colours tend to give the skin a washed out appearance. Jet black and charcoal have the same effect, and should be avoided, as should pale gold. Pale gold often looks odd when worn by those with warm skin tones, and in some cases, makes it obvious that the wearer is in a wig.
Wigs Suited to Cool Skin Tones
The colours best suited to cool skin tones are jet black, charcoal, light browns, pale blondes, and icy whites. The most appropriate highlights are honey, wheat, beige, and grey, accentuating the skin tone, and making it look bright and fresh. Women with cool skin tones can also wear unnatural, vibrant colours, such as bright reds and purples, if they are feeling a little bit outrageous.
With a cool skin tone, wigs of golden blonde hues should be avoided. They make the cool skin tone of the wearer look sallow. Other colours to avoid are yellows, red, and bronzes.
Get an Exact Colour Match for the Wig
To get the most exact colour match, buyers can purchase a colour swatch. Colour swatches contain a small sample of different wig hair colours. Standing in natural light with a mirror, buyers can then compare the swatch against their natural hair colour to find the best possible match.
Choose a Wig of Human or Synthetic Hair
Human hair is more expensive than synthetic hair, but has a more natural look, colour, and feel. A quality human hair wig looks entirely natural. Synthetic hair has different colouring than human hair, and often looks darker. Synthetic hair wigs are usually poor quality and some look very obviously unnatural. Synthetic hair is also more difficult to style, and to keep in good condition. These wigs can appear unreasonably shiny.
Dye the Wig a Preferred Colour
If a buyer is purchasing a good quality human hair wig that is woven, rather than glued to the cap, the wig can be dyed in exactly the same way as regular human hair still attached to the scalp. Note that, for this to work the wig must be woven. Glued cap wigs do not withstand dyeing, as the process loosens the glue and causes the hair to fall out. Before dyeing, the wig should be thoroughly shampooed and dried. Then, after reading the instructions on the hair dye carefully, dye the wig. Thoroughly wash the wig again after the dyeing process is complete, then dry it completely. The wig, with its fresh, new colour can be styled and worn as normal. Dyeing a wig is a great way to get a new look without buying another wig. It is also a good option for women who cannot find the exact shade that they are looking for in a ready made wig. Permanent dyes last much longer than semi-permanent dyes. For a temporary colour change, such as for a night out, it is possible to use spray on hair colour that is removed after just one or two washes.
Buying a Coloured Wig on eBay
eBay has a wide range of wigs available to purchase in a range of different colours and styles. Buyers can search for wigs from the eBay homepage. Buyers are able to narrow down the search results using the different filters available. These filters allow the buyer to choose the colour of the wig that they wish to purchase. If consumers are unsure about which colour of wig they want, they can browse wigs, looking for inspiration and a colour that appeals to them.
Buyers should look carefully at the description of the wig and any photos. The condition of the wig is important, as is the type of hair the wig is made from. Buyers are able to ask the seller if they are unsure about any aspects of the wig by using the "Ask a question" link.
Feedback
Buyers are able to look at the feedback of the seller before purchasing a wig. Feedback is left for the seller once the transaction is complete. Feedback is positive, negative, or neutral. Sellers who have a high percentage of positive feedback are more likely to offer a great service and a high quality coloured wig.
Conclusion
Women wear wigs for lots of different reasons. Sometimes wigs are a good option for a bad hair day or for a quick change in style for a night out. Other women with thinning hair may get a confidence boost from wearing a wig, as it may restore their sense of femininity. A good quality wig that matches the wearer's style and skin tone helps to create a natural look, so no one should ever know that a wig is being worn. Some women choose a wig that matches their natural colour exactly, while some take the opportunity to reinvent themselves with a completely new colour. Wigs vary hugely in price, with the biggest difference being between human and synthetic hair.
To be best placed to purchase the right wig colour, women first need to establish their skin tone, which is either warm or cool. When a wig matches the skin tone it avoids the chance of the wearer looking washed out or the wig appearing obviously unnatural. After working out her skin tone, which colours work best for that tone, and which should be avoided, a woman is in a great position to buy a wig on eBay. Wigs of all colours and qualities are available, to suit every style, skin tone, colour, and budget.