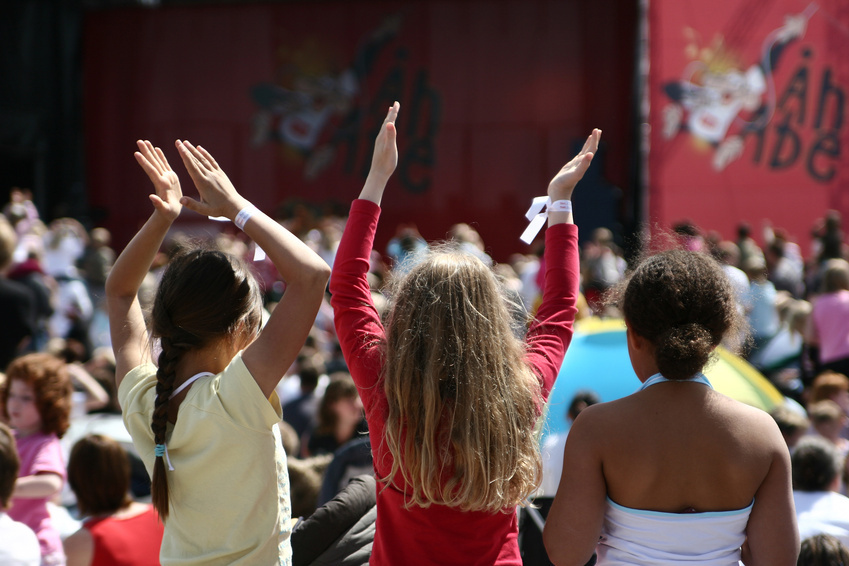 Adults are not the only ones who enjoy going to concerts. There are hundreds of performers and venues that are geared to market towards children, inviting the entire family to come along as well. Whether the child wants to see the latest Disney on Ice show, or a popular Christmas ballet, there are events that welcome children of all ages. However, not all shows and venues are as child-friendly as one might think.
Furthermore, many venues are typically designed with adults in mind, and this makes it difficult for parents with young children to take full advantage of their visit at times. Therefore, parents need to do some planning before they purchase concert tickets for children through eBay, or another online web site. The best way to fully enjoy a concert with a child is to plan ahead so that everyone is prepared. Parents need to consider where their seats are in the auditorium, how they are going to get to the venue, as well as if there are any special restrictions that they need to know about before the show.
Travelling With Children
Parents already know that travelling with a child presents unique challenges as opposed to travelling by themselves. Entire guidebooks are dedicated to the subject, along with countless message boards on the Internet that offer advice to families in this area of discussion. Going to a concert can and usually is made to be fun, but only if the child is willing to go and is old enough to enjoy the show. Babies, for example, may not appreciate an outdoor concert that comes accompanied by a fireworks display, while toddlers are not good at sitting still for hours on end. Parents know their own children better than anyone, so ultimately the decision about whether or not to bring a child relies upon a parent's judgement first and foremost.
Length of the Programme
Chief among the factors that a parent needs to use to evaluate if a concert is right for his or her child is the length of the programme. Many programmes marketed towards young children tend to be short and rarely last longer than an hour. However, this is not true of all family events. Circuses, for example, often run longer than an hour and so do many concerts, even those marketed towards families.
Before purchasing the tickets to any show, check to see how long the programme is set to last. It is a good idea to do a test run before buying tickets to make sure the child is ready for the event. Try taking the toddler to see a movie, for example, and see how well that turns out. If a child can sit through an hour long movie, then he or she can likely watch a concert without becoming too restless.
Programme Effects
Parents need to also consider any special effects that are going to be used when at the show. Many concerts use lots of lighting techniques, including strobe and other flashing lights. This setup can scare some children, and may even cause seizures in small children that have epilepsy. Programmes that are marketed towards children tend to tone down the stage lighting somewhat, but this cannot be expected of an average concert. Shows are required to list a disclaimer on their web page that states if strobe lighting is going to be in effect, and parents should consider this warning seriously if need be.
Things to Keep in Mind in Terms of Noise
Fireworks are another potentially hazardous area of concern for some parents. Most children adore fireworks and love going to concerts that use them. However, a young child that has never been exposed to fireworks before is likely to get very scared the first time he or she hears them. Fireworks are very loud, and the sound alone could easily hurt a baby's ears. Again, shows are required to list on their webpage if fireworks are being used. If a parent is unsure about his or her child's reaction to fireworks, take some time before the show to prepare.
Seating for Children
Most concert halls and auditoriums employ a tiered seating system where one row of seats is higher than the row in front. This is to ensure that viewers who sit in seats located towards the back of the auditorium have a clear view of the stage. Keep in mind, however, that designers often plan this seating arrangement according to the height of an average adult. Children, who are far shorter than an average adult, cannot clearly see the stage in many auditoriums, especially if an adult happens to be sitting in front of them.
One way to avoid this problem is to purchase tickets in either the first or second row if young children are coming along. However, as these tickets tend to also be prohibitively expensive, many parents opt for purchasing tickets in the first row of a terrace level section, or an upper section. While these seats are further back from the stage, they also offer an unobstructed view for a child.
Floor Seating
Venues that are specifically designed for children often lack scheduled seating altogether, opting instead for floor seating. In this case, children sit on the floor and look up at the stage. Some venues may have tiered platforms where children still sit on the floor, but each platform is slightly higher than the one in front of it. Parents can often tell that a venue has this type of seating when it offers 'floor seating' tickets.
Venue Restrictions
Another factor that parents need to be on the lookout for are venues that restrict the age of children who use them. This is usually a moot point for concerts that are meant for children, since the performer would only select a venue that caters to children. However, it is a problem that families frequently run into when trying to purchase tickets to see a popular show by a musician that caters more to adults than children.
Venues that serve alcohol for example, often restrict the age limits of a child that may enter the facility, even if the child is accompanied by an adult. If a parent is trying to purchase tickets to a concert and does not see a special price for a child's ticket, then this is a big clue that the venue does not allow children. Check with the venue's website for any special restrictions.
Check the Facilities
Family facilities, such as bathrooms and changing stations, are another point of interest among parents travelling with younger children that still wear nappies. Smaller venues like bars and clubs often do not have a changing station in the bathroom. This makes it very difficult for a parent to change a child's nappy.
Also, many facilities lack family restrooms for children who are not yet comfortable using public restrooms alone. Concerts that are held outdoors typically rely on portable bathrooms, which do not have a changing area either. Parents who are travelling with young children need to call the venue ahead of time to see what facilities are offered, since this information is rarely listed on the venue's website.
How to Buy Concert Tickets for Children on eBay
eBay is an ideal place to buy concert tickets for children and their parents because all of the items can be purchased at one time. Furthermore, because eBay allows both individual sellers and ticket companies to use their website, it is even possible to find tickets for sold-out shows on eBay as well. This is a lifesaver for parents who are desperately searching for tickets to a show that their child wants to see.
The best place to begin is by typing 'concert tickets' into the search engine. Thousands of results for upcoming events are returned, and at this point it is necessary to limit the search by adding a few modifiers. Entering the name of the concert narrows down the search to the particular show, but in most cases it offers different venues and dates. The parent needs to choose which date and venue look appealing either by personal experience, or by checking the venue's website. Then, narrow the list even further by entering the venue of choice into the search engine to pull up the correct ticket options. Remember to select children's tickets when this option is available to make the purchasing process that much easier.
Conclusion
Going to a concert is almost always a big event in a young child's life. A first concert is an adventure a child remembers forever, provided it is a show that the child wants to attend in the first place. Before a parent even begins to look at tickets, he or she needs to determine if the child is old enough to sit through a complete show. It is a waste of money to purchase tickets to an event only to have to leave when the show is only halfway over because a small toddler cannot sit still.
Parents also need to examine the seating arrangement of the venue in order to select a pair of tickets that gives a child a good view of the stage. Finally, parents must also consider any venue restrictions, or facility limitations, when purchasing their tickets. By following all of these tips, it should be easy to purchase concert tickets for children online through eBay's system.