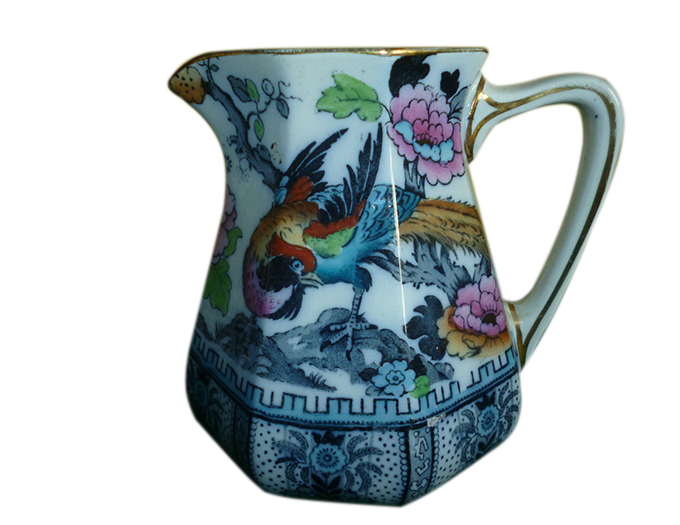 Decorative kitchen jugs make excellent additions to kitchen decors. When choosing a decorative kitchen jug, it is important to consider where in the kitchen it will go, as well as how well it will match the existing decorations. Before choosing a jug, it is a good idea to learn more about the different styles of decorative jugs available to make an informed buying decision.

Decorative Kitchen Jug Type

Consider the amount of space available to display the jug, as well as whether functionality is important, before choosing a jug. Gravy boats and sauce jugs are both small, shallow jugs with large pouring spouts. They often look very ornate, but most are functional. Water jugs are typically very large, with sturdy handles. Wine jugs are usually somewhat smaller and more delicate than water jugs, and they often feature ornate designs. Toby jugs are another popular type of decorative jug. Most are fairly small and each features a rendering of a man's head, and sometimes a head and torso. Many of them look very comical and most are non-functional.

Decorative Kitchen Jug Material

Decorative kitchen jugs come in a variety of materials, and each material has unique benefits and drawbacks. Glass jugs often look very elegant, but they are quite fragile. Metal jugs are very strong, but some metals may alter the flavour of the liquid inside of them. Ceramic jugs often feature very fine details, which make them ideal decorations. However, they are also fragile. Enamel jugs are metal jugs covered in a layer of enamel, so that they do not contaminate the flavour of the liquid inside of them. They are sturdy, but most of them do not feature many decorative details.

Decorative Kitchen Jug Colours
Some decorative jugs feature bright flashy patterns, while some are monochromatic. When choosing the colours of a decorative kitchen jug, take into account the existing decor of the kitchen. The jug should feature a pattern and colour scheme that goes well with the rest of the kitchen. For modern looking kitchens, sleek looking jugs with one or two colours are ideal. For a more traditional looking kitchen, a multi-coloured jug with intricate shapes and inlays would likely make a nice addition. Jugs with neutral colours such as black, white, or grey go well with almost any kitchen decor.