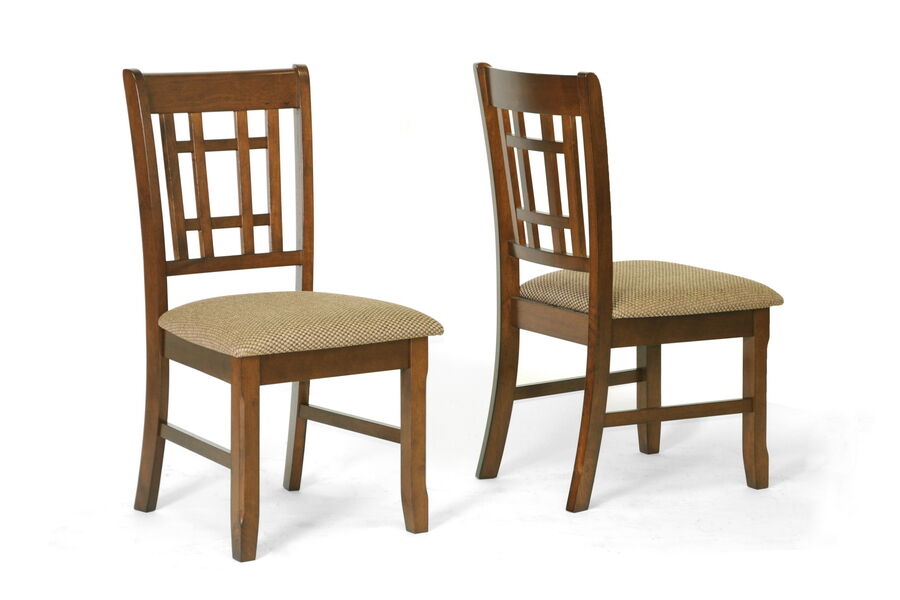 Whether existing dining room chairs are looking worn and are simply needing to be replaced, or they need to match a table which was purchased independently of the chairs, choosing the right dining room chairs is sometimes a tricky process. In addition to making sure to match wood or hardware finishes, shoppers should make sure to identify quality products.
Some manufacturers cut costs by simply stapling the elements of their chairs together, meaning that without due diligence, shoppers might unwittingly invest a significant sum of money in a product which might not even survive the journey to the dining room, much less years of consistent use. Savvy buyers are able to identify quality craftsmanship in dining room chairs by inspecting the seams of the chairs and ensuring that the chairs were made using quality materials.
For those who might not have the time to visit multiple brick and mortar showrooms, shopping online is a great alternative. Websites such as eBay boast selections to rival those of traditional retailers, while also offering bargain priced products.
How to Choose the Right Dining Room Chairs
Choosing the right dining room chairs is oftentimes difficult, especially for those who are not sure what type they want or how many to purchase. To select the right dining room chairs, potential buyers should first identify the right finish, desired height, and number of chairs they need. Then they should learn how to identify quality products.
Consider Your Needs
If you already have a table for which it needs chairs, the type of chairs to purchase is largely determined by the quality of that table. When you do not have a table already in mind, the options are more fluid. In general, identify the height of the chairs you need, the number of chairs, and the finish.
Selecting the Right Dining Room Chair Height
Dining room chairs are manufactured in a number of standard heights which are also matched to different table heights. For a quick rundown of these different heights, review the chart below.
| | | | |
| --- | --- | --- | --- |
| Chair Seat Height (centimetres) | 45 | 66 | 78 |
| Table Top Height (centimetres) | 76 | 91 | 106 |
This chart indicates the uppermost limits of the general manufacturing standards; some tables or chairs may be a very few centimetres lower. Buyers should always look to purchase chairs which correspond to the selected table height, and vice versa.
Selecting the Right Number of Dining Room Chairs
If individuals already have a dining room table, then this may be the easy part. First, they should establish the maximum number of chairs the existing table would accommodate comfortably. This number should always be a multiple of two. Some very small tables may only seat two, while larger circular or square options may fit four. Longer rectangular or very large circular or oval-shaped tables may fit up to six, especially if they feature an inset leaf or folding wings. Super large tables may fit eight or more.
If buyers do not have a table, then they are limited only by the number of seats they would like to have. They should select a number with the fact that tables increase dramatically in cost based on how many people they seat. Again, potential buyers should select a number of chairs in multiples of two.
Selecting the Right Finish for Dining Room Chairs
If individuals have a dining room table on hand, then they should select a wood or metal finish which matches the existing piece. Walnut, oak, pine, and cherry wood finishes are all very common, with black, white, and metallic finishes rounding out the other common options.
When shoppers do not already have a dining room table, they should look to match the finish of the chairs to other finishes present in their homes. Matching the wood finish to the existing cabinetry presents a cohesive look.
Select Quality Chairs
Quality dining room chairs are identified in a few different ways. They should be manufactured from high-quality, long-lasting materials, and should feature solid workmanship. Identifying quality workmanship ensures that the dining room chairs purchased last through years of use while maintaining their appearance. Though purchasing quality dining room chairs can be a significant expense, making the investment protects buyers from needing to purchase new chairs year after year.
Quality Woods Used in Dining Room Chairs
Most dining room chairs are manufactured using wood of one kind or another. Quality woods often used in such furniture include oak, mahogany, walnut, cherry, and rosewood. These woods are all hardwoods, which are heavy, sturdy, and resist damaging and blemishing. Buyers generally identify hardwood chairs simply by the weight, which is substantial when compared to flimsier woods. Softer woods, such as pine and beech, are more prone to warping and blemishing and are usually less expensive options.
Some manufacturers, to cut costs, use particle boards faced with a thin veneer of hardwood, to give the appearance of solid wood construction. These options are usually far cheaper than others, and in some cases are still be found with quality construction. As a rule of thumb, for those looking for the look of hardwood without the pricetag, such chairs should be considered so long as the joints of the chairs pass inspection.
Quality Fabrics Used in Dining Room Chairs
Some manufacturers produce upholstered dining room chairs. These are ideal options to consider for those who prefer softer seating or suffer from back or hip problems. Quality fabrics should feel relatively soft to the touch and resist stains, fading, and pilling, while still being easy to clean and maintain. Leather is a relatively common, but generally expensive option. Synthetics, such as polyester or nylon, resist fading, staining, and mould, while also being easy to clean, but they may not feel as pleasant as cotton-based fabrics.
Identifying Quality Joint Construction in Wooden Chairs
To look at the joint construction, you need to be able to see the underside of the chairs. After turning them over, look for where the legs meet the seats. Quality chairs feature special notches on both pieces where they join, which helps the wood fit together when it is then glued. You may also see wooden dowels, nails, or screws. Wooden dowels and screws are more solid and stable than nails. The most poorly made chairs sometimes feature legs which are only tacked, stapled, or glued on. In general, seeing any one of those details where the legs meet the seats (as opposed to where the seats are upholstered) should be considered a red flag of poor workmanship.
Identifying Quality Joint Construction in Metal Chairs
Metal dining room chairs are typically either soldered or screwed together. To see which is the case, look under the bottom of the chairs, as with the wooden chairs. Where the legs meet the seats, you should be able to clearly see either the line of soldering, where the metals of both parts were melted together, or bolts or screws. Quality soldering joints should be smooth, rather than pitted or scarred, with a minimal amount of pooling. Poor soldering joints are likely to snap or break over time. Bolts are preferable over screws, otherwise, as they are less likely to loosen over time.
Buying Dining Room Chairs for Your Needs on eBay
Buying dining room chairs on eBay is easy and efficient, especially for those short on time. To start, you should look for the search bar either on the eBay homepage or any of eBay's internal pages. Click the search bar, and then enter the words which collectively describe the dining room chairs you are looking for. A few good examples are "new Rutland dining chairs", "black walnut dining chairs", or "white leather dining table chairs". Making your initial search fairly general ensures the maximum number of possible results. Once you have finished typing, press enter to see all the eBay listings which match the terms of your search.
Once you have the list of the available items, you can also choose to refine your search results. The eBay software allows users to see cheapest items first or those closest to your location so that you reduce any potential shipping costs or wait times. You can also organise the listings based on colours or materials used.
Conclusion
Before buying a set of dining room chairs, shoppers should take a step back to ensure that they are able to identify quality items. Being able to distinguish between chairs which last and those that may expire can help protect the significant investment which often goes into the purchase of a set of dining room chairs. In general, chairs made with quality materials such as leather, hardwoods, and sturdy fabrics are likely to last longer than flimsier, cheaper alternatives. Shoppers should also inspect the joints and underside of the chairs, keeping a sharp eye out for poorly fitted joints and staples.
People looking to purchase a quality set of dining room chairs should prepare themselves to spend at least as much as they might spend on a lone table. However, one way to offset this significant cost is to shop at online venues such as eBay. Websites like eBay offer a large selection of choices, but are usually free of the markup expected at most retail stores.